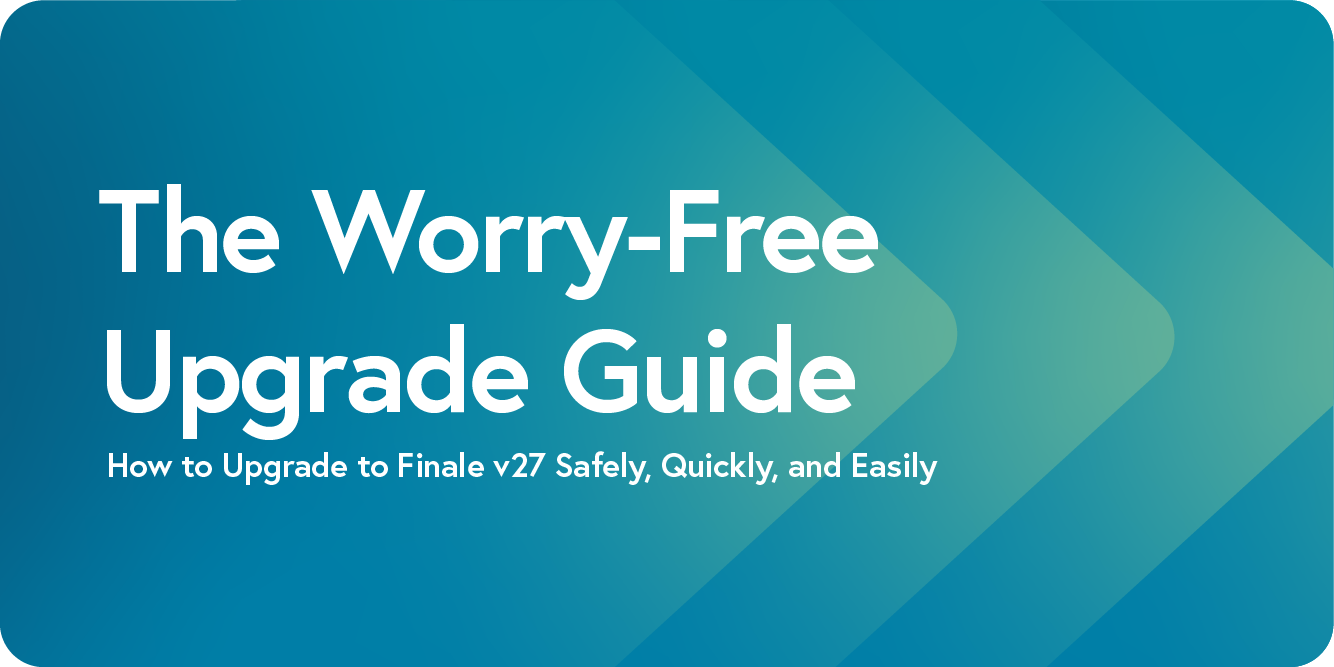 With the release of Finale v27, we believe that Finale is more user-friendly than ever, and is packed with features that can drastically improve your music creation process. As such, we would like to see all users on previous versions of Finale upgrade to the latest version so they can experience these improvements themselves. 
However, we understand that every user is different: for some, a previous version of Finale serves all of their needs, for others, the cost to upgrade is a factor. And some are worried that upgrading will cause unwanted changes to their existing documents and templates. Whatever the case may be for you, we want to provide a clear guide on how to safely upgrade, to hopefully address any of the fears you may have about using Finale v27.
How to Upgrade to Finale v27
Upgrading from a previous version of Finale has never been easier – the whole process will only take a few minutes, and with the recent announcement of our new pricing for Finale, it has never been cheaper either. Finale users can now upgrade to the latest version for only $99, regardless of the version you are currently using.
How to purchase your upgrade:

Once your purchase is complete, your download should begin automatically. After your upgrade has been downloaded, you will need to install and authorize Finale. Here is how:

There are, however, several considerations to account for to ensure that your upgrade executes as expected. 
#1: Don't upgrade before a deadline
While upgrading should be a smooth process, it's never worth the risk of updating to a new version hours before a major deadline. We recommend upgrading at a time when you feel confident that an interruption to your composition will not impact your work/life.
#2: Check the operating system requirements
Head to the System Requirements page to check if your current operating system can run the latest version of Finale.
#3: Choose whether to keep multiple versions of Finale
After downloading the Finale v27 upgrade and beginning the installation process, you will be prompted to keep or remove your previous version of Finale. This is a personal choice, and you will always have the option to re-download a previous version of Finale that you have purchased, however, if you want to migrate particular settings or configuration files from the previous version, you must not uninstall the previous version before the new version is installed.
Why Upgrade to Finale v27?
The next question you will need to answer is a bit of an obvious one: why upgrade in the first place? For many of our users, versions of Finale as far back as 2014 may serve their needs just fine. Some people do not have a use for features like auto-stacking articulations, playback improvements, Standard Music Font Layout (SMuFL) support, or any of the other major features released in the more recent version of Finale. 
However, we believe that even if you don't need the features right now, when you experience them for yourself and incorporate them into your workflow, you'll wonder how you lived without them. Here is a quick breakdown of the latest features (full list of v27 features is available here):
SMuFL organizes musical characters into a common layout so that any notation program knows where each type of musical symbol can be found in the font. This makes it easier to collaborate with people that use a different music notation software, and also makes it much easier to change the music font in your document.
Powered by a unique integration with MakeMusic Cloud (formerly SmartMusic), creators can upload and share their music in seconds, and give their musicians access to a suite of web-based tools that will transform their practice experience. Recipients of shared music don't even need Finale or a MakeMusic account to view your piece, or play along with the practice tools in MakeMusic Cloud!
A meticulous reworking of the Finale instrument database will help you work even more efficiently. The improved instrument list reduces the amount of manual configuration needed for instrument setup, minimizes the likelihood of not hearing any sound at all when playing your document, expands and improves our support for a wide variety of drums and percussion, and ensures that the best possible sounds are selected for playback from the comprehensive Garritan Instruments for Finale.
When you add slurs, existing articulations will automatically adjust to avoid collisions. If you change the slur contour or move the start or end points after-the-fact, collisions will also be dynamically avoided. Finale knows what articulations should go inside and outside a slur, and will also split up stacked articulations so that everything fits well, as seen above.
When you add more than one articulation on the same note, they'll automatically stack. If you disagree with Finale's default choice of what to place on top, you can globally change the stacking order by simply moving articulations up or down in the Articulation Selection dialog box.
We've expanded chord libraries to better recognize whatever chord suffixes you prefer, saving you time. What's more, we've refined chord appearances, added a comprehensive collection of "stacked tension" suffixes, and we've made it easy to create larger, more legible chords.
But there is more to an upgrade than simply the features added. For instance, improvements to operating systems, like the recent release of macOS 13 Ventura, can impact the performance of Finale. Additionally, the robust suite of Finale plug-ins, like Perfect Layout, JW Lua, and more, are being improved and updated constantly to be compatible with the latest release of Finale. The best way to ensure that you are not impacted by these changes is to remain up-to-date with your version. 
Bonus: Start SMuFL-izing
Once you have upgraded to Finale v27, you will likely want to begin converting your older documents and templates to SMuFL-compliant versions. Don't let the strange name concern you – the Standard Music Font Layout (SMuFL) support in Finale v27 is one of the most important updates to Finale in years. 
The SMuFL standard organizes music symbols into a common layout, making them easier than ever to use. SMuFL establishes a new way to organize musical symbols that is optimized for modern font formats and that can be adopted by a variety of software vendors and font designers, for the benefit of all users of music notation software. 
In simple terms, the SMuFL specification provides the ability to quickly and easily choose between hundreds of different glyphs using only a single font.
If you've ever seen something like this in your document after changing between music fonts, SMuFL can help:
In Finale, you can switch between any SMuFL-compliant font without needing to worry whether the characters in your music notation will change or have their location and page layout changed. (Note: When selecting a music font, the SMuFL-compliant fonts begin with the word "Finale").
While creating these new templates is a time-investment, it will save you considerable time in the long run. Here's how SMuFL-izing can improve your workflow:
Easier collaboration with musicians that use other SMuFL-supported music notation software (like Dorico)

Faster conversion when switching between one SMuFL-compliant music font and another

Access to thousands of additional glyphs not previously available in certain music fonts
Related to the added support for SMuFL is the addition of the new Symbol Selection dialogue box that streamlines the thousands of symbols in each music font into an easy-to-navigate menu.
The good news is that Finale can automatically convert non-SMuFL files to SMuFL files. Here is an explanation from Jason Loffredo of Conquering Finale on how to best handle what he has termed the "SMuFL Shuffle"
And if you're not yet ready to SMuFL-ize, more information about opening legacy Finale documents can be found in these support articles:
Conclusion
We hope that this guide is helpful in making your decision to upgrade to Finale v27. While not everyone will need to upgrade, there is certainly something for everyone. Additionally, the upcoming release of Finale v27.3, the next free update for Finale v27, is just around the corner, so now is a great time to upgrade. 
Head to the eStore to upgrade (safely) for only $99: