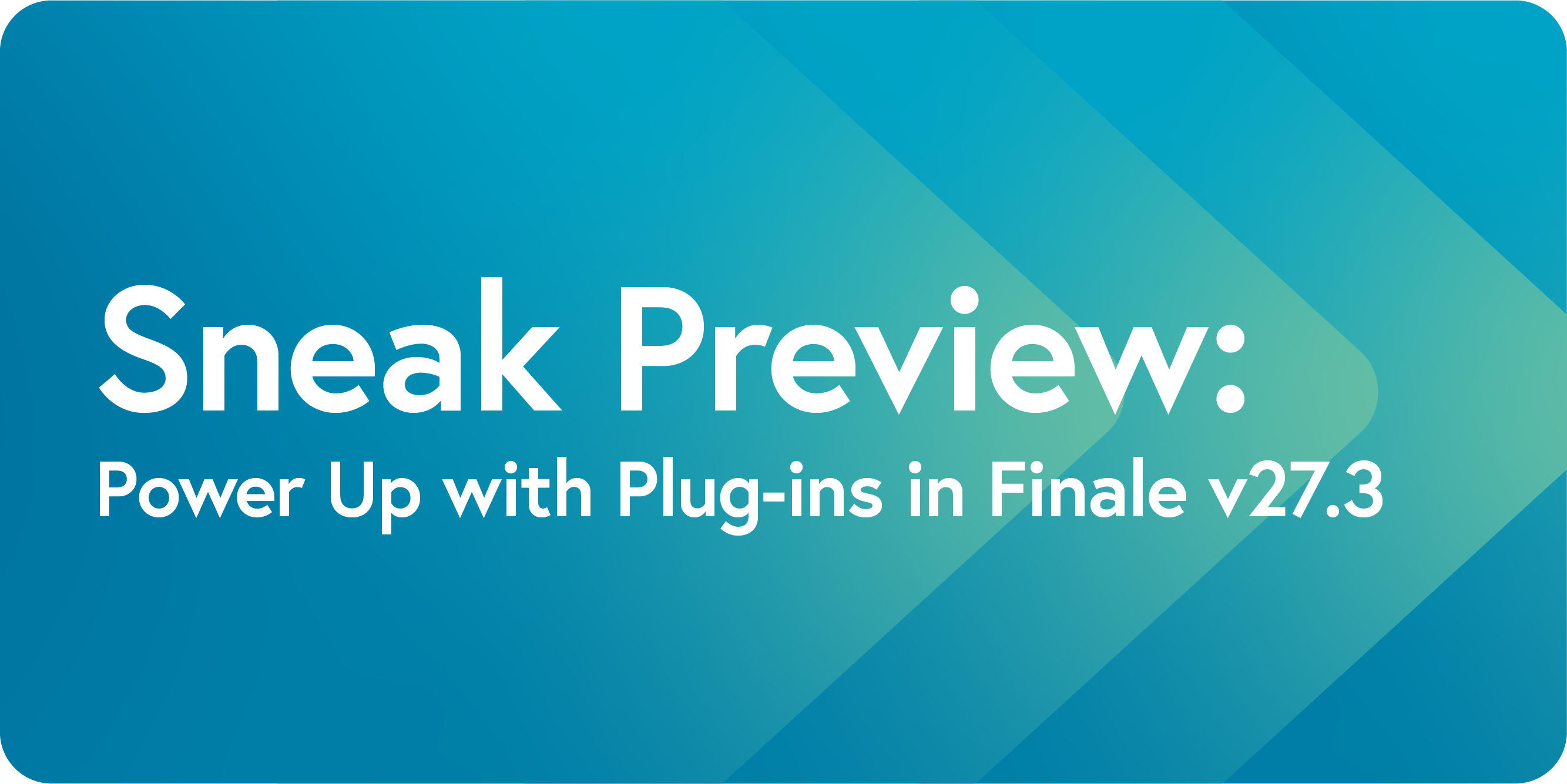 Ver artículo en español
When I talk one-on-one with our users, I love hearing how Finale has given them the ability to work faster than ever before and to get really great-looking, readable scores. Hearing that always feels like a vindication of the features we've chosen to prioritize, which for years has been one of my primary responsibilities. With the announcement of our Summer Sale, now's a great time to share what we've been working on for the next Finale release – and, true to form, we plan on including something that squarely qualifies as a huge win for productivity and quality output.
Finale 27.3, the forthcoming update for v27, will for the first time include a set of plug-ins from developer Jari Williamsson, without requiring you to separately download and install them. While these plug-ins are quite popular among "power users", we believe that they're useful for everyone. The eight plug-ins that will be shipped in v27.3 are:
JW Accidentals

JW Change

JW Copy Part Layout

JW Note Spacing

JW Pattern

JW Rhythm Copy

JW Space Empty Rests

JW Staff Polyphony
I asked MakeMusic colleagues Dave Cusick and Michael Good to fill us in on the benefits of the JW plug-ins (Dave, as Product Lead, has been guiding the development cycle for 27.3, and Michael, longtime Finale contributor and inventor of MusicXML, has been doing much of the front-line work on the plug-ins).
What are the JW plug-ins and why are they useful?
Michael: Finale has supported a lively plug-in developer community over the years. Jari Williamsson is one of our veteran plug-in developers, and his set of JW plug-ins automate tasks that would otherwise take more steps.
Dave: The JW plug-ins have long been a favorite among the Finale user community for their wide-ranging and time-saving capabilities. We're excited that we can now provide eight of Jari's most frequently used plug-ins directly in Finale.
How is including the JW plug-ins with Finale different from adding them myself?
Dave: Including the plug-ins with Finale allows us to make them readily available to all Finale users right "out of the box", eliminating the tedium of seeking them out, downloading, installing, and configuring them. We'll now be able to keep them up-to-date with each Finale release, ensuring their longevity.
Michael: We have also modernized the plug-ins to work well with the new features added in Finale v26 and v27 (such as the SMuFL fonts), fixed some bugs, and updated them so they can be translated into other languages for our international customers.
Will the JW plug-ins work on my latest Mac or PC hardware/OS?
Michael: Yes! Some users with newer Macs have had problems with the JW plug-ins. As included with Finale, they will work natively on Apple silicon, fully support Dark Mode, and no longer cause security warnings. Windows users will see fewer changes, as the plug-ins already worked well there.
Where will I be able to learn how to use the JW plug-ins?
Dave: We will be compiling documentation from Jari's website and other online sources, as well as our own understanding of how these plug-ins work, into our Finale User Manual. Detailed articles, as needed, will be available in our Finale Knowledge Base, and we'll have help available through Customer Support. Since these plug-ins have long been a staple for power users, we also recommend that you post specific questions to our Community Forum pages for input from the user community. I'm sure this will prove to be a tremendous resource for many that are new to these plug-ins!
Do you have a favorite JW plug-in that will ship with Finale 27.3?
Michael: JW Change does an amazing amount of editing operations; I've barely scratched the surface in using it. JW Staff Polyphony is my runner-up, especially for dealing with choral music, and on a different day it might be in first place.
Dave: I would have to say that JW Change is the plug-in that impresses me most, too. The number of elements you can quickly and efficiently edit with it is astounding. I've always been a big fan of JW Copy Part Layout as well: although it's purpose is much more specific, what it does is extremely effective and helpful.
My thanks to Michael and Dave for their comments, and of course, a big thank you to the originator of these plug-ins, Jari Williamsson. We are so grateful to Jari for entrusting us with updating and redistributing his most popular plug-ins. Our ardent hope, as with any feature, is that their inclusion will result in bringing more music creations into the world.