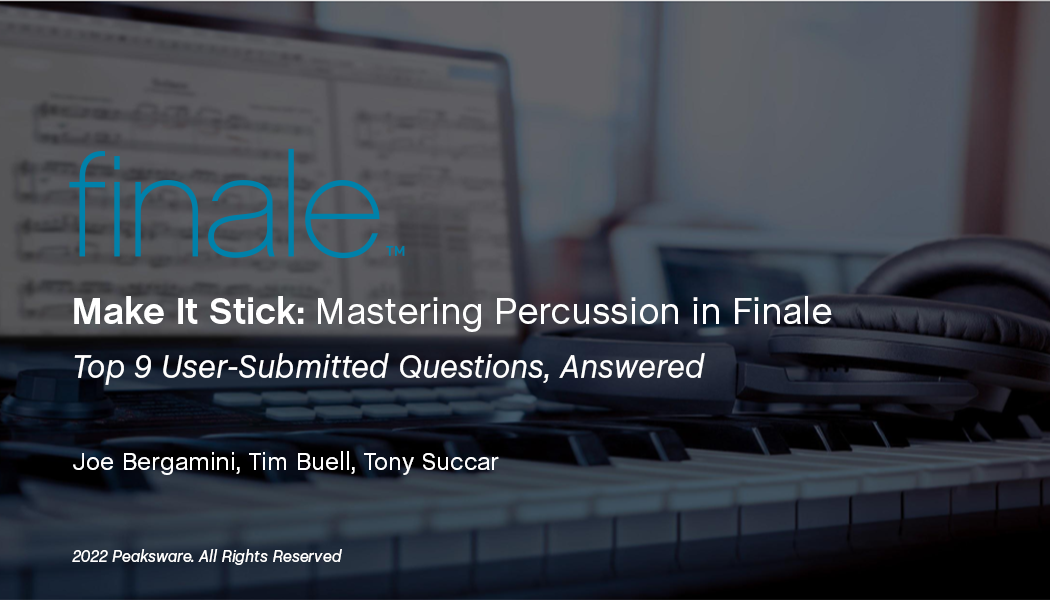 In the Make It Stick webinar, we sat down with percussion experts Joe Bergamini, Tim Buell, and Tony Succar as they shared their top tips and tricks for writing for percussion in Finale. See how they start a piece from scratch, create custom maps, change noteheads, use shortcuts, and more! Learn how to make Finale work for you from the pros who use it every day.
During the presentation, we received quite a few questions from viewers related to drum and percussion notation that we were unable to answer during the live webinar. However, we have compiled and answered the most frequently asked questions that we received. 
Can I mix drumset notation and slash notation within the same measure? 
Yes. To combine drumset and slash notation in the same measure:
Choose the Staff tool and select the measures in which you want slashes to appear.

Choose Staff > Apply Staff Styles To > Score and Parts (or Current Part/Score)

Choose a staff style:


Slash Notation hides all the music and replaces it with evenly-spaced hash marks. The number of hash marks is determined by the bottom number of the time signature.

Rhythmic Notation turns the music into beamed and stemmed slashes, all on the middle line of the staff.


Click OK

To learn more about using slash notation in Finale, the Finale User Manual has more information.
How can I do a 4 measure repeat within a drum part?
If you don't want to use the Repeat Tool to enclose the repeated measures, or can't because this is in a score where the drum pattern repeats, but the rest of the band isn't repeating, you can creatively repurpose the Multi-Measure Rest feature:
How do percussion parts and layers work together?
Using layers with percussion instruments is very common. The ability to independently control stem direction, beaming and rest consolidation, will help show clarity between separate rhythms and specific sounds on the same staff.
When writing for a drum set, layers can show clear patterns between hi-hat, bass drum and snare.

On multi-instrument percussion staves, layers will help show differentiation between different instruments and rhythms.

What's a simple way to set up a drum roll?
Roll notations are done with the Articulation tool. Both the 3 slash and the 'Z' styles are included in the default files. These will be played back automatically by Finale's Garritan sounds when Human Playback is enabled (which it is by default).
How can I create cues above the staff?
To create cues above the staff, follow these steps:
Prepare your document:



Create a Staff Style:



Create the Drum Cues:


For more information on this process, check out Jazz Composition and Arranging Tips: Drum Cues.
Where is percussion in the Setup Wizard?
The Setup Wizard is the best place to start in order to ensure the correct display and playback of a wide variety of percussion instruments. 
To access the Setup Wizard:
From the File Menu, choose New > Document With Setup Wizard

On Page 1, click Next to create a new ensemble

On Page 2, you can choose instruments from either the Drums or Percussion families. (All of these instruments will load an appropriate Percussion Layout and Percussion MIDI Map).

How do I make quiet percussion sounds louder?
With the release of Finale v27, many issues related to drum playback in Finale were resolved. Beyond these fixes, the Finale mixer can be used to make changes to the playback volume of each instrument in the document.
Another method that works to help with volume while you are working on your score is to put the Percussion/Drum staves on their own bank and raise the volume in the VST/AU Banks & Effects dialog box. This Knowledge Base article has more information on how to accomplish this.
How can I get my percussion to both look and sound correct?
For most percussion instruments, Finale automatically configures staves with all the necessary settings for both notation and playback when added with the Setup Wizard or the ScoreManager. These percussion staves automatically ignore key signatures and transpositions, and are configured for intuitive entry whether you are using a mouse, computer keyboard, or MIDI keyboard.
For more information on this topic, check out the Finale User Manual article for percussion.
How can Finale work with a Digital Audio Workstation in order to get higher quality audio export?
While there are a variety of ways to use Finale notation in a DAW, webinar panelist Tim Buell shows a great method in this video: