One question I am asked frequently in my courses is how to create drum cues. This refers to small notes written above the drum staff, indicating what rhythms other sections are playing (as seen above).
I used to, literally, enter each cue note individually and then reduce its size. This was not efficient! Then I "discovered" a hidden secret: Finale has a way to do it that is almost automatic – it just takes a little prep work.
1. Preparation for Drum Cues
First of all, I set up Finale's layers. The trick is to designate layer 4 to hold the cue notes, and to NOT play them back. See how in the short video below:
2. Creating a Staff Style
You also need to create a Staff Style that allows you to show, simultaneously in different layers, the cues and one-bar repeats (or slashes, if you prefer).
3. Creating Drum Cues
Now we are ready to create the cues. In my example, I show use the lead trumpet part to show the drummer cues for an ensemble passage.
I hope these "tricks" will help you create your charts more efficiently. If they do, please check out my other Finale blog posts on ensemble voicing and copying and pasting.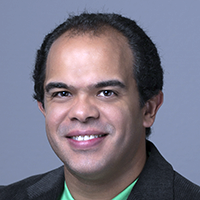 Socrates Garcia is a composer, arranger, producer, recording engineer, bandleader, guitarist, and educator from the Dominican Republic. He currently is the director of music technology at the University of Northern Colorado, where he teaches a variety of courses in music technology and advanced jazz arranging. He has given clinics at many music conferences including the Jazz Education Network, International Society of Jazz Arrangers and Composers, TMEA (Texas), CMEA (Colorado), and OMEA (Ohio). His 2016 award winning album for MAMA Records, "Back Home," features the Socrates Garcia Latin Jazz Orchestra, a contemporary jazz big band that combines Afro-Dominican genres that include merengue, bachata, and palos or atabales, alongside other Afro-Caribbean genres.