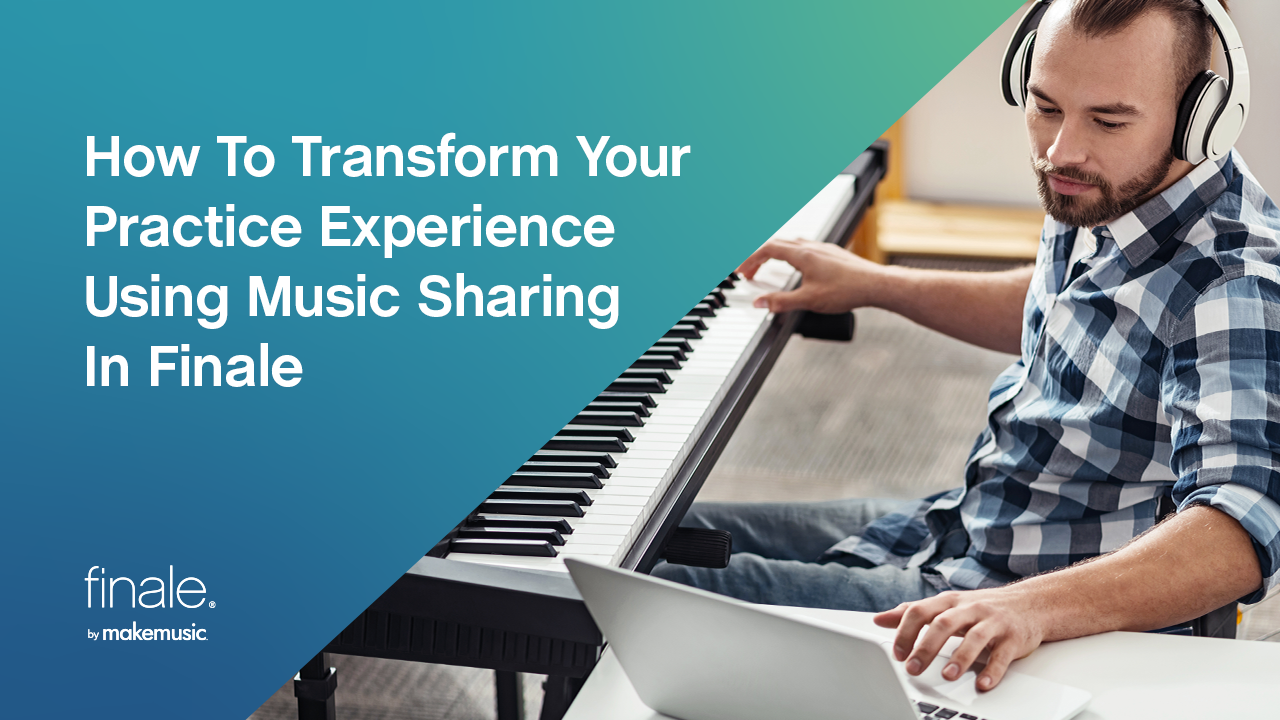 If you followed the launch of Finale v27, you've likely heard of the new interactive music sharing feature that makes sharing your notated documents with anyone as simple as a few clicks. While these time-saving benefits are great for the music creator, that's only half the story. What about the benefits for the performers once they receive the music?
Music sharing doesn't just bridge the gap between creating music and getting it into the hands of the musicians playing it (although that is pretty great). It fundamentally transforms tedious solo practice into a robust and rewarding experience by providing powerful real-time assessment, musical accompaniment with Garritan sounds, and a variety of tools such as a tuner, metronome, and transposition. 
The best part? Performers can access shared music from any device (including an iPad) and utilize these features without even creating a MakeMusic Cloud account.
The Basics
When you first open a shared piece of music in MakeMusic Cloud, you will see a variety of standard music tools at your disposal, such as a metronome and tuner: 

You can also easily transpose the notation into any key to fit your voice or your instrument's range:

And you can loop any part of the sheet music and change the playback speed to help master those impossible passages:
Transforming Your Practice Experience
While the basic tools alone create a more enjoyable practice experience, there are advanced tools available in MakeMusic Cloud that will take it to the next level. By applying real-time, objective evaluation while practicing, musicians can identify trouble spots in their playing, and everyone can feel confident that they're ready for rehearsal.
To start, confirm that the app can hear your microphone…

… then take advantage of the pitch and tempo assessment tools that show which sections were played perfectly, and which sections still need more practice.

But perhaps the best part of the Practice app is that performers can now practice within an authentic context. Individual practice can be dull and limiting compared to playing with a full ensemble. Your individual line is one part of the whole, but when practicing, it can be easy to lose sight of the greater performance. Practicing music in MakeMusic Cloud changes that by adding world-class sampled sounds from the Garritan libraries. By practicing while hearing the full ensemble, performers enjoy a more robust, fulfilling practice experience.
The Result
The biggest benefit of using the interactive sharing feature is feeling confident that your entire ensemble is better prepared for rehearsal. You can spend less time at rehearsal working out one part's pitches and rhythms, because everyone has practiced while hearing the full accompaniment of the other players. Your performers' practice will be transformed from dull experience into an effective and engaging journey!
To start making the most of your music creation process with music sharing, download Finale v27 today.