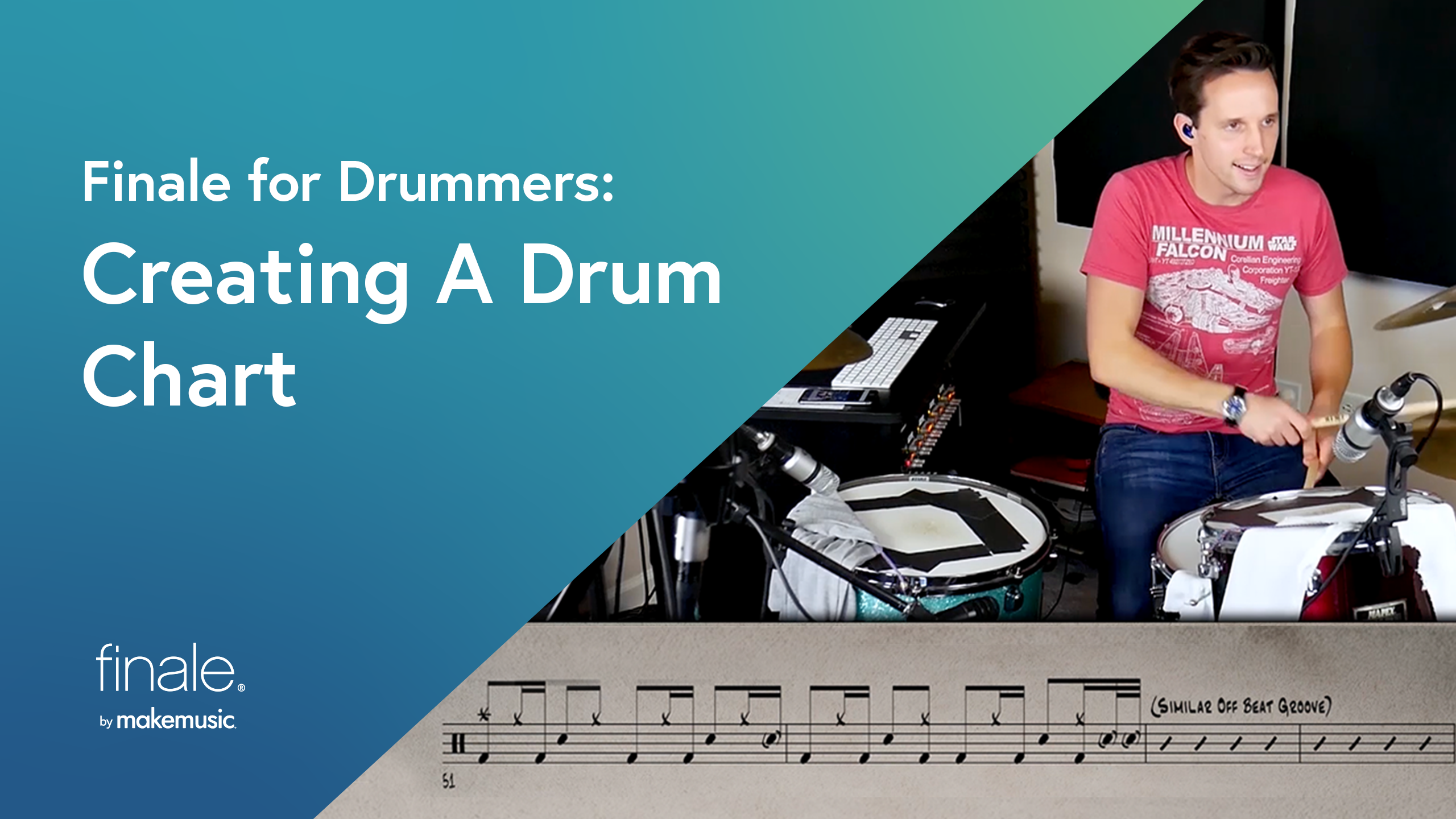 In the latest installment of Finale for Drummers, Tim Buell is back to show you tips and tricks to create great drum charts in Finale. Drum charts are a great tool for a variety of musicians and composers, such as band directors leading a jazz group, singer-songwriters looking to provide charts for their drummer, and of course, drummers preparing for their next gig. 
In this video, Tim demonstrates how to create a drum chart from beginning to end. He also shows his tricks to easily add rhythmic cues above the staff, add rhythmic cues to slash notation, and mix slash and rhythmic notation in the same measure. 
Tim has even provided a basic drum template to help you create your drum charts and drum notation more efficiently.
Don't forget to check out the first three videos in the Finale for Drummers series for more tips on how to get the most out of your drum notation:
For more on Tim and his process for using Finale to transcribe and chart drums – download his FREE 4-part video course "How To Transcribe."
Keyboard Shortcuts:
Fit Measures


Windows: CTRL+M

Mac: CMD+M


Paste in Front


Windows: CTRL+I

Mac: CMD+I


Tie to next note


Windows: T (When selected on a note in Simple entry)

Mac: T (When selected on a note in Simple entry)


Select 2nd layer


Windows: SHIFT+ALT+2

Mac: CMD+SHIFT+2


Change stem direction


Windows: L (When selected on a note in Simple entry)

Mac: L (When selected on a note in Simple entry)

Adding Rhythmic Cues Above the Staff
Select Staff Tool

Right click measure > Select Define Staff Styles


Select "Two bar repeat" from dropdown menu

Click Alternate Notation > Settings


Under Other Layers Show, select:


Notes

Articulations

Expressions

Adding Rhythmic Cues To Slash Notation
Select Staff Tool

Right click measure > Select Define Staff Styles


Select "Slash Notation" from dropdown menu

Click Alternate Notation > Settings


Under Other Layers Show, select:


Notes

Articulations

Expressions