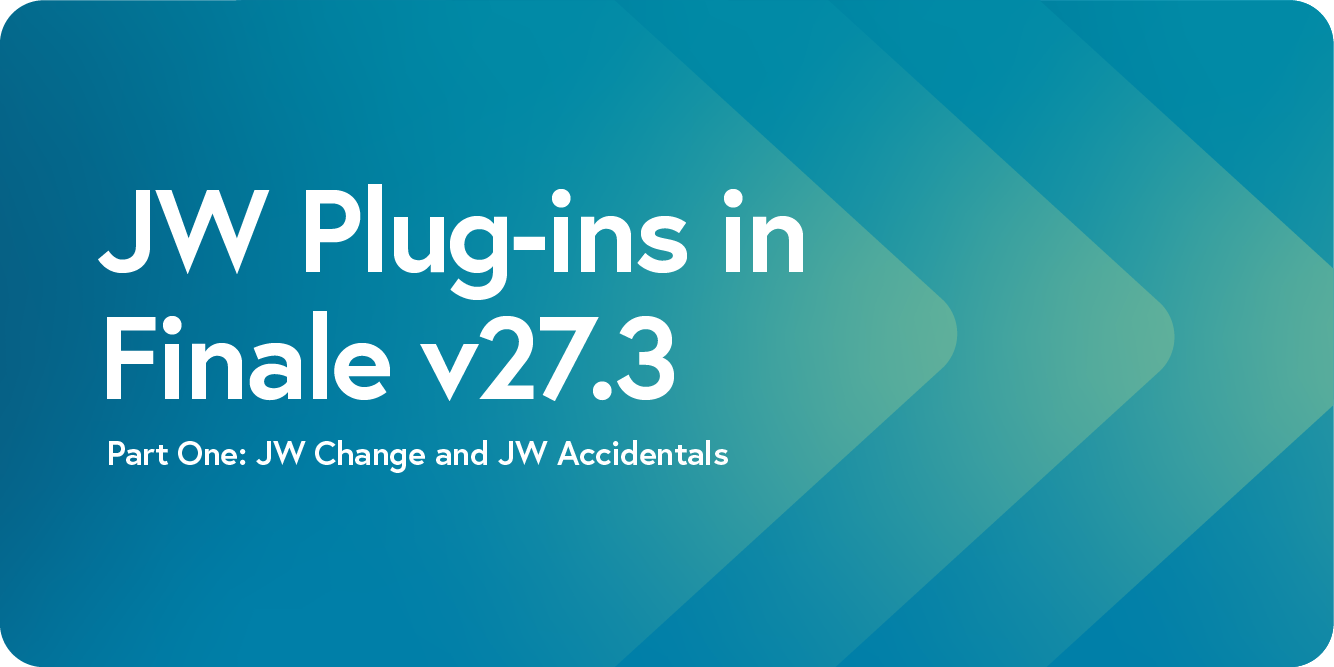 With the release of Finale v27.3, for the first time ever, Finale users have instant access to the powerful JW Plug-ins – no additional installation required. These plug-ins, created by Jari Williamson, make a variety of functions a breeze in Finale, and are truly indispensable for everyday and occasional Finale users alike. With v27.3, the Finale team has made updates to these eight plug-ins to ensure that they function correctly, especially when using the newly supported SMuFL fonts. The JW plug-ins, and others like them, can have a transformative power over how you work in Finale.
To access the natively installed JW Plug-ins, first ensure that you are using Finale v27.3. If you have v27 already, but have not updated to the latest version, you can do so by opening Finale and navigating to the Finale menu on Mac, or the Help menu on Windows. 
If you have not yet upgraded to Finale v27, head to the Finale eStore to upgrade for only $99.
Once you are in Finale v27.3, you can access all of the native JW plug-ins by selecting Plug-ins > JW Tools from the Finale menu. Here you will see the eight native plug-ins that install with Finale v27.3. 
If you're unsure of what each plug-in does, fear not. Over the course of the Plug-in Spotlight Series, we will do a deep dive into each of these plug-ins, starting with JW Change and JW Accidentals.
With more that 200 built-in tools, JW Change is a Swiss Army Knife for editing elements in a score through a general user interface. It is designed to quickly change all elements of a score with just a few clicks of a button. For example, when using JW Change, users can resize elements, hide elements, and change element shapes quickly and easily. It also includes a Sequence Editor that enables users to create a sequence of changes that can be reused later in other scores. 
After selecting the plug-in from the Menu, the main window will open, with a list of the items available for editing:
Despite the vast number of different elements that can be changed, the interface is relatively simple. After highlighting the section of the score you wish to edit an element of, open the category and choose the tool you wish to use: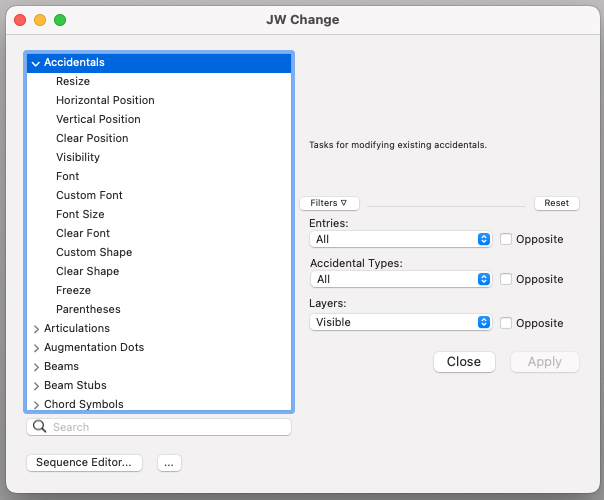 On the right side of the window, there are filtering options for the selected tool, which gives users more control of the modifications they wish to produce. Please note that the filtering options change depending on the active tool.
JW Change also has a built-in automation feature, the Sequence Editor. Using this makes it easy to create a repeatable set of actions that can be reapplied with the press of a button.This can be a very useful tool if you need to make the same set of changes in multiple files.
Here is an example of how to use the Sequence Editor in JW Change:
This is just a small selection of the wide variety of features that JW Change contains. For even more information about JW Change, check out this video from Conquering Finale creator Jason Loffredo.
The JW Accidentals plug-in helps to find and correct cautionary accidentals in your document. One of the primary jobs of any composer, arranger, or copyist is to enable the performers to succeed in creating the desired sounds from the written notation. A critical piece of this is providing all of the symbols a performer needs, without creating clutter that would cause confusion.
When it comes to providing cautionary accidentals, there are various approaches and conventions that vary depending on the style of the piece and the players it is written for. JW Accidentals offers the required flexibility to add only the cautionaries you decide are necessary. 
When using JW Accidentals, the user can set up and save predefined sets of rules for when and how cautionaries should be displayed.
The plug-in then scans the piece and suggests potential locations for cautionaries.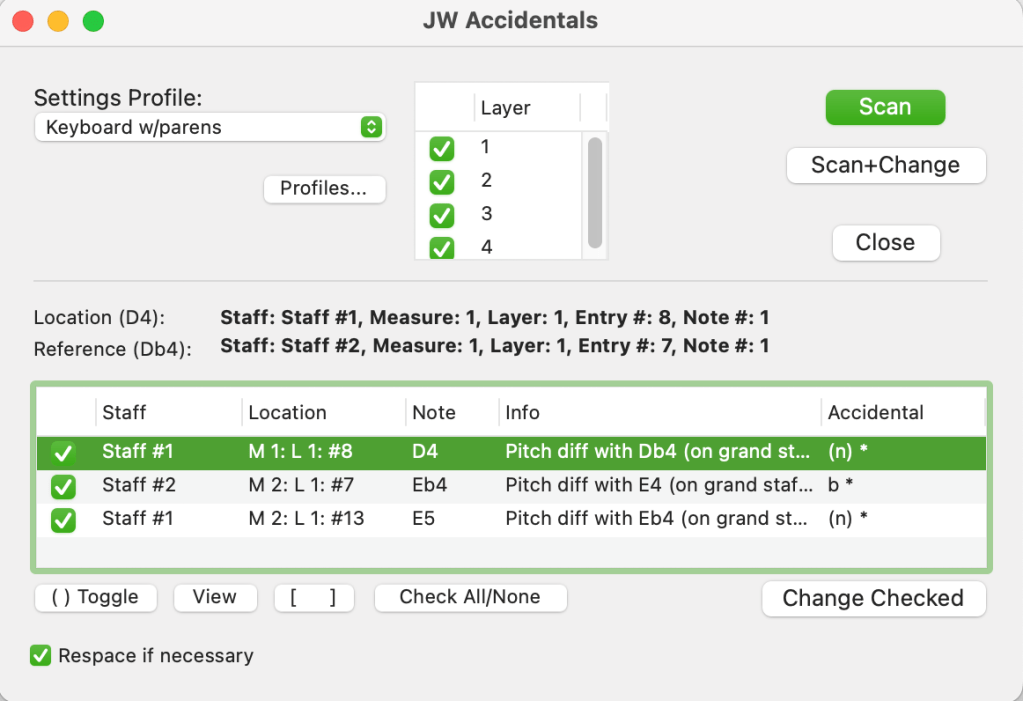 The user can then make the final decisions on whether to place each cautionary and if it should be parenthesized. 
A fully automatic mode of "Scan and Change" is also available if you prefer to accept all of the suggestions (based on the current settings) without reviewing them individually.
Here is an example of JW Accidentals in action: 
There are even more JW plug-ins to explore, and we are only scratching the surface here. In the coming weeks, we will dive into another round of plug-ins, including JW Copy Part Layout, JW Note Spacing, and JW Pattern.
Ready to upgrade to Finale v27.3 and take advantage of the built-in JW Plug-ins? Head to the Finale eStore to upgrade for only $99.