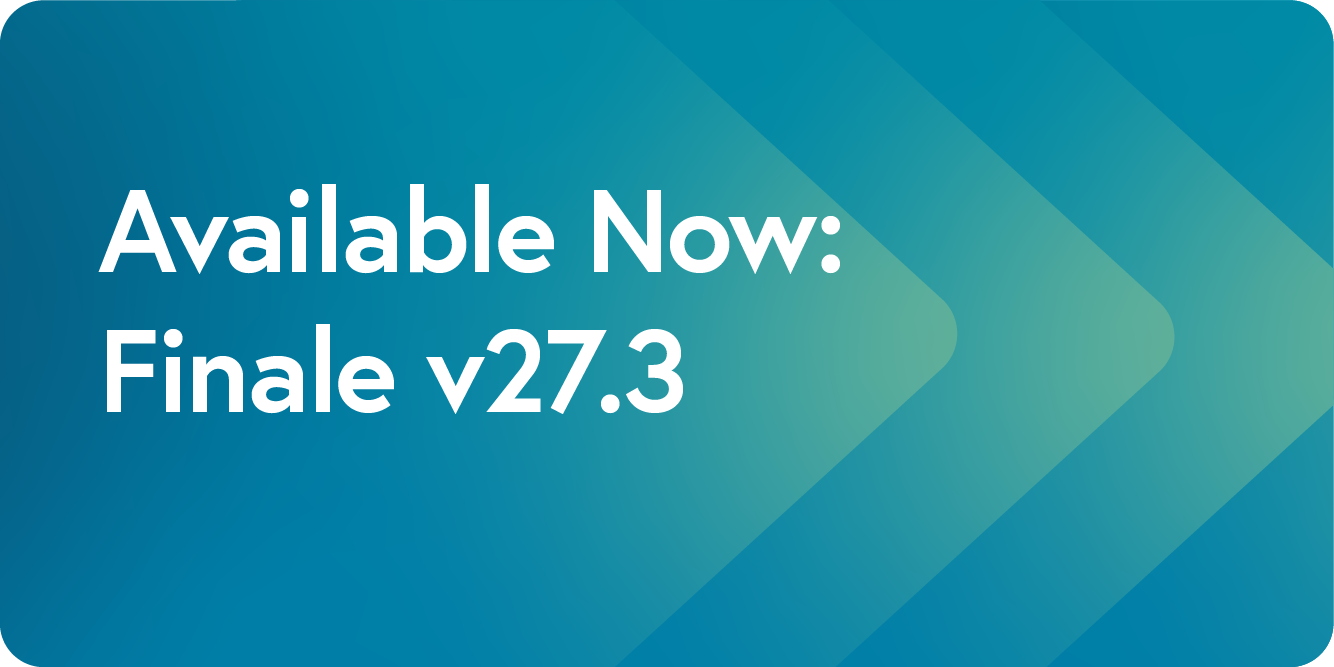 Ver artículo en español
Finale v27.3, the latest free update for all v27 users, is available now!
One of the marquee features included with this update is the native installation of Jari Williamson's powerful Finale plugins. The JW plug-ins have long been a favorite among the Finale user community for their time-saving capabilities and we're excited that we can now provide eight of Jari's most frequently used plug-ins directly in Finale. If you've never experienced the wide-ranging capabilities of these plug-ins, now is the perfect time.
There are even more additions to love in this update. Here is the full list of of updates in Finale v27.3, and how to download:
Updates in v27.3 include:
Eight of Jari Williamson's plug-ins now install natively with Finale, have been updated to work correctly with SMuFL-compliant fonts, and also contain fixes for several outstanding bugs  and crashes. The eight plugins are:

JW Accidentals

JW Change

JW Copy Part Layout

JW Note Spacing

JW Pattern

JW Rhythm Copy

JW Space Empty Rests

JW Staff Polyphony

Many Special Tools are now available while editing voiced linked parts.

More Finale native plug-ins are now active while viewing linked parts and when using voiced linked parts.

The Latin Percussion plug-in now contains SMuFL-based support files.

The AlphaNotes plug-in can now use SMuFL-based characters.

The Automatic Dynamics plug-in now only works with SMuFL-based fonts.
Bug Fixes:
Voiced Linked Parts 
Grace notes in voiced linked parts are now spaced correctly.

Stem directions in voiced linked parts now face the correct directions.

Second and unison note spacing is now accounted for correctly in voiced linked parts. 

The Score System Divider plug-in now works correctly with SMuFL fonts.
Plug-Ins
The Create Handbells Used Chart plug-in now displays modified noteheads correctly when used in a SMuFL-based document.

The Create Handbells Used Chart plug-in displays the correct number of bells used again. 

The Check Regions for Durations plug-in no longer overlooks some incomplete or overfilled measures.
Slurs
Manual adjustments made to slurs in linked parts now retain these edits after closing and reopening a document.

Creating a two note slur where an articulation is present, no longer unlinks the articulation from the score. (Windows only) 
MusicXML
Embedded PDF graphics are now exported and imported.

All text inserts are now exported, including date, time, file date, performance time, file name, double flat, double sharp, and pass number. 

TAB clefs no longer export a line element.
Miscellaneous
Saving: Human Playback preferences can now be edited/saved if the user account name contains a unicode character. (Windows only)
Document Options: Exiting Finale with the Speedy Entry tool selected no longer turns off Automatic Update Layout in the document. 
ScoreMerger: ScoreMerger no longer discards the abbreviated name of parts when merging parts into a score.
FinaleScript: Using the

"default clef bass" command in FinaleScript no longer causes a crash.
To download and install v27.3:
Select Finale (Mac) or Help (Windows) > Check For Update
Click Learn More (Mac) or Install Update (Windows) and follow the onscreen prompts
Still using an older version of Finale?
 If you want to get these great updates, as well as all of the new features included in Finale v27, head to the eStore to purchase or upgrade for as little as $99.