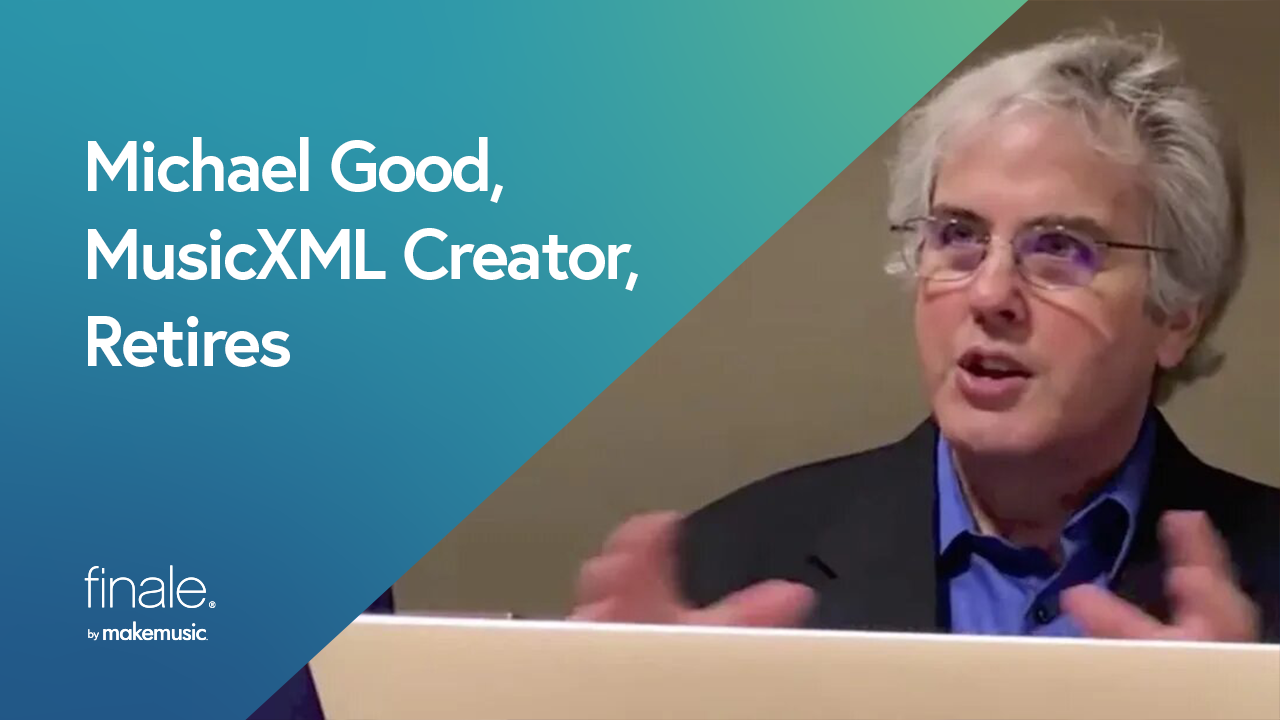 Michael Good, the creator of the MusicXML standard, has officially retired after 44 years as a software engineer. Michael has been an integral part of the music notation community, and we wish him all the best in his well-deserved retirement. In addition to stepping down from his position as the VP of MusicXML Technologies at MakeMusic, he will also step down as the co-chair of the W3C Music Notation Community Group.
Michael's impact on Finale, as well as the music notation landscape as a whole, cannot be overstated. As the inventor of MusicXML, the standard interchange format for music notation software, Michael's technology enables interoperability between a variety of music software. Just as MP3 files have become synonymous with sharing recorded music, MusicXML files have become the standard for sharing music notation files. Today, more than 260 applications support MusicXML.
Michael Good founded Recordare in 2000 with the purpose of developing the MusicXML standard. Recordare assets were acquired by MakeMusic in 2011, where Michael has continued working on the development of MusicXML. MusicXML 4.0, the latest version of the standard, was released in June 2021 in coordination with the release of Finale v27.
""There's no doubt that Michael has left an indelible mark on the world of music making, and we're lucky here at MakeMusic to have worked with him over the past decade," said Finale Director of Product Development Jason Wick.
The future of MusicXML will continue to be managed by the W3C Music Notation Community, a group that aims to serve a broad range of users engaging in music-related activities involving notation. Although Michael will be stepping down as co-chair of the W3C, he will continue to contribute to the group's activities as a member of the community in his retirement.
We want to thank Michael for all of his incredible work over the past 20 years. Michael has been an indispensable part of the MakeMusic team and the broader music notation community, and we wish him all the best. If you want to learn more about Michael's history and work as a software engineer, check out this great interview hosted by Scoring Notes.