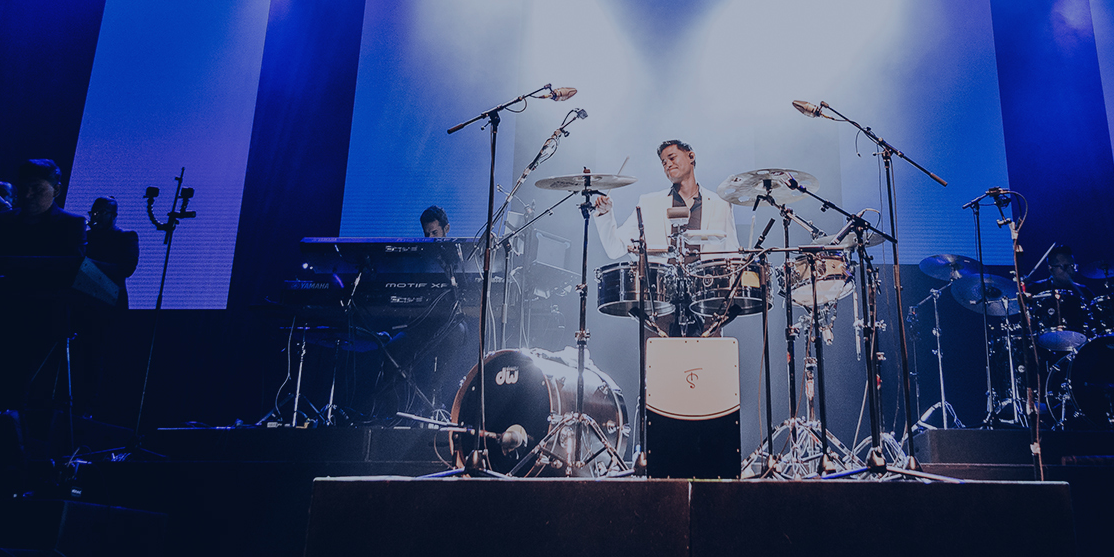 Ver artículo en español
Tony Succar is a two-time Latin Grammy-award winning musician, composer, arranger, producer, and percussionist based in Miami, Florida. Raised in a family of musicians, Tony has developed a signature sound blending the salsa, jazz, pop, and Afro-Latin inspired music that has influenced him from a young age. 
At this year's Latin Grammy Awards, Tony is nominated for Best Tropical Latin Album for his album Live in Peru, a live album featuring latin-inspired arrangements of Michael Jackson's most popular music. 
As a Finale user himself, we sat down with Tony to discuss his music, his family, and his creative process.
You clearly have deep roots in music, with musicians in your family extending from your parents all the way back to your great-great-grandparents. With that, did you always know you wanted to be a musician? If not, at what point did you know that music was something you wanted to pursue?
Actually, because they were "professional gigging musicians," it was the exact reason why I DIDN'T want to become a professional musician. Because I always saw them struggling, gig to gig, we could barely go to family reunions on the weekends together because of gigs. They would leave us home alone at nights with sitters, BUT, because I never liked to stay home alone, I decided to learn to play the drums so I could become their drummer lol. My dad also taught me to play piano… music was normal for us, it was like walking or breathing, like playing music was like speaking to each other. All the time at the house I was jamming, and playing music. Silence was never allowed haha.
I wanted to be a pro soccer player, I played throughout high school, but then when I was going to college, I had to choose a major. I hated everything, so my dad convinced me to do music. Once I began the program, I fell in love, and I decided to be the best musician / composer / producer I can be!!!
So I feel like I didn't choose music, music chose me. God didn't want anything else for me!
It sounds like your family has played a huge role in your life and your musical journey. As a new father yourself, has your outlook or approach to your music changed at all since having your first child?
Yes definitely everything in life has changed. My whole perspective on purpose has changed. I want more than ever to do music with a purpose. It's important to work towards a better world for the future generation. Kids are the future, and us as adults need to make it a better place for them. We need to write quality music, good messages. That's what the world needs right now.
Tell us about your composition process. Do you typically start by writing, playing, or a combination of both? 
I always start playing and singing melodies in my head. I can't write and then play. I wish i could though, but that's not my process. I'm a feeling guy. I have to feel a groove, I have to program my ideas, and then little by little, I start polishing it. Then I write it down on paper, or these days, on notation software :). Who uses paper these days lol. I don't even remember how to write my own name in handwriting.
How did you get started with Finale?
I started in school actually. They recommended Finale, and so I tried it out and fell in love. School as in "university." During high school I barely could read simple music notation.
You are nominated for a Grammy this year for Live in Peru, a live performance of your original arrangements of Michael Jackson songs, which you originally started writing back in 2010. Has the music changed or evolved at all since it was first written?
The music always goes through changes, especially if you're on tour or if you're performing a lot. Musicians will come up with stuff on the spot, you'll see how the public reacts, you'll add reharms, you'll do interactive things with the crowd, extend sections, add sections, etc. That's the cool part with live music, you have the liberty to do so. My band is a 16-piece orchestra, so writing stuff for them is like going to Disney World for me!
Michael Jackson's music is clearly very important to you, and that passion is obvious to anyone listening to Live in Peru and Unity. Beyond these albums, is there any other music that you have written that holds a particularly special place in your heart?
Yes! I love LATIN JAZZ. I have a couple of latin jazz charts that I've written that I truly enjoy. Eye of the Hurricane – I did a cool arrangement to that Herbie Hancock tune that went pretty viral on Facebook.
What other projects do you have coming up? Anything you want to shout out? And where can people get more information about you and your music?
Right now I'm working on my mothers album! She's amazing. Mimy Succar – you have to check her out her first music video ever :)
And the album that is coming out is insane. Wait for it, you're going to be impressed :)