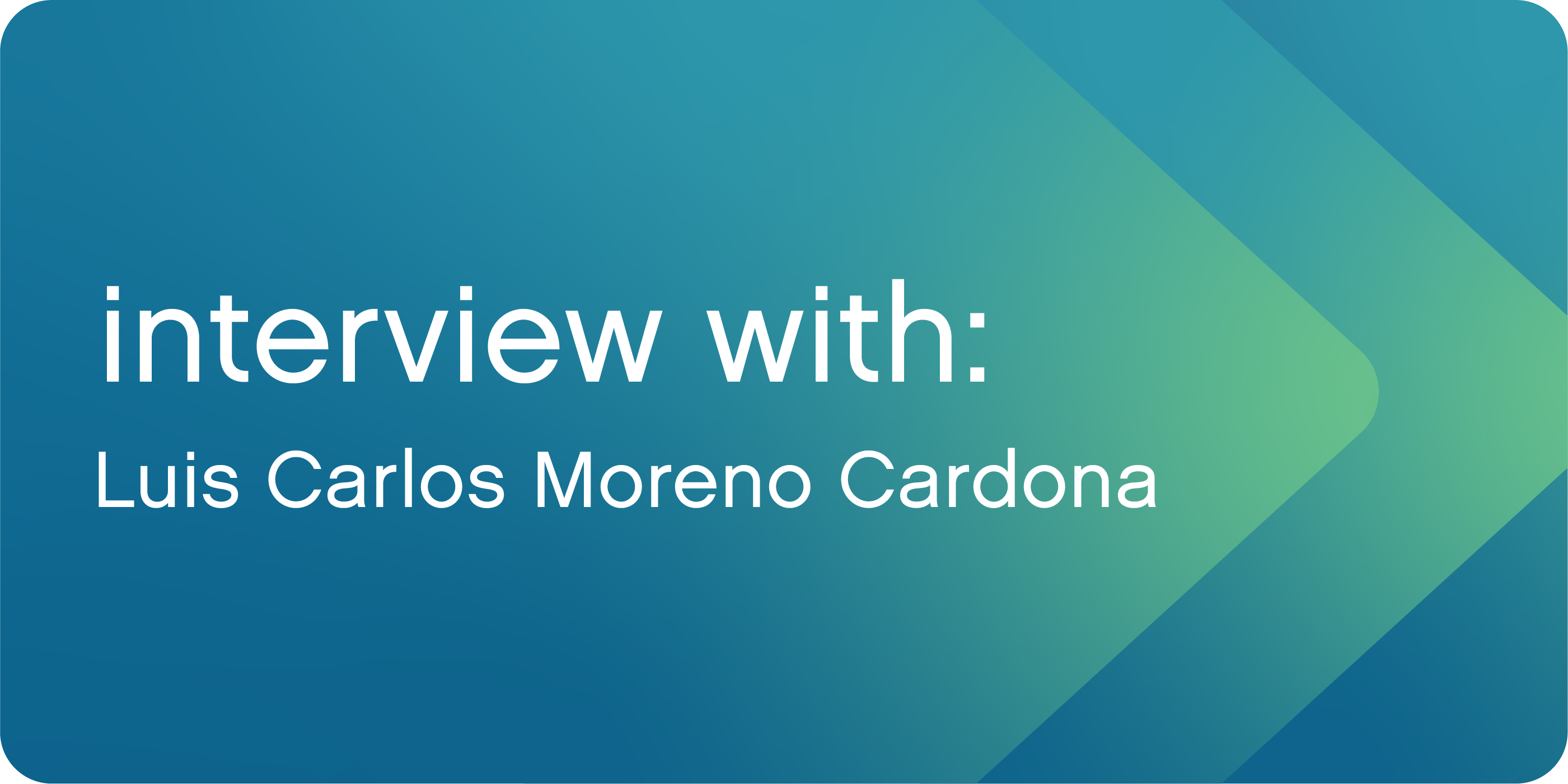 Ver artículo en español
Luis Carlos Moreno Cardona is the creator of AulaMusical, an educational music notation series hosted on Youtube. On his channel, he covers a wide range of music notation topics and provides tutorials for music notation software. We sat down with Luis Carlos to learn more about why he created AulaMusical, how he uses Finale, and what's next for his channel.
How did you get started using Finale?
I started using Finale because of my methodological preferences when teaching music. I place a lot of value on musicians' formational process and their learning. I believe that every musical work should be presented to students at the right moment and course, so that they can feel simultaneously challenged and accomplished. I think that repertoire choices are the way to grow musically; this also includes scales, and technique and warm-up exercises.
As music professors, composers, and arrangers, we tend to push performers to reach higher every time; we demand that they give their best and that they fulfill the technical requirements of a repertoire that is challenging execution-wise. This approach to music performance fosters professional growth, it improves interpretive technique; but it also demands discipline, effort, and requires a lot of preparation time.
It's common to hear about people who are initially motivated to begin practicing but lose that impulse halfway because the repertoire that they're given is above their level.
I think that a solid and lasting training in music performance should be carried out via a strategic selection of repertoire, this way the musical demands can be portioned little by little and contribute both to technical growth and the immediate enjoyment of the music. Music is to play, music is for playing (play to play). This is made possible when selecting repertoire that is on par with the performer's skill level.
I've used Finale ever since I started to put into practice my belief that teaching should be done through repertoire. I began to build scores based on whatever stage of learning beginners were in, like pre-band, musical ensembles, and wind orchestra. All of this happened in the municipality of Concordia, where I was a musical director, arranger, and composer with a pedagogical vocation.
What is your impression of Finale v27 so far?
We musicians are very demanding and music evolves constantly. Finale's strength is that it continues to bolster the implementation of existing standards while it continues to be flexible in regards to the diversity of musical notation. I can see that Makemusic listens to musicians and is aware of any changes happening in music. Now, as musicians it is our job to learn more about how to use it in a way that best fits our needs.
Any new features that you're particularly excited about?
Society has been migrating its ways of interacting and creating through the cloud. In this sense, the new connectivity provided by SmartMusic is welcomed because it allows us to use Finale v27 to create the score, share it immediately with a colleague or student, modify and update it in a swift way.
Your Youtube channel AulaMusical has grown quite a bit since you started just a few months ago – what led you to start the channel and start creating videos?
It's been a very exciting seven months. I undertook a project that demands that I organize and structure information, produce videos, edit, research how YouTube works, understand musicians' interactions online, design promotional strategies, interact with visitors, and respond to their inquiries. This is a full-time job in and of itself. Behind every video there are many hours spent, and to persevere I keep seven motives clear in my mind:
I'm a professor at the University of Antioquia and I wanted to optimize the exchange of information for my classes. The social isolation of 2020 led us to the use of online spaces. The use of videoconferencing as the only medium of interaction is strenuous for students because they spend a lot of time receiving information and little time processing it. Apart from being an asynchronous tool, YouTube solves technical issues such as audio and image quality, which are dependent on the quality of the user's connection.

I like to research and be up to date on digital tools. A platform like YouTube, apart from allowing for the exchange of knowledge, brings us close with people who share similar interests.

My daughter Laura likes music and is a communications and audiovisual languages professional; she's discovering the world her own way, we are similar that way, and now I have one more topic of conversation for those moments when we sit down to give each other feedback and suggestions.

I wanted to address some issues with shyness and self-esteem, taking advantage of my expertise with the use of technology. The social isolation of 2020 brought serious emotional challenges for everyone. The musical industry was beat up and my way of contributing was to share whatever I know about the use of digital tools, starting with music notation software.

Midway through 2020 I had some health issues and I had to undergo medical examinations that generated fear in me. Fortunately everything turned out ok, but at that moment I felt the desire to place my efforts and knowledge at the service of more people. The cycle of life has stages of exploration, harvest, and decay. We're all very vulnerable and we constantly forget that we're only passengers on a brief trip.

In 2000, I created my website AulaMusical.com. It's helped to open doors for jobs, experiences, and very valuable personal relationships that have contributed to what I am so far. Now, being at home, the YouTube channel has given a breath of fresh air to this phase of digital creation and has strengthened my personal brand and call for service.

I was curious to know what a publicity plan would consist of on the YouTube platform. I undertook a strategy of educational creation, implemented a free course on Finale internationally, and have reached 1150 people from 26 countries. Eight months later, the AulaMusical channel met the requirements to partner with YouTube. With all of this, I've gained enough experience to be able to talk to my students about what a YouTube strategy is.

From your videos, it's clear that you have an extensive knowledge of multiple instruments as well as composing. Could you tell us more about your musical background?
I've been a composer and arranger for 30 years; I know the pedagogy and mechanisms of wind instruments because as a child I began in music playing in a band in the municipality of Gómez Plata. Since my adolescence I enjoyed writing scores for bands and for the church choir. I was a wind orchestra director for thirteen years. This role allowed me to get to see many places in my country as a director, special guest, jury, and seer of musical competitions. I have a bachelor's degree in Musical Education from the University of Antioquia and a master's degree in Digital Arts from ITM.
If you could tell your viewers one thing, what would it be?
Take note of what interests you, learn how to organize information, organize your time; have clarity about what you want but make it something that brings you peace of mind. Take advantage of important tools that help your project and look online for options that can be useful; dedicate more time to this and reduce distractions. 
Where do you see your YouTube channel going in the future?
When we look into the future we generally close our eyes and observe through the lens of our desires. I've enjoyed this project so much that I can picture a way of life dedicated full time to AulaMusical; it could be through a partnership with a non-profit or an alliance with a private company who could make this idea for creativeness and service sustainable; but my eyes are wide open and at the moment I know that I already have much to celebrate and be grateful for, as I am to every music colleague who is joining this project because they help me grow as a teacher and content creator. They're the reason that I keep sharing and living each day one step at a time.
What other music software do you use, and what do you use it for?
Musescore, I use it to grow and reinforce the context of analysis in musical notation, it's incredible what can be learned when we challenge our intellect to explore life from two different perspectives. Now I know more about Finale thanks to my exploration of Musescore, and know more about Musescore thanks to what I know about Finale. 
I use Logic Pro to record and compose. I complement this activity with Finale through the MusicXML 4.0 format. I use Audacity and Reaper as versatile tools to chat about audio and recording topics with my students.
As a Spanish-speaking musician, what tools would you like to see available to make music creation easier?
Now that Makemusic has launched in Spanish, the Finale manual needs to be constantly updated; grow the blog content in this language; ensure that SmartMusic is in Spanish as well so that it's more accessible to students and educators; and have a distribution plan for the product with prices or payment plans that are more in sync with the economic reality of Latin America.