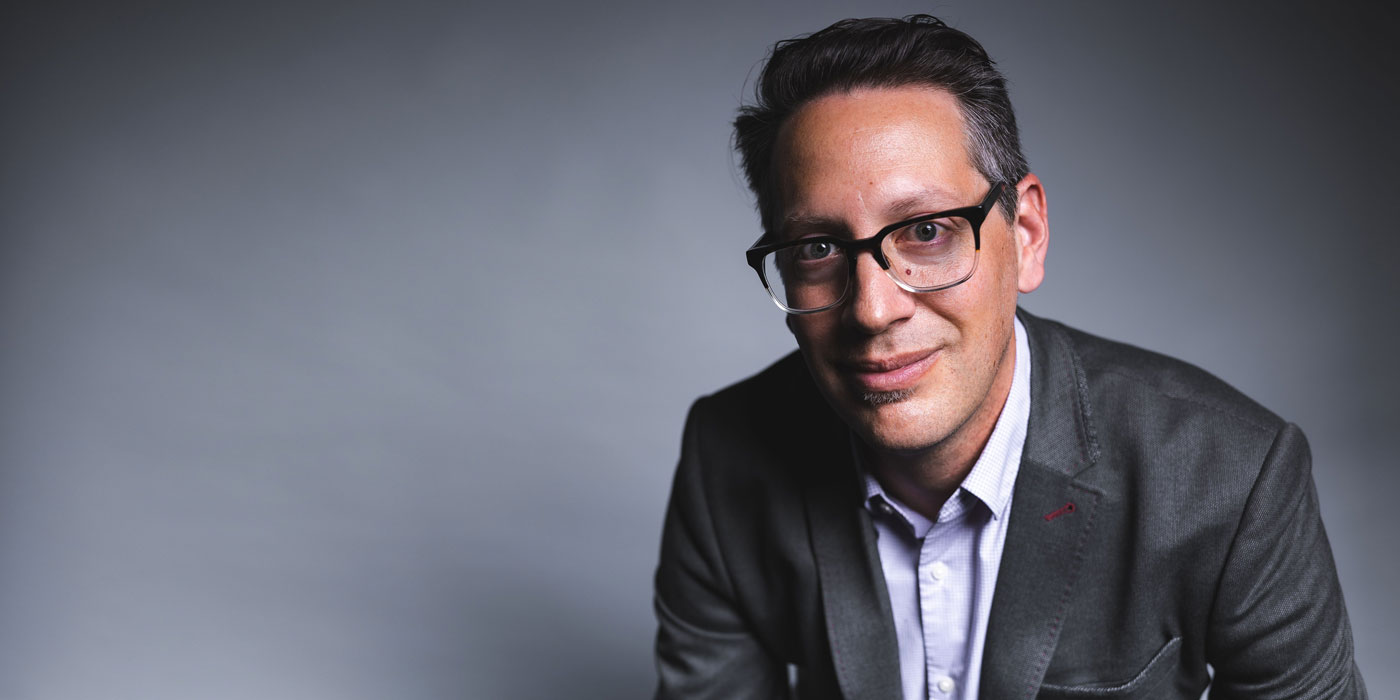 When we first sat down with composer, arranger, and orchestrator Jeremy Levy in 2012, he had just released his first album as the Budman/Levy Orchestra, a project co-led by saxophonist Alex Budman and featuring a host of first-call LA session musicians. He had already worked on major projects in nearly every medium including film, television, and video games. We reconnected with the now GRAMMY-nominated composer/arranger to learn more about his recent projects, including his work on Uranus: The Magician and The Queen's Gambit, his favorite Finale features, and advice he has for aspiring composers.
What is your musical background?
I grew up in historic Hannibal, MO, very fortunate to have an incredible jazz band program in my High School. My first instrument was piano at the age of five, but I gravitated to trombone in Middle School. I studied classical and jazz trombone at the Univ. of MO Kansas City, Conservatory of Music. After my undergraduate degree, I got accepted into the Studio Jazz Writing program at the University of Miami, where I studied with Gary Lindsay. This was the most influential period in my education, as I learned all about orchestration, recording, production, and mixing. Tools that would serve me very well when I moved to Los Angeles in 2006.
What inspired you to start composing and arranging?
It sounds cliche, but I have to answer with John William's music for Star Wars. All the character themes and sweeping orchestral music really drew me in as a kid just beginning to understand music on a deeper level. In high school, I started downloading MIDI files of Star Wars music, and dissecting the individual parts to see how it all fit together. It was around this time that I heard Gustav Holst's "The Planets" for the first time. I will never forget this first time I realized that Star Wars was directly influenced by Holst.
You were just nominated for a GRAMMY Award for Best Arrangement, Instrumental or Acapella for your work on
Uranus: The Magician,
from
"The Planets: Reimagined."
Can you tell us about your experience working on that project?
As I've hinted at above, Holst's "The Planets" has been a pretty transformative piece of music in my life. The concept for "The Planets: Reimagined" came about through my friend, composer Gordy Haab. He asked me to write some additional music for his score on Star Wars: Battlefront. In order to really understand the musical style, I dug back into Holst since it was such an important influence on John Williams' score. Later that summer, I went to a performance of the Hollywood Bowl Orchestra performing "The Planets," and the whole concept came together in my mind. I arranged the seven-movement suite in about nine months, while testing it out with my Los Angeles big band. It felt like I was really onto something with the concept. Next, I premiered the suite with the Frost Concert Jazz Band at the University of Miami. After a successful Kickstarter fundraising campaign, I recorded the rhythm section and then the full band a little while later. The record was finally released on OA2 Records in 2020, the culmination of three long years.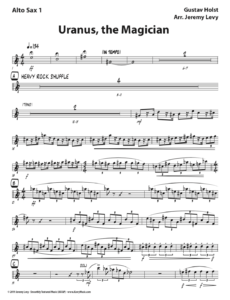 How do you approach a new composition or arrangement? What's your creative process like?
The first thing I have to do is understand the concept of the piece. If it's a composition, what is it about? Does it have greater purpose other than purely musical? If it's an arrangement, I need to know if it's for me or a client. If it's for a client, a lengthy chat needs to occur to decide on style, tone, and purpose of the arrangement. If it's just for me, I basically need to ask myself the same questions. Regardless, having a picture of what I want to write makes the rest of the process much easier. After I've worked this out, I'll usually start working out ideas on the piano (or occasionally the trombone). I also find that getting outside and walking my dog can be clarifying.
What are some of your favorite Finale features? How do they support your creative process?
My favorite part about Finale is that it does exactly what I tell it to do. To me, Speedy Entry is the closest method to writing on paper there is. My favorite features for big band writing are the Repitch Tool and Explode functions. I will usually work out the top line of the harmony first, to decide on rhythm and melody. Then, I will go back and use the Repitch Tool to harmonize the section in 4 or 5 part harmony. I use the "JW Staff Polyphony" plugin to explode down the notes. It is super helpful, as it automatically uses the top staff of the selection, and you can choose to explode in single notes, pairs, or split pairs (for traditional horn section writing). I use a macro program called Keyboard Maestro to automate the whole process. Another one of my favorite features in Finale is the ability to scrub playback by hovering the mouse over a selection, and pressing OPTION+SPACEBAR. This may not sound like much, but it allows me to check harmony in non-real time by narrowing in on a specific beat and hearing the playback sustained.
When it comes to part production, is there a standard you follow for creating parts? Do all parts get printed?
I generally follow the Hollywood style of part preparation. This means the phrasing of the music will dictate the system flow. In standard 8 bar phrases, you'll end up with 4 bars per system, but the important part is that new phrases always start on the left of the page so they are easy to find at a glance. I use a lot of double bar lines to indicate the start of sections, as well. This will automatically break up multimeasure rests, as well. I use the "JW Copy Part Layout" plugin to keep a consistent layout between similar parts. For instance, I'll lay out Alto Sax 1 first, then copy the bar layout to Alto Sax 2. In commercial music such as this, you will save a lot of time this way. I print parts at home on my trusty HP 5200. Generally, I will print 2up on 11×17 sheets, and then fold them in half to save time taping them together later.
You also recently orchestrated the music for the acclaimed Netflix show
The Queen's Gambit
. How is the process of orchestrating a score for film/tv different from preparing other arrangements?
The biggest difference in orchestrating music for recording, is that the rules don't really apply from live music. For instance, on Queen's Gambit, we would often record two passes of strings. One for all the melodies and long notes, and a 2nd pass of just short notes and pizzicatos. This gives you a lot more flexibility without having to overly divide the string section. Another benefit of being able to do this is flexibility in the final mix. Sometimes certain parts of the music may need to be recorded separately (this is often referred to as "striping") in order to apply a different reverb or other effect.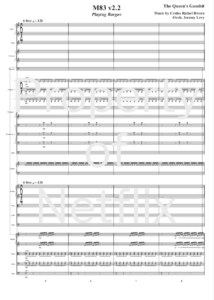 What advice do you have for aspiring composers/arrangers who are just getting started?
Do something to get noticed! If you want to write music in a certain style, start writing music in that style or start a band. Obviously, socializing with other people in your field is important to build relationships, as well. If you want to get into film, do your best to make friends with directors. So often, you'll find a film composer went to college with their main client, as they were great friends in school. My last bit of advice is to learn to take care of your finances as a small business. Most of us remember the first time we had our first good paycheck and then didn't withhold enough taxes, getting a HUGE shock in April.