Many of you have asked when the next version of Finale will be released. Today I'm glad to report we plan to make it available by late summer, 2016.
With this release we are fully committed to streamlining and modernizing Finale's codebase. We do this to improve performance, maintain compatibility with future operating systems, and to set the stage for future improvements. In the process, it has become necessary to remove old code  – and corresponding functionality  – that slows down this progress. This is something we never do lightly or without significant user feedback and a close eye on usage data. Our ultimate goal is to provide music creators with the best tool possible.
With that in mind, here are the items that won't be in the next version of Finale:
Movie Window

–

As I mentioned in this

previous post

, we've replaced the Movie Window with ReWire support, allowing  users to take advantage of the superior video support found in programs like Digital Performer, ProTools and Logic.

Mirror Tool  and Tempo Tool 

– 

Please note that Finale continues to offer multiple ways to control tempo, and that older files with mirrored measures

can easily be converted to regular notes and rests.

Plug-ins 

– Discontinued plug-ins include Band-in-a-Box Auto-Harmonizing, Count Items and Classic Eighth Beams. While technical issues prevented us from updating the  auto-harmonizing plug-in to the 64-bit world, we do plan to revisit this functionality in some form in the future.

Compact Disc installer – Because many new computers no longer have CD ROM drives, we've switched to a USB stick (in addition to offering a download option).
Scanning

–

When we offered a preview of our plans to modernize this feature, we sparked a larger discussion about rights. Musicians from all walks of life

 –  

from individuals to major publishers

 –  expressed concern over the publishing consequences that could result from significantly improved scanning technology.

We take rights very seriously. We explored enhanced restrictions as a possible solution, but ultimately decided that any restriction has the potential for abuse. Instead, we've decided to refocus this technology for the future and apply it in such a way that it can be stretched and pushed while simultaneously safeguarding musicians' rights.

While we're eager to share more on this, the next Finale will not include scanning capabilities.

Learn more

.

Support for older Mac operating systems

 –

OS X 10.10 or higher will be required.
On the subject of OS support, we're pleased to announce that full support will be provided for Yosemite, El Capitan, and Apple's upcoming Sierra. Plus, being 64 bit, the next Finale will be poised to be compatible with subsequent operating systems as well.
One additional thing that will not be in the next version of Finale is a name that corresponds with a year. Why? Since the launch of Finale 2012 we've moved away from releasing a new version every year. While we've received positive feedback on asking users to upgrade less frequently, this change has produced some confusion as the current software (2014.5) appears to be out of sync with the calendar (2016).
We've also changed our approach regarding the addition of new features between major releases. Moving forward we plan to release more incremental versions, as we did with Finale 2014.5, which add new functionality (not just bug fixes) without charge to our current customers.
So what will the next version of Finale be called?
Finale.
That said, if you look in the "About Finale" dialog box, you'll see version 25 listed. Why 25? This is 25th full upgrade since the release of Finale 1.0 in September of 1988.
Have questions? Please feel free to let us know via Facebook or Twitter.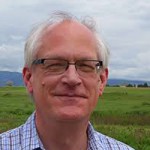 Mark Adler is MakeMusic's notation product manager/senior editor, a professional trumpet player, teacher, and a freelance music editor and engraver.
Mark has recently become the proud new owner of a 1990s-era player piano. Does anyone have some 3.5" floppy discs they'd like to donate to the cause?