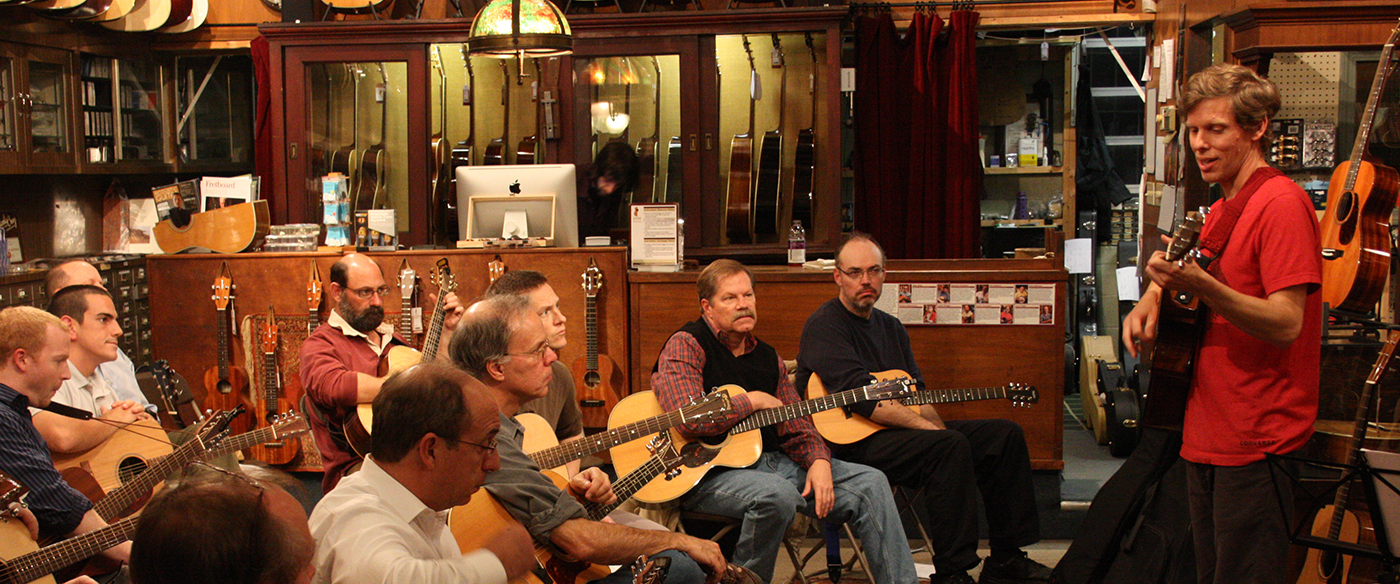 Jeffrey Pepper Rodgers is a busy musician, author, and teacher. The founding editor of Acoustic Guitar magazine, he's also the author of The Complete Singer-Songwriter and the multimedia guides Beyond Strumming and Grateful Dead Classics for Acoustic Guitar, as well as a contributor to NPR's All Things Considered. Jeffrey is also a grand prize winner of the John Lennon Songwriting Contest, a Falcon Ridge Folk Festival Emerging Artist, and a finalist (with his duo Pepper and Sassafras) for Best Duo at FreshGrass.
Jeffrey and I spoke about his wide-ranging career, starting with his first musical interests and influences.
What was your first introduction to making music?
Guitar and songwriting both kicked in for me when I was 12. My brother and I got guitars around the same time and learned together, egging each other on and collaborating all along the way. Both of us started writing songs almost immediately after learning the basic chords too – long before we had any notion that you needed to know anything to be a songwriter! We played our first actual gigs together when I was around 14, doing songs by the Grateful Dead, Cat Stevens, Neil Young, and so on, plus some originals.
Where did you study music?
I took intro guitar lessons at our local music store in New Jersey, and then studied a bit more during high school. But most of my learning was by ear – dropping the needle on my favorite LPs to figure out songs, and jamming with my brother and friends. I had a few songbooks too, but at the time those were all oriented toward piano and showed very unrealistic guitar parts (no, James Taylor didn't use F and Bb barre chords all the time, as the books indicated – he capoed at the third fret and played D and G).
The most sustained formal study of music I've done is actually of north Indian classical music. I studied tabla with Swapan Chaudhuri, Ali Akbar Khan's accompanist and one of the world's best tabla players, in California, and I also took lessons in India while spending extended periods there with my family (as recounted here).
Did you have a few really significant mentors/influences or many?
There have been many. However, I recently accepted the Facebook challenge of choosing ten albums that had a major impact on me and that I still love. After much internal debate, I picked albums by Simon and Garfunkel, Stevie Wonder, the Grateful Dead, the Beatles, Tom Waits, David Grisman Quintet, Gillian Welch, Chris Whitley, Martin Sexton, and, actually, the original Broadway soundtrack from Hair. That's a pretty good sampler of influences – though of course, I could go on and on with this list. (If you're curious, you can read my reflections on this top ten on Facebook.)
As a musician, author, and teacher, your career is very diverse. When did you begin to suspect you'd actually have multiple simultaneous career paths?
I got hooked on both words and music as a teenager, so it's no surprise that I wound up pursuing those things in tandem. The teaching part has grown over time. At first I taught mostly through writing (lessons, articles, and books), but then I started teaching guitar and songwriting workshops based on my books and videos, as well as courses at Syracuse University on songwriting and creative nonfiction writing. So the mix of what I do has evolved. The number and range of things I'm doing at a given time is often overwhelming, but in fact everything is connected. Playing music, writing, and teaching all feed each other.
What was your introduction to notating music?
I never learned to notate music growing up. As editor of Acoustic Guitar I spent significant time editing/proofreading song transcriptions so got better at reading notation and tab. But I didn't really start notating music myself until I was creating a lot of lessons.
What was your first experience with music notation software?
All of the notation in Acoustic Guitar has been done in Finale since we made the leap from handwritten notation in the very early issues to using software. Since then, the magazine has always had a music editor who's adept with transcribing and Finale, so I've worked with people with serious Finale knowledge. In the 2000s, as I began to write more lessons, it just made sense to learn to notate my own examples. So I gradually learned how.
How was Acoustic Guitar magazine born?
In the late '80s, the parent company of Guitar Player, Keyboard, etc., decided to pull the plug on its acoustic instrument magazine, Frets. David Lusterman, the Bay Area publisher of a magazine called Strings (covering bowed instruments and mostly classical music), saw an opportunity to serve the acoustic guitar world – which was actually about to explode with the arrival of MTV Unplugged. I was living in San Francisco at the time, playing in a band called Heavy Wood with my brother and working as a freelance writer and editor. David went looking for a guitarist/editor and fortunately found me.
When we started Acoustic Guitar, I was the entire editorial staff; the whole company had five employees. The magazine took off, and a decade later there were 40 of us working on two magazines as well as publishing books and doing many other related ventures.
How has the guitar magazine profession changed since then?
The whole magazine industry, like the music industry, is drastically different than when we launched Acoustic Guitar in 1990. One big change is that so much of what we do now is oriented toward digital publishing. We plan a lot of content in tandem for print and the website. When I write a lesson, I make a companion video to be posted online. Often with my artist interviews there are video components too. Twenty years ago we published books with CD inserts. My new Acoustic Guitar guide, Beyond Strumming, is available as a book or as pdfs, with downloadable video. So much of what we do now is in multiple media.
As a founding editor of Acoustic Guitar, and an author of instructional books and videos, where are you on the notation continuum? Are you the guy who captures the basic notation, letting others make them perfect, are you on the other end, or somewhere in the middle?
I provide the core material but get by with a little help from my friends. Currently, Acoustic Guitar's music editor, Adam Perlmutter, does a great job editing my notation and taking care of the technical stuff that's beyond me. When I'm pulling my hair out trying to figure out how to notate a guitar part that's in an alternate tuning with a partial capo, my first move is to email Adam and say, help!
Can you describe your workday is like when you're wearing your Acoustic Guitar founding editor hat?
These days, my working title is editor at large. Mostly what that means is that I'm interviewing artists and writing lessons. One day I'll be backstage after a show talking with David Rawlings about his guitar style, or I might be on the phone with Anais Mitchell or Elvis Costello – then I'll spend many hours transcribing these interviews and distilling them down into articles. On another day I'll be trying to figure out the best way to teach hybrid picking or how to write a bridge.
You've interacted with many of our songwriting role models. Can you share one of these experiences that was especially transcendent, awkward, surprising, or otherwise memorable?
I'm very lucky. I've had the chance to meet many legendary musicians – Paul Simon, James Taylor, Joni Mitchell, Dave Matthews, Pete Seeger, Ani DiFranco, to name a few. One of the experiences that I'll never forget was interviewing Jerry Garcia and David Grisman just a few years before Jerry died. We met at Grisman's home studio, where they recorded all those great Garcia/Grisman albums. Jerry's health was clearly poor, but he talked about music with the excitement of a kid just learning his first chords.
After the interview, Jay Blakesberg did a photo shoot, and they jammed on "Jack-a-Roe" while the camera clicked. (One of the photos Jay took that day appears in the poster for a Garcia birthday tribute show I'm doing in Boston and New Hampshire this summer.) I will always feel fortunate to have been in the room that day.
I similarly feel fortunate to have heard Garcia perform in person and to have spoken with Jeffrey about his multifaceted career.
Photo of Jeffrey Pepper Rogers leading a Grateful Dead for Acoustic Guitar workshop at the Music Emporium in Lexington, Massachusetts, courtesy of the Music Emporium.