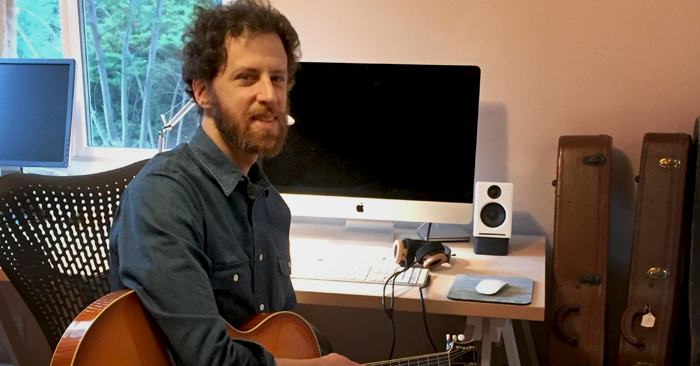 Adam Perlmutter is a freelance contributing editor at Stringletter, publishers of Acoustic Guitar, Classical Guitar, Strings, Ukulele and Drum magazines. When you see fretted string instrument notation in these publications, chances are good he had a hand in creating it. An industry veteran, Adam previously worked at Guitar One and Guitar World Acoustic.
You can see Adam's notation at the newsstand and online. It appears in articles he's written, as well as in articles by other authors, which can range from fingerstyle folk and blues  to jazz chord melody, and beyond.
Adam and I spoke recently to discuss his work.
What do you do at Stringletter?
I handle all of the editing, transcribing and arranging of the music notation—both for lessons and songs—that goes into the print and online editions of Acoustic Guitar magazine, as well as some for Ukulele and Classical Guitar. I also write performance notes, gear reviews, features, and the occasional lesson.
What background prepared you for this work?
I have a bachelor of music degree from UNC-Greensboro and a master's degree in contemporary improvisation (a program that, ironically, didn't involve any written notation) from the New England Conservatory.
After graduating I moved to New York City and sought out transcription work with Hal Leonard. It happened that one of Hal's editors had an office in Manhattan, in the same building as the headquarters of Guitar One magazine.
I ended up doing freelance transcription work for Guitar One before transitioning into a staff position as a senior editor as well as music editor of Guitar World Acoustic. When these two titles folded, in 2007, I reached out to Acoustic Guitar magazine for freelance work and have been contributing to it and other Stringletter publications ever since.
Can you describe a typical workday?
My youngest child is at home with me during the day so admittedly not a whole lot gets done during standard working hours. I tend to handle correspondence during the day and then begin work in earnest in the evening, when the house is quiet. On a typical day I handle whatever pieces will go to print first, and whenever possible I try to create a good balance between engraving, transcribing, and writing/editing.
What tools do you use when transcribing notation from recordings?
My setup is pretty bare bones. To work with the audio I use a software program, the Amazing Slow Downer, and most important, an excellent set of Grado headphones. Thanks to Finale's playback feature I don't normally use the guitar when transcribing, although I do like to test each finished manuscript for playability.
Have any suggestions for people interested in your field, either in terms of developing skills or finding work?
I would say it's best to develop as wide a skill set as possible and to work at being speedy and efficient when transcribing and engraving. As for transcribing skills, these are gained through years of practice. In doing the work you learn your own tips, like listening for the guitar's open strings to determine the tuning.
Regarding your guitar notation, do you work from a style guide ?
When I came on board with Stringletter there was an established house style for notation, and I've pretty much stuck with it.
Are there engravers or publishers you look to for inspiration on how to do things "right"?
I tend to adhere to the practices established by Stringletter and Hal Leonard, which are very solid. Sometimes I go with what I think is correct—notation that is streamlined, without any redundant symbols, and not over-transcribed, by which I mean filled in with extraneous details that can bog a reader down.
In terms of engravers, I have learned a lot from Woytek Rynczak of WR Music Service, who is one of the very best in the business. Woytek has been engraving professionally for more than 40 years and did all of the music for Guitar One. He worked remotely and we used to fax manuscripts back and forth, often requiring three or four different proofs for a given piece. To save time, I learned to make the corrections myself, with his careful and patient guidance.
What are you most proud of in your work?
I have a good ear and am most proud of the accuracy of my work when it comes to transcribing, as well as the generally uncluttered way that I notate music.
What was your introduction to Finale?
I started using Finale in 1999 when I got my first computer. (Clearly I am revealing myself to be an extremely late adopter to computers in general.) Before that, and all through music school, I wrote everything by hand. I didn't really know what I was doing when I began using Finale. I inputted standard notation using the program, but not knowing I could just copy and paste in into the tablature staff, wrote in the fret numbers by hand on printed manuscripts!
What do you like about Finale? What would you change?
I really like the flexibility the program offers in making beautiful manuscripts. Stringletter has idiosyncratic tablature clef and chord symbols, for instance, that I couldn't duplicate on another program. It's really helpful, too, that I can specify the lowest fret when copying music from the standard staff to the tablature.
The things I would change are mostly little details. For instance, when I copy one of the most common guitar chords—open G—to the tab staff, I always have to adjust the numbers.
Also, a program that I use for some clients other than Stringletter has a shortcut—the R key, which repeats any element within a score—and it would be great if Finale had a similar tool.
Actually, we added something like that a few years ago. Holding down the – key while clicking will add the last element placed in the score. This works for articulations, chords, SmartShapes, expressions…
That's cool—I'm glad you shared it. There's always something new to discover in the program.
Can you share a tip or a trick you've discovered with Finale?
This isn't necessarily unique to Finale, but having a clear understanding of a piece's structure before getting started with the notational process is one the keys to my efficiency, which is obviously essential for me given my compressed workday. Once you see where the repeating figures are in a piece of music, you can use Finale's copy-and-paste functionality to lay down the foundations very quickly.
What upcoming projects are you especially looking forward to?
I am always looking forward to the songs I am asked to transcribe and arrange for Acoustic Guitar each month, and to making the notation of our talented lesson writers as clean and readable as possible. There is just so much great music.
A smaller part of my work is transcribing all sorts of music for friends and acquaintances for private use. These projects can become a total bear because of the complexity of the music and the work that goes into figuring out exactly what the artist was thinking. But I love the challenge of it. It's with projects like these that the flexibility and capabilities available in Finale are essential.
I'd like to thank Adam for shedding some light on his work and giving us a glimpse "behind the scenes" in the music magazine world. What are you doing with Finale? Let us know via Facebook or Twitter.