The new version of Finale includes ReWire support. This allows Finale to synchronize with other pro-level audio applications, including Digital Performer, ProTools, Logic and many others.
In this oddly familiar video, I demonstrate the simultaneous use of Logic and Finale. I'm monitoring video within Logic, and creating notation within Finale. Both applications appear on the screen, with Finale across the bottom. When I press Play in Logic both programs begin playback simultaneously and remain in sync (and this works no matter where I start within the piece).
As a result, I can create sounds in either Logic or Finale and combine them instantly.
Not sure how you'd use ReWire?
Let's say you're writing pop or commercial music. It's not uncommon to create a song within a DAW and then wish to add live strings or a horn section, which will require notation for the performers.
In the past you might first mock-up the added section within the DAW. Then you'd export it as a MIDI file and open it in Finale. Then you could begin arranging the parts for your musicians. Among the problems with this scenario is it's tough to test your Finale arrangements against your DAW tracks until you have musicians on hand to play them. Plus it's a lot of steps to move files back-and-forth.
Today you can write a string or horn arrangement in Finale and easily sync up the playback to your DAW. Press play in Logic, hear what needs to be changed, edit in Finale, rinse and repeat. In this way you can "test-run" the new additions again and again, with little to no effort, long before distributing parts to your performers.
As I mentioned previously, those writing for film will likely be among the most enthusiastic users of Finale's ReWire support. As Finale engineers looked at how to improve and modernize Finale's Movie Window, they determined that investing engineering resources towards integrating ReWire support would give users access to far better video support AND much more flexibility.
Please let us know how you're using (or planning to use) Finale's ReWire on Facebook or Twitter.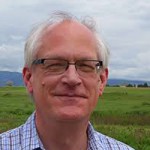 Mark Adler is MakeMusic's notation product manager/senior editor, a professional trumpet player, teacher, and a freelance music editor and engraver.
Mark is also a fan of silent cinema, and enjoyed transforming this 1923 Felix clip with the addition of Albert Ellmenreich's "Spinning Song." The notation for "Spinning Song" and hundreds of other titles are included with Finale. To find them, go to Finale's File menu and choose "Open Worksheets and Repertoire."