As the year winds down, I'd like to take a moment to reflect and express gratitude to those around me. First and foremost, to all our users that choose Finale to "create their way," thank you. You make Finale possible and 2017 has reinforced that notion for me. I am fortunate to hear from users every day with their ideas and suggestions, expressed with great passion and enthusiasm. Again: thank you! I actively dialogue with users on the Feature Request Community. If you haven't visited to vote on a suggestion or voice your own idea, please consider doing so.
The Finale Development Team
I'm also grateful to the Finale development team (pictured above). 2017 has been a busy year for this team and they've all risen to the occasion. They approach their work with authentic dedication, determination, and drive. With the understanding that they are standing on the shoulders of those who've come before them, the team approaches the code, defects, and feature requests with a great humility and desire to make the world a better place. 2018 will mark the 30th anniversary of the release of Finale 1.0, This both humbles and inspires me to continue to improve Finale. Surrounded by such a talented team, I know the future shines brightly.
As I look at the current landscape of notation applications on the market, I can't help but pause and reflect on how much the world has changed in the past 30 years and will be rapidly evolving in the future. I respect everyone making music notation software today and appreciate their contributions to the art of capturing musical ideas, as well as for pressing the Finale team to raise our game.
Finale 25.5
Last month we released Finale 25.5, holding true to our promise of releasing frequent and free updates to our users. While much of the work the past 18 months has been in internal code clean up, we have also provided many features and defect fixes. As I prepared some documentation for the upcoming Midwest Band and Orchestra convention in Chicago, I was delighted by the list of features we've introduced in v25, many of which have been delivered in 2017. View the list of all the features added in Finale version 25 for Macintosh and Windows users.
Speaking of the Midwest convention, if you also plan to attend please stop by our booth to say hi. Again, kudos to the Finale team for adding features while addressing technical debt and thanks to you, Finale users, for making it all possible.
May 2018 be filled with peace, joy, and love for you and yours.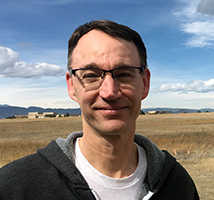 Michael Johnson is the vice president of professional notation at MakeMusic. He first joined the company in 1996 as a technical support representative, solving tricky issues with Finale 3.5.2. He is grateful to Scott Yoho for giving him a chance 21 years ago.
Michael lives in Colorado with his spouse, Owen, and their son, Elliot. During the month of December, he can be heard tooting holiday tunes on his trumpet around the Boulder area with the Gunbarrel Brass Quintet (which has less to do with firearms then the name might suggest).