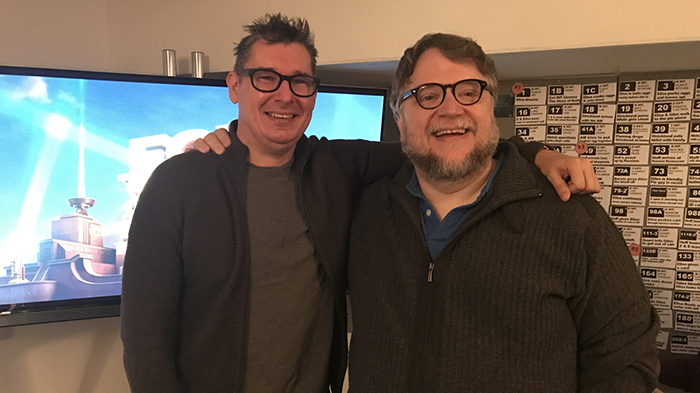 Trollhunters is an award-winning animated TV adventure series on Netflix. These are not the cute trolls with the neon-colored hair. The creator of this show is Guillermo del Toro, the incredibly creative mind behind The Shape of Water, Pan's Labyrinth, the Hellboy films, and so much more (including co-writing the screenplays for all three Hobbit films). These are serious trolls.
Creating the music for Trollhunters is Finale power user (and incredibly busy Hollywood arranger, orchestrator, and conductor) Tim Davies. As season two of Trollhunters has just been released on Netflix [this preview may warrant a spoiler alert], we thought this would be a great time to check in with our friend Tim (pictured on the left above with Guillermo del Toro) and learn a little bit about the show.
How did you come to be the musical force behind Trollhunters?
It can actually all be traced to my relationship with Sony Interactive. My first real project was a game called SOCOM 3 with composer Jim Dooley. I got along well with the Sony team and they have continued to bring me onto projects to this day. One of them was a game called The Last of Us with composer Gustavo Santaolalla. The two of us also got along really well and he invited me to work with him on a film called The Book of Life. The producer of that movie happened to be Guillermo Del Toro.
While I never met him at the time, his next movie was called Crimson Peak and they got behind on the score, so he called and asked me to help out with some additional music. When I met with him to see what he wanted me to do on Crimson Peak, he said he had this new TV show and he wanted me to write the score. There was a bit of time lapse from finishing the film to when they finally called for me to start, so for a while I was not sure it was actually going to happen.
What involvement did Alexandre Desplat have in the show?
Del Toro and Desplat had been looking for a project to do together for a long time, way before I entered the picture. Desplat does not have the time to write a whole series, but he could write the main title and a few themes. He wrote a theme for our hero, Jim, and a little suite of darker material that I raided for nuggets to build other themes from.
I did not know of his involvement and when they mentioned this in my first meeting at Dreamworks I think I swore out loud. Everything I had done as a composer (for media) up to then had been using others' themes and I was looking forward to just using my own. Now here I was being told that someone else had written the material again! Guillermo said don't worry, there are plenty of characters to write more themes for, and he was right!
Also, Desplat is one of the top film composers on the planet and the material he gave me was amazing, so it really was a blessing, not a curse.
Do you have a favorite of all your character themes?
There are so many, but my favorite is Angor Rot. He is a very bad guy, so I got to come up with a dark and angry theme for him. Hear a suite of music for Angor Rot.
Can you talk about the unique workflow of the music on this show?
The first part of the process is to meet with the director and producers to spot the episode and discuss the music. There is a temp track already in place and it is usually a great guide for where I should start. So I come home and map out the cue in Cubase and decide on tempo and meter. I listen to the tempo of the temp and often use that as a starting point, but I also tweak it as I go.
But the music is very orchestral and I can't write that style of music straight into a piano roll in a DAW, I need to see it as a score. So I write scores in Finale and orchestrate it as I go like I would any other score. I import the map information from Cubase into Finale and write the cue. I press play in Cubase, which also has the picture chasing from a program called Video Slave, then play in Finale when I see it hit the right bar.
I have a template set up for Finale playback hosted in Plogue Bidule. Between the show and all of the other projects I have going on, I might easily open 50 files or more in a day. Hosting and waiting for instruments to load would kill me, so having them loaded all of the time outside of Finale is a real time saver.
Once I am done writing the cue, that file goes off to one of my programmers. They will export it as a midi file and load that into Cubase and program all of the virtual instruments. We use a mix of libraries. For the woodwinds it is mainly Orchestral Tools Berlin Woodwinds, Brass is a mix of Cinebrass, Berlin, and Hollywood. Synths and pianos are mainly spectrasonics and strings are mainly Berlin. No one library works for everything so it is often a mix. I have the East West Composer Cloud as a catch-all for anything I don't have already. I also have a lot of custom samples that I have made over the years.
We have a master file for each episode where all of the finished cues go. I will check it and give notes. We have duplicate setups so I can either open the file myself and make any changes or I can just send a message back to do it. Once finished, I take that on my laptop to Dreamworks, plug into their editor's system and play it back for them. They will give a few notes. Once I have addressed them, we send a QuickTime video back for a second review. They will usually be happy with most of it, but might have a few other things that they want to be done differently, especially since the finished animation is all still coming in and things need to be moved around a bit.
Then my assistants will print the stems and send to the dub, the mixing session for the sound.  Stems are audio files of each section of the orchestra. In a perfect world they just leave everything balanced as I have it, but sometimes at the dub they need to make a change to clear for some sound effects or they want to boost something, so every project delivers these splits.
What else have you been working on lately?
I have kept my "day job" going while writing Trollhunters. We always have a movie or two that we are orchestrating. Recent projects include The 12th Man for Christophe Beck, Proud Mary for Fil Eisler and an ongoing project with Sony, the next Spiderman game with John Paesano. Jeremy Levy and Jordan Seigel work with me on all the orchestrating. We also continue to do the TV show Empire each week, and this year did Lego Ninjago with Mark Mothersbaugh, Olaf's Holiday Special and the Trolls Holiday short with Chris Beck and Jeff Morrow.
I just got back from conducting four shows of Frozen live to picture in Taiwan, and in January I am conducting the National Symphony at the Kennedy Center for a concert with Babyface. We are doing all of the arrangements for that show too. I have 3 more episodes of Trollhunters season 3 to write, then I plan to get back to my big band and blog, and maybe sleep in.
Thanks to Tim for taking time out a crazy schedule to share some of the details with us.