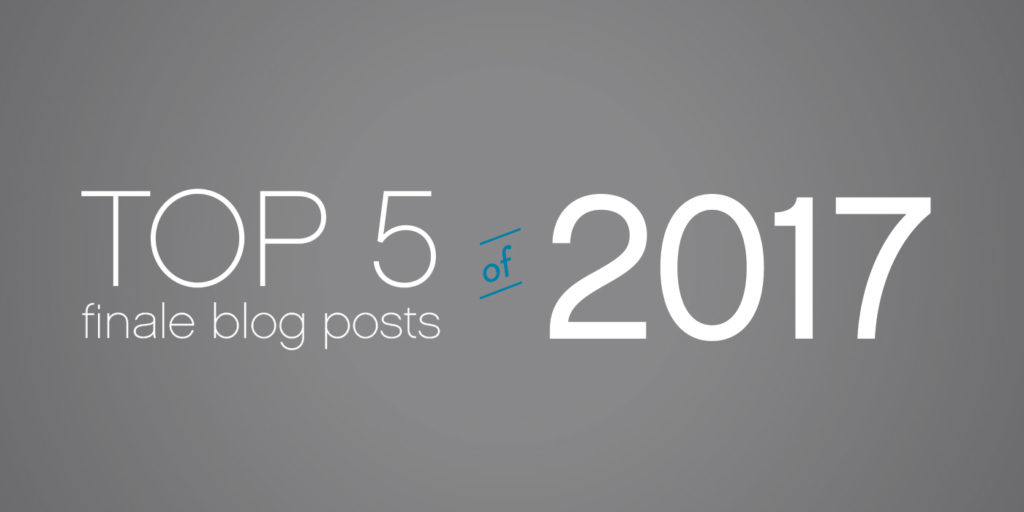 The end of 2017 is almost here. Were there things you had hoped to accomplish this year that you didn't get to, like reading every Finale blog post?
No worries.
Below are the top five blog posts of the year. All the questions on the test will be from these five posts; brush up on the tips they offer, and you'll be good to go!
Improve your music notation to ensure better performances by considering beaming, the invisible barline, chord naming, and clear comping notation.
Check out this simple shortcut for cross-staff beaming. Start by entering your notes on one staff. Next highlight the area you wish to have appear on the other staff. Finally, press option + arrow. Done!
Finale's Setup Wizard makes it easy to add a tempo marking to any new score. But what if you decide to add tempo changes elsewhere or later in the process?
Our second most popular post of the year didn't offer any tips at all. Instead, it highlighted features in the 25.4 update, which is free-of-charge to all Finale 25 users. If you're interested, we also published posts about 25.3 and 25.5 this year, and the 25.5 post also hints at the mystery of the missing clear key.
Creating PDF files from Finale is easy, and represents a great way to share your music with others when you don't need (or want) them to edit the files.
Happy holidays to all and best wishes for 2018!