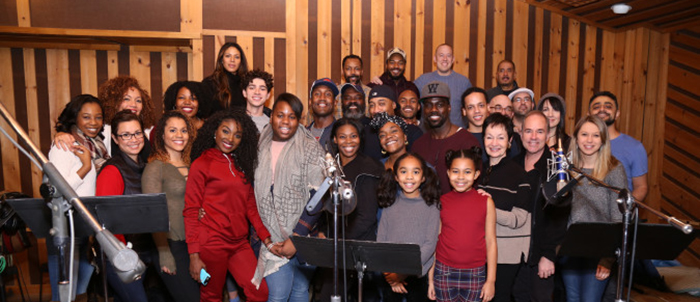 Once on This Island is an inspiring one-act musical that first ran on Broadway in 1990 and whose West End run won a 1995 Olivier Award for Best New Musical. Set in the Caribbean, it is a tale of the power that love can have in bringing people from different social classes together.
The book and lyrics were written by Lynn Ahrens; the music was created by Stephen Flaherty (fourth from right in the cast recording photo above). Last year the show was revived on Broadway with an opening on December 3rd. We spoke with composer Stephen Flaherty about the experience.
How does it feel to come back to Once on This Island after almost 30 years?
It feels wonderful. Like visiting an old friend that you love but haven't seen in a long time.
Can you tell us a little bit about this particular production? What are the challenges you are facing?
This production is very different than the original Broadway production. We are at the Circle In The Square Theater this time, which is Broadway's only theater in the round. We are trying to get to the roots of storytelling and story circles. Why we tell stories, how we relate to stories, and how stories can ultimately heal. The production is very elemental. We have sand, water, fire, rain. It is also entirely actor-driven.
Did you feel as though you had to update parts of the score? What parts specifically?
We didn't update the score per se except for some connective tissue and mostly new dance music. But we did update the vocal arrangements and orchestrations. I worked closely with AnnMarie Milazzo, our vocal arranger, and Michael Starobin, our orchestrator. It was a very seamless collaboration. Very fluid. And the vocals were quite textured, not your standard SATB but literally 16-part vocals with each actor having his or her own part. The vocals were really "vocal orchestration."
When we spoke, you mentioned using found objects as instruments. Can you talk a little bit about that process?
Yes. Michael Starobin came up with the concept of making music out of discarded materials and called up his friend, John Bertles, who founded a group called Bash The Trash, which makes instruments out of garbage. The process of integrating these found objects with our live band of four was a fun one. We just experimented and tried many different things during rehearsals. When something finally gelled, our intrepid music assistant, Haley Bennet, would notate the rhythms and pitches using Finale. Since things were changing daily Finale made the process easy and fluid.
Can you describe how you and Lynn Ahrens, along with your copyist, assistant, and vocal designer work together to create and keep track of all the changes?
Yes. With a show changing daily communication is key and everyone needs to be in the loop.
Lynn uses Word. I notate in Finale, composing and arranging the songs, and share the piano-vocal score and the daily changes with Lynn, my orchestrator, music director, music assistant and our copyists via DropBox. Our vocal arranger uses GarageBand – she sings all 16 parts (in the correct octave!) into GarageBand and our music assistant takes it down, notating in Finale. She also puts in the daily changes, all shared via DropBox. There are many changes that happen daily but we are always in sync. Of course, we don't always have our faces in our computers. We actually talk to one another onsite, too!
Was Finale apart of your process in 1990? If not, can you tell us how you came to use it?
I notated by hand for years. I actually love creating order on a page. I find it beautiful and you can tell a lot about the music by seeing how it is written in the composer's hand. The original score to Once on This Island was in my hand.
That said, the editing process by hand was very slow and grabbing all the changes and rewrites on the fly was challenging. So I learned Finale in 1994. My first score in Finale was the musical Ragtime, which was a very big show. Finale saved my life on that one!
What do you like or dislike about Finale?
I like how Finale easily lets my team work together, whether we are at the theater or at home. We are always literally working on the same page.
Have a favorite Finale tip or story?
Yes. I first learned Finale while I had some time off. I also had dental surgery at the time. I don't recommend the pairing of the two!
That sounds like good advice. Once again, congratulations on the revival. Where can we get tickets?
Once on This Island is running at the Circle In The Square Theater on Broadway. You can get tickets at once onthislisland.com. Anastasia [which also features music and lyrics by Lynn Ahrens and Stephen Flaherty] is on Broadway six blocks south at the Broadhurst Theater, where it will celebrate its 300th performance this month. You can get tickets for Anastasia at anastasiabroadway.com. 
Clearly, this has been a banner year for musical theater and for this composer. A year to remember.
What's next for you?
Vacation!
Thanks again to Stephen Flaherty for taking the time to chat with us before his much-deserved holiday.