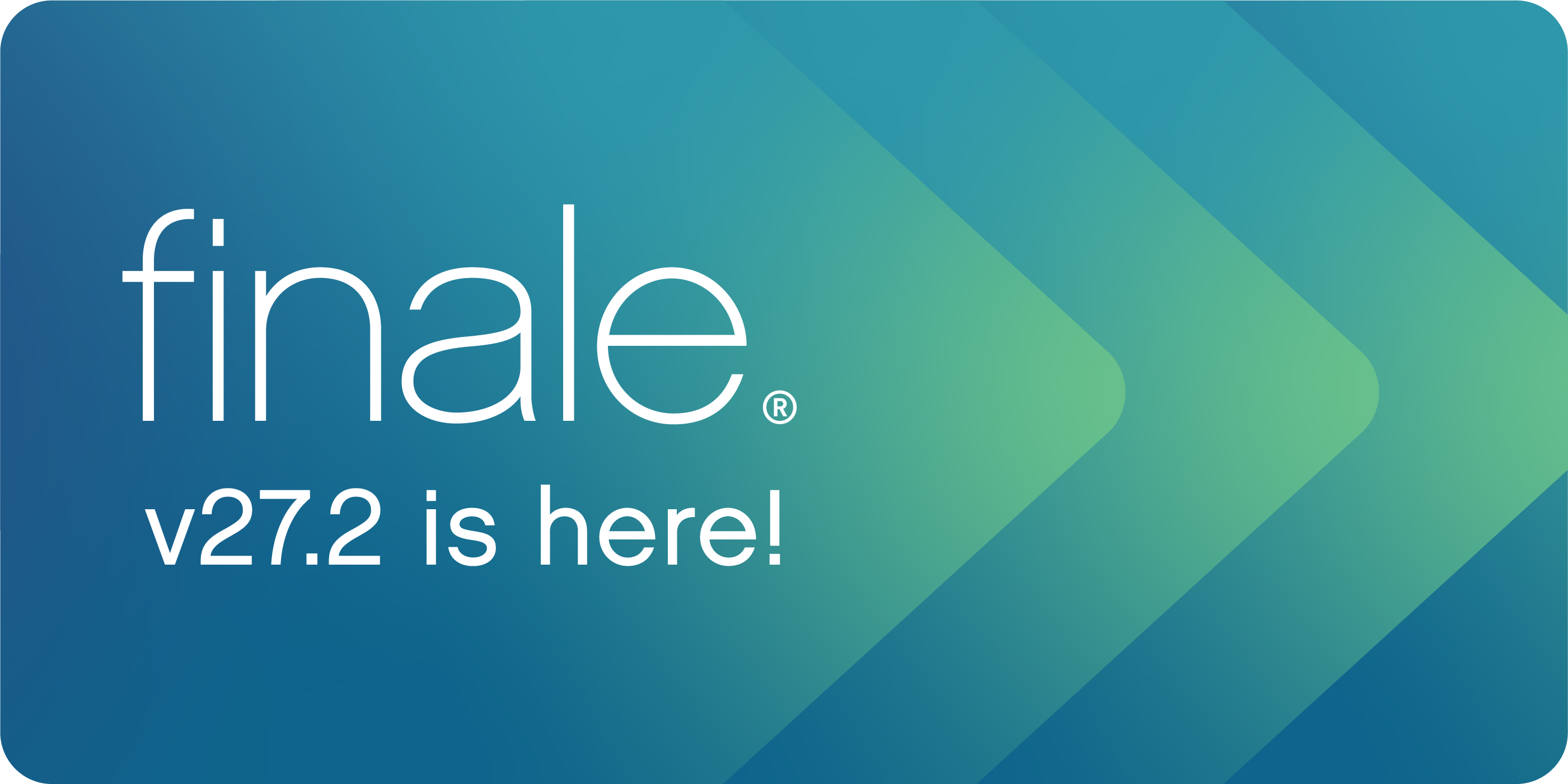 Ver artículo en español
The latest free update to Finale v27 is available now! 
This update builds on the new features released in v27 such as Standard Music Font Layout (SMuFL) support, sharing, and more. If you've been waiting to upgrade to Finale v27, now is the perfect time. 
To download and install Finale v27.2:
Open Finale.
Select Finale (Mac) or Help (Windows) > Check For Update.

Click Learn More (Mac) or Install Update (Windows) and follow the onscreen prompts.

Updates in Finale v27.2 include:
Finale is now installed as a universal application, allowing it to run natively on computers using either Intel or Apple Silicon processors.

The Jazz Default Document has been fully revamped in collaboration with musician Darcy James Argue and now uses the SMuFL-compliant Finale Jazz font.

The Jazz font family has also been updated, including things like lowercase letters and a variety of parentheses and other characters for chord symbols.

All default documents and document styles now use SMuFL-compliant music fonts (legacy versions are still included).

Two new document styles have been added using the Finale Ash and Finale Engraver music fonts.

The Symbol Selection and Document Options dialog boxes now are alphabetized based on language.

MusicXML has been updated to retain more score information on export and resolve several import and export issues.

Continued improvements have been made to the Finale User Manual, and the PDF document included with the Finale installer now has more accurate installation instructions.

Bug fixes:
Margins are no longer incorrect when printing on Windows or exporting a PDF on Mac.


The Finale installer for Mac no longer creates a duplicate plug-ins folder and the SmartMusic SoftSynth component no longer appears as a folder in Finder.

Several problems with stem connections have been resolved.

Score markings including expressions, lyrics, and chord symbols no longer detach from their handles and "jump" vertically when manually positioned on macOS 11 Big Sur.

Multimeasure rest symbols are now correctly aligned when using handwritten SMuFL-compliant music fonts.

A number of minor user interface problems have been resolved in both the Spanish and English language applications.