As the industry-standard for professional music notation, Finale is one of the most important tools for a successful musician to have in their toolkit. However we know that learning how to use Finale can be a challenge, especially for young musicians who are relatively early in their musical development. That is why Finale comes preloaded with helpful features for the classroom, that will make teaching both Finale and music notation and theory a breeze.
Check out these built-in resources for educators:
Worksheets
Finale comes preloaded with hundreds of worksheets designed for K-12 students of general music, theory, band, orchestra, and choir, and help teach basic elements of music. Covered topics include counting, scales, chords, music vocabulary, and more.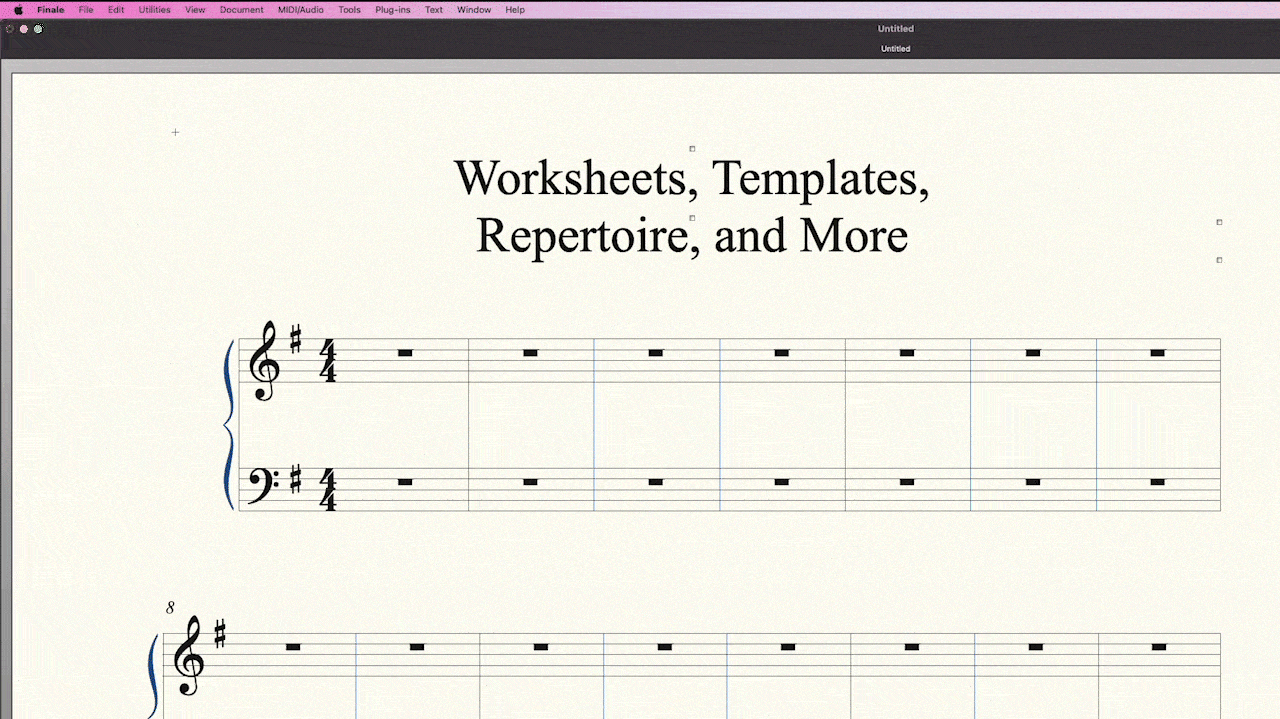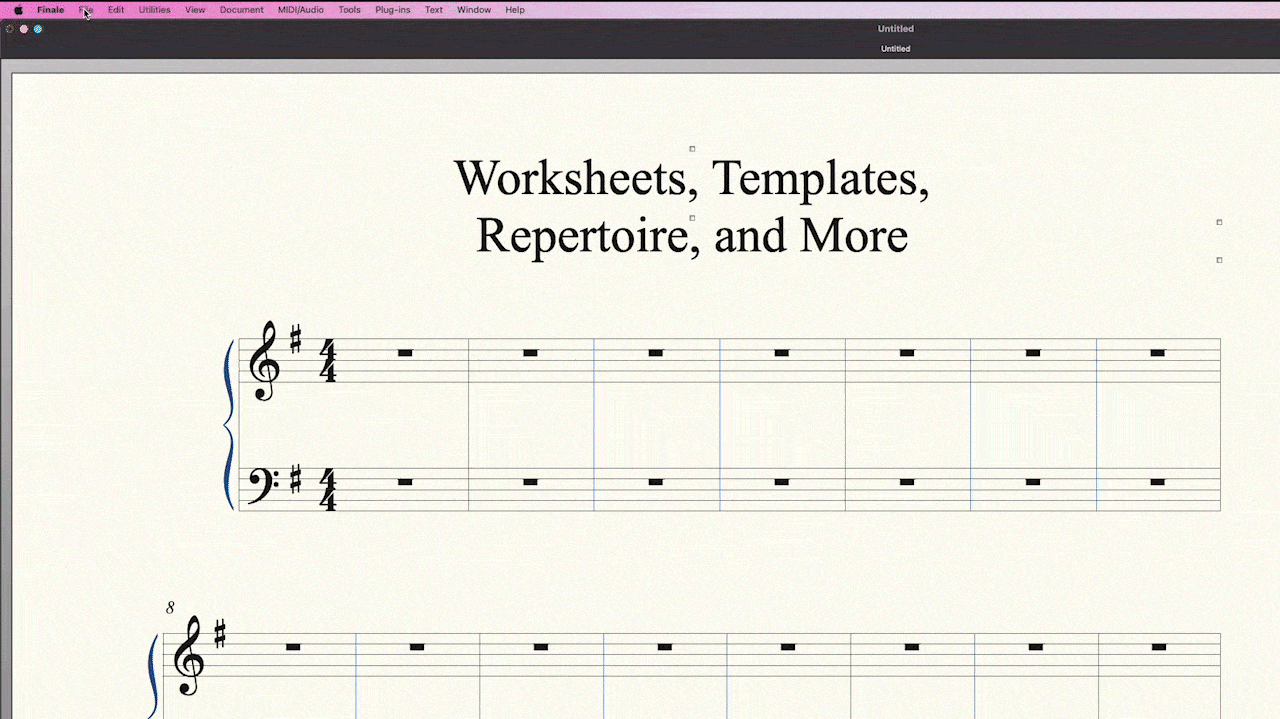 Templates
Finale's built-in templates make it easy to create your own exercises or worksheets. Whether you're teaching band, orchestra, choir, or a particular instrument, Finale has a template for you. There are even templates for Boomwhackers®, solfege, and guitar tabs.
Repertoire
In addition to worksheets and templates, Finale has a vast repertoire library, making finding practice material as simple as a few clicks. The library includes hundreds of pages of repertoire in a wide variety of styles, such as instrumental music, jazz, holiday pieces, and much more.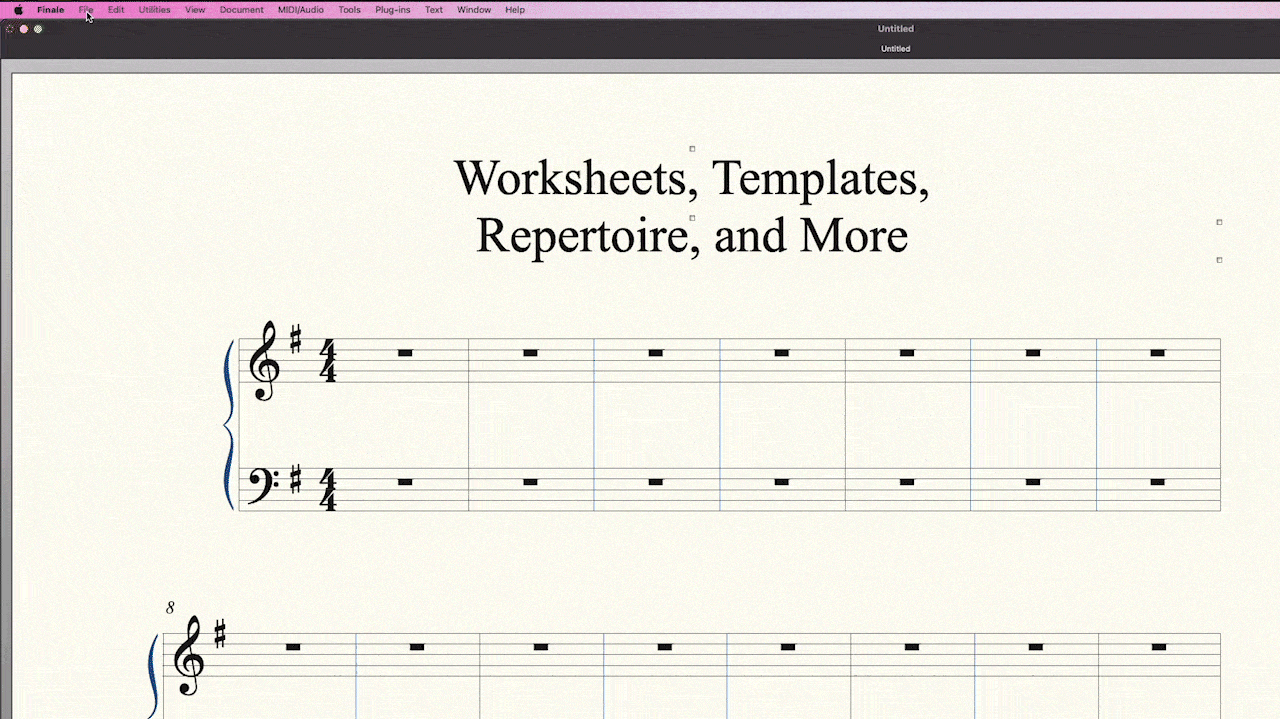 Interactive Music Sharing
We often hear from educators that one of the biggest challenges when teaching music is finding an easy way to distribute music for the classroom. Traditionally, this has been done by exporting and emailing countless PDFs, or printing the music and distributing physical copies. This often causes issues with different versions of the music, lost files or pages, and an overall poor experience for the players.
This is where the interactive music sharing feature in Finale v27 comes in. Powered by a unique integration with MakeMusic Cloud (formerly SmartMusic), interactive music sharing enables teachers to upload their music to the cloud in seconds, and instantly share it with anyone they choose, without leaving Finale.
With interactive music sharing, you can:
Make changes to a previously distributed file with the click of a button, ensuring that your class always has access to the most up-to-date version of their music.
Open the piece in the MakeMusic Cloud Practice app, which provides a suite of web-based tools that will transform students' practice experience, including:

Accompaniment from Garritan's world class sound library
Real-time feedback and assessment as they play along
Practice tools such as a metronome, tuner, and more

Download PDFs of shared music
Cost of Finale
While these features will help educators at any grade or experience level, Finale sets itself apart from all other music notation software on the market with its affordable cost.
Teachers, students, and administrators, can purchase or upgrade to Finale v27 for only $99. Additionally, purchasing Finale is a one-time cost, compared to the monthly/annual subscriptions for other notation software, which adds up to serious savings over the years. Finale is a far more cost effective option.
Sibelius Ultimate
$99
Annual Subscription
Finale v27
$99
One-Time Purchase
Dorico
$359
One-Time Purchase
In addition to discount pricing for individual teachers and students, we offer site license discounts for institutions that need 5 or more Finale licenses. These site licenses are great for school computer labs and classrooms, and ensure that everyone is using the same version of Finale. They also offer network installation benefits, including support of music labs where multiple users can have their own preferences and templates.
Learn more about site license discounts:
Support Community
Finale is incredibly powerful, but it can also be challenging to learn on your own. Luckily, we have a robust support community that can assist if you need help with any topic.
Here are some resources:
Looking for more ways to use Finale in the classroom? This webinar has more information about the classroom-focused features: