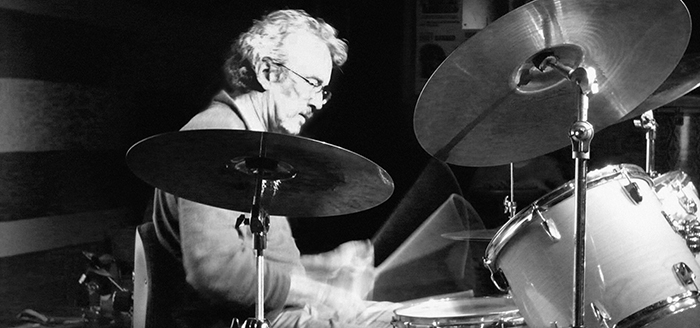 A previous blog post introduced two rhythm pattern theory books, The Elements of Rhythm, Volumes I and II. In creating that post I thought the books represented fine examples of how Finale empowers us to create anything we can imagine. Furthermore, their creator, David Aldridge, indicated that they couldn't have been produced without Finale. While both points may be true, it turns out they don't begin to tell the whole tale.
I've since spoken to David at subsequent NAMM shows, and have learned a bit more about his background and the books' creation. While a young man, David was diagnosed with Tourette Syndrome, and a published story of his came to the attention of Oliver Sacks, the best-selling author/neurologist, in part because of how David was able to leverage the way his brain worked to his advantage. More recently, David has published Tourette Syndrome and Music: Discovering Peace Through Rhythm and Tone.
In recognition of National Tourette Syndrome Awareness Month, David and I discussed Tourette Syndrome, OCD, Finale, and the creation of all three books.
SY: Since we last spoke in 2013, how have The Elements of Rhythm books been received?
DA: People are very curious about the idea of there being a theory of rhythm pattern development that you can actually see, because it hasn't existed in such a structured format until now.  When Modern Drummer gave them 4 out of 5 stars in their November 2013 issue, it greatly helped introduce the concept into the drumming world, and hopefully beyond.
When you were first diagnosed with OCD?
Technically, never, but for me it did come along with the Tourette's territory. My diagnosis in 1979 is not as broad as diagnoses are today.
Can you share your understanding of how Tourette's and OCD are related?
Tourette's and OCD more or less co-exist to some degree, because you have an excess of neuro-transmitters and not enough neuro-inhibitors. My personal opinion is that the brain inherently seeks order and structure, and the OCD component demands it in varying degrees from person to person. It's somewhat about the need for symmetry, to complete a pattern. If you are walking and turn left, OCD might make you feel like you have to turn right.
Can you describe how your OCD compelled you to create The Elements of Rhythm books?
The day Terry Bozzio showed me some basic permutation patterns during a private lesson in Los Angeles in 1981, I knew instantly where things could and had to go. Within days, I'd written basic combinations, created some pairing tables, and my brain basically went into hyper overdrive and wouldn't stop.
I had to know all the patterns because I could feel that an order existed, and it needed to be realized and brought to the surface. I saw a way to create beautiful order out of chaos, and I had to make it happen, to fully realize and present that order.
How did you come to meet Oliver Sacks?
Dr. Oliver Sacks first wrote about me over 20 years ago when he mentioned a story I'd written called "Rhythm Man" for Don't Think About Monkeys (Hope Press, 1992). He liked that I'd taken a disability and turned it into an ability. He later wrote about me in academic papers and generously mentioned my drumming in Musicophilia (Knopf, 2007), his book about music and the brain.
You've mentioned "work-arounds" for folks with OCD. Can you give an example?
My OCD workaround is mostly psychological. When I get too locked into something, I remind myself that it's just chemical, and I just have to let it run its course. I then work to direct myself towards projects I really want to get done, and this becomes the new focus. It's a great and productive way to re-direct things.
What role does Finale play in all this?
Finale gave me the tools to harness the OCD and help me produce what I was feeling about order and present it on an incredibly complex level of layers. I wrote the entire book out by hand in the beginning, over 300 pages. Re-doing this electronically required a very powerful and flexible workhorse. I always had a vision of what it would look like, and the following examples depict the Before and After very well.
Example 1 is the Level 5 combination table, where the sixteen 4-note 16th rest and note combinations generated from the Level 4 combination table were each paired up with an additional rest and note. This produced the thirty-two basic 5-note combinations: Before and After (as seen in Volume I).
Example 2: Before is the earliest draft of the Level 8 combination tables, where the sixteen 4-note 8th rest and note combinations were paired with each other. The After example is the revised version, where I changed the combination methodology to create a cleaner layout and order.
My favorite example can be seen in Example 2 above: there are 256 fundamental rest/note possibilities in 4/4 using 8th and quarter rests and notes. I had to write them all in 4/2, 4/8, 4/16 and 4/32 as well. Finale's transposing functions let me select dozen of pages and re-write them in seconds… as opposed to days.
Now, apply that idea to the remaining 1-7 groups of patterns, doing exactly the same thing… and you see why I absolutely worship Finale. It let me get everything out of my head, which was a blessing!
This was especially true in Volume II, where multiple music staves contained patterns that I cut and pasted after translating them. No rhythm reading book anywhere has ever taken this idea to the level I did, and I really wanted the music world to have this particular study tool.
You mentioned your story "Rhythm Man" above. Did I understand that this was the basis for your new book, "Tourette Syndrome and Music: Discovering Peace Through Rhythm and Tone"?
Yes, "Rhythm Man" was definitely the basis. I only had room for a brief account in 1992, and for over twenty years, the desire existed to flesh it out and share a great deal more information about myself and my path. Ironically, I actually had to wait twenty years to have a more fully developed path to live, learn from and share.
What were your goals in writing the new book?
I wanted to inspire people with Tourette's to explore the therapeutic aspects of music study and performance. I also wanted to elaborate on my overall life and include discussions about the other instruments I play. For example, "Rhythm Man" ends at the night of a concert performance when I was 18 in 1979. That summer, I went to Europe with a big band jazz group, and then went on to attend music school in Baltimore. I talk about that, receiving my accurate diagnosis of Tourette's at 20, and what it was like to live from six to 20 NOT knowing I had the disorder.
Additionally, I really wanted to share in-depth conversation about how playing acoustic and electronic drums, acoustic and synthesizer keyboards, electric and acoustic guitar, and bass guitar helped provide unique therapeutic aspects for dealing with Tourette's. I've never really needed to take meds, and I have always believed that music was what made that possible.
And that's the beauty. Music is available for virtually anyone, and if you delve into the high tech aspects of things, you can compose and record your own music, put up on the Internet, and share your creativity with the world. But you don't have to be a virtuoso to reap the rewards of playing music. One of the main takeaways of the book is that you can enjoy all the same benefits by simply strumming a guitar in the privacy of your own home. I do that now with my mandolin, for example, that I recently bought and absolutely love. Every night, a little bit, and that's all it takes.  I just play… and discover the peace. That's where the gold lives.
Sometimes it's easy to get caught up in practicing and performing because we have to, and to overlook how playing music – simply for the joy of it – can be as nourishing as sleep, food and exercise. Thanks to David for the reminder.