In today's preview of the next version of Finale, we're highlighting ReWire support. ReWire will allow Finale users to synchronize with other pro-level audio applications. Why would you want to do that?
Let's say you're creating a pop tune in Logic and have decided to add a live horn section. With ReWire you could create the horn charts in Finale, then press Play in Logic, and both programs would start simultaneously – and play in sync. This could allow you to hear how your parts work against the existing tracks – before the performers come into the studio to play them.
ReWire will also be a huge help for people writing for film in Finale. After looking into how best to improve and modernize Finale's Movie Window, we decided instead to replace it with ReWire support, as it allows us to take advantage of the superior video support found in programs like Digital Performer, ProTools and Logic.
Check out the video above to see what using ReWire with Finale and Logic will look like.
Please let us know what you think on Facebook or Twitter.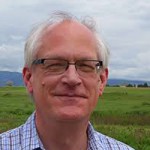 Mark Adler is MakeMusic's notation product manager/senior editor, a professional trumpet player, teacher, and a freelance music editor and engraver.
He was delighted to spend company time previewing silent cartoons for the creation of this video.