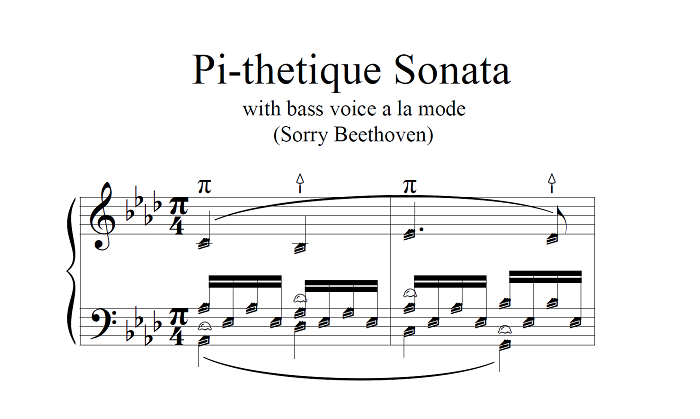 Happy Pi Day! Here at MakeMusic we love our puns, so March 14 is one of our favorite days of the year. To honor this most auspicious of days, we've added some special (punny) characters to our MMDings font.
As you may recall, MMDings grew out of a wonderful Facebook post by Patricia Wallinga, Articulations You Wish You Could Use. As more and more fans asked about these articulations in Finale, we built a free font so that you could use Patricia's characters with music notation software. Today, we've given it a delicious update, including the pie noteheads you can see at the top of this post. (Don't worry, the pies representing whole notes and half notes are included too!)
Font Installation
Download this .zip file and expand it. Then double click on the font MMDings.otf and click on the Install button (Windows) or Install Font button (Mac).
The Quick, Easy Way to Use This Font
Want to just take a quick peek? Open the .musx file we've included in the download. This is a template we built using the default document style with the MMDings articulations and noteheads already loaded.
To add these articulations and noteheads to a file you've already built,  load the .lib file we've included by choosing File > Load Library. Choose the Articulation Tool and the new characters will appear in the Articulation Selection dialog box.
To take it a step further and create your own articulations using the new font, read on!
Creating Your Own Articulations
Open some music in Finale, choose the Articulation tool, and click above a note or rest.

In the Articulation Selection dialog box, click "Create."

In the Articulation Designer dialog box, click "Set Font," choose "MMDings," then click "OK."

Now click "Main," choose the symbol you'd like, and click "Select." You'll find some pi-tastic symbols in numbers 80-84. (Repeat this step substituting "Flipped" for "Main" to use this articulation both above and below notes.)

While you could make further adjustments if you wish (like default positions), click "OK," then "Select" to see the articulation in your score.
That's a fair number of steps to get a scoop of ice cream on top of your pie-shaped notehead, but if you're going to repeatedly use these characters it may be worth it. Building the articulations from scratch means you can further customize the articulation. Plus you can easily use them alongside the default articulations you're used to.
Fine print: the MMDings font is free to use, even in your own for-profit work, but you can't sell the font itself.  
Want to Use These Characters, but Don't Own Finale?
These same steps work with our free Finale demo. Feel free to try Finale free for 30 days and join in the fun. If you use another notation program (or any other software that uses text fonts) you can also use the font there as well.
We hope you enjoy March 14th – and the delicious puns that come with it – as much as we do.