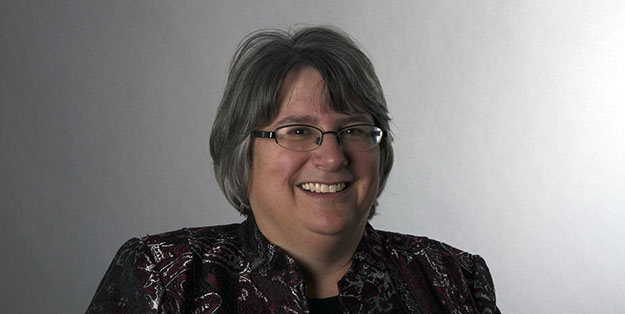 For this installment of the Finale User Spotlight, I'd like introduce to you my friend, coworker, and fellow Finale user Yvonne Grover.
Scott Yoho: What is your title at Make Music?
Yvonne Grover: My official title is Notation Product Manager. (I suggested Notation Product Diva but got overruled.)
SY: What does your job entail?
YG: There's no shortage of ideas for enhancing our notation software products or creating new products. My job is to research and prioritize those ideas in keeping with our overall product strategy, and work with our development team to translate those ideas into shipping products. I don't do this all by myself, of course. I have a very talented team working with me to make sure we hear what our customers are saying they like—and don't like—about our products.
SY: What circumstances brought you to MakeMusic?
YG: Growing up in a musical family, I was surrounded by great music all the time and started both piano and violin lessons at an early age. As an adult I went on to study pipe organ and voice as well. At the same time, I was very interested in math and science and graduated from UW Madison with a degree in engineering. I've worked as an engineer for IBM and as a church organist, choir director, and piano teacher. I was delighted to join MakeMusic nine years ago, and continue to believe it's the perfect place for me to combine my technical and musical skills to help develop great music software.
SY: Name one recording you still love after years of listening.
YG: I have a recording of Emanuel Ax playing Brahms, including both Rhapsodies, the 6 Klavierstücke, Op. 118, and the Variations and Fugue on a Theme by Handel that makes me melt every time I play it. When I sit down at the piano to play those pieces, in my head I always hear Emanuel Ax!
SY: Are you actively performing today?
YG: Yes, I sing with VocalEsssence, a choral group dedicated to singing choral music of all genres with an emphasis on new works. Our motto is "Sing outside the box!"
SY: Is it true your last VocalEssence performance was done without music notation? What are you trying to do, put us out of business?
YG: Our recent concert featured traditional Gullah spirituals, taught to us by rote by Melanie DeMore in keeping with that musical tradition. Melanie also taught us to clap and pound stick in traditional Gullah rhythms while we sang. As you might imagine, this was quite a stretch for a group of Minnesota choral singers accustomed to standing quietly on our risers, holding our black folders! Performing without music notation was the absolute right choice for this concert, but I'm happy to say that many of our premiere works come to us engraved in Finale.
Have a question for Yvonne? Please share it by clicking on "Comments" below.