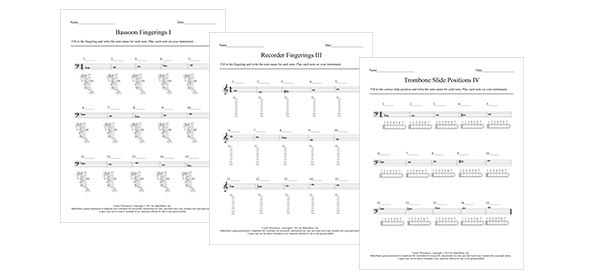 While Finale's What's New and Features web pages offer long lists of improvements found in Finale 2014, today I'd like to highlight another new benefit that you likely haven't heard of before.
Last spring we surveyed Finale owners who identified themselves as music educators, and asked them about the collection of music education resources included with Finale. In reviewing the survey results we discovered that instrument fingering worksheets were among our most popular requests.
As a result, among the many additions made to the music education worksheets and repertoire collection in Finale 2014 are fingering worksheets for all band instruments as well as recorder and keyboard. For each instrument there are separate worksheets for four different levels, from beginner to intermediate.
To explore these and other worksheets, as well as the repertoire included with Finale, simply go to:
File > Open Worksheets and Repertoire
Not finding what you're looking for there? Have additional worksheet requests? Want to hear what Minnesota weather is like in February? Let us know by clicking on "Comments" below.