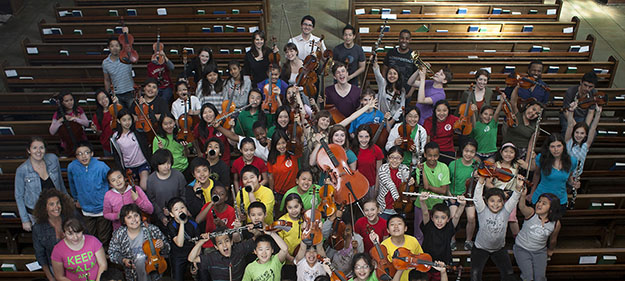 Perhaps you've seen the "Why Music?" infographic created by the University of Florida. It's a powerful piece highlighting some of the benefits that music and arts education offers children, and particularly children from low-income households. While most agree that every child should have access to music education, it's another thing to work towards this goal, and it's inspiring to hear about people who make it happen.
Saint James Music Academy (SJMA) is a Vancouver, BC non-profit dedicated to bringing an intensive orchestral music program – at no cost – to local children that couldn't otherwise afford lessons. I recently spoke to Stephen Rathjen, their programming director, about their work.
Scott Yoho: Can you tell me how SJMA came to be?
Stephen Rathjen: SJMA is the story of one person's determination to give children a better chance in life. When cuts to public school funding meant that Vancouver's inner-city children had limited or no access to quality music education, long-time Downtown Eastside area resident Kathryn Walker decided to do something about it. She began building alliances and support in the community for a music academy that would not only teach music but use music as a means of reversing the negative social forces that neighborhood children commonly face. Today there are 170 children enrolled in the core after-school programs and another 250 children in outreach programs.
SY: What is your role at the school?
SR: My title is Programming Director, but being the only administrator and trained musician amongst the core staff, I feel like it should be Director of Everything that Needs Doing! I make the class schedules for 170 kids, hire teachers, help arrange parts for the orchestras, liaise with special guests, manage the finances etc. In short, I keep the place running.
SY: What's your background?
SR: I did my undergrad in Music with a major in composition and aspirations of becoming a film composer. After pursuing it evenings and weekends while working at a bank by day for several years, I found I wasn't completely satisfied with either job, and that's when I made the leap to a vocation based on social justice, and outreach to those on the margins of society. The SJMA has been the perfect fit for me as it allows me to use my gifts to accomplish something that I'm really passionate about, while helping those in need.
SY: I read that SJMA is Canada's first ever El Sistema inspired program. Can you tell me about that?
SR: El Sistema is a music movement that began as a modest program created to introduce the wonders of music to children living in and around the poor districts of Caracas, Venezuela. SJMA employs the five principles of El Sistema, some of which are a departure from traditional methods of music education. Details can be found on our site.
SY: How is Finale used at SJMA?
SR: As soon as I arrived at SJMA I started to use Finale to aid the orchestras and choirs. Our school is slowing growing towards having full orchestras but we constantly have to adapt and re-write scores to match our instrumentation and skill levels, as well as arrange music specifically for our needs. This past Christmas we arranged and performed the Huron Carol for 2 choirs, 2 cellos, a pianist, and a drummer! Without Finale, the kids would be squinting at hand written parts, we wouldn't be able to include them all in our orchestras, and fun original arrangements would be few and far between.
I'd like to thank Stephen for his time and fine work. Learn more about SJMA from this promotional video or their website. Want to spread the work of others doing great things with Finale? Please let us know by clicking on "Comments" below.