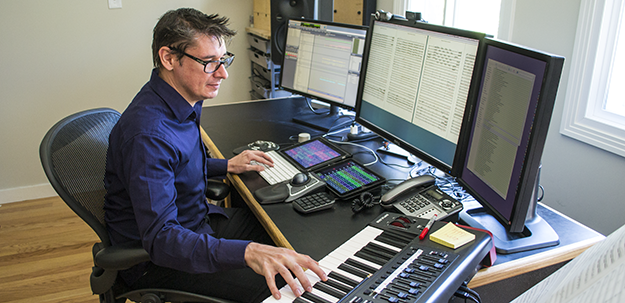 Tim Davies is a busy Hollywood conductor, orchestrator, arranger and composer. Tim relies on Finale to not only create notation that looks exactly the way he wants it to, but also to get things done in the quickest and most efficient manner: Recent feature films Tim has orchestrated and conducted include Frozen, Endless Love, Muppets Most Wanted, and Edge of Tomorrow.
Tim is currently working on arranging the score for Fox's animated film Book of Life for two-time Oscar winner Gustavo Santaolalla, as well as orchestrating a suite from Santaolalla's score for The Motorcycle Diaries for the Los Angeles Philharmonic and Gustavo Dudamel. But that's just two of many current projects. Did I mention the word "busy"?
Tim has also just finished a project that will make its debut at the Kennedy Center this weekend, where the NSO Pops orchestra will "venture into the realm of hip-hop with famed rapper and actor Nas." This intriguing collaboration celebrates the 20th anniversary of Nas' debut album Illmatic and launches the Kennedy Center's One Mic: Hip-Hop Culture Worldwide celebration. View the details.
Tim created half the charts for this performance, noting: "This was a challenging project as nearly all the tracks were based on one or two bar loops and the producer did not want me to replicate them and just add a few pads as one would do normally in this situation."
Interested? See the New York State of Mind score and Hear the New York State of Mind demo
In addition to sharing Tim's score this week, I wanted to let folks know that we've made it easy to stay current with the Finale blog with a new subscribe button found in the upper right corner. This links to Feedburner, which will notify you by email whenever a new Finale blog is posted.
Have questions, comments or requests? Notify us by clicking on "Comments" below.