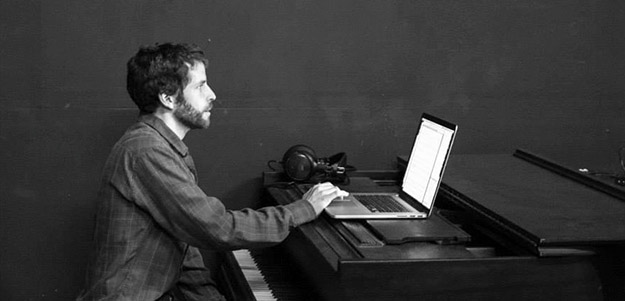 Photo by Mathieu Lindquist
Composer Quest is a songwriting and music composition podcast created by freelance composer Charlie McCarron. Past episodes have featured Grammy-winning songwriters, music psychologists, rappers, video game composers, and even a polka expert.
When I learned of the Composer Quest, I thought it would be a cool resource to share with others on the Finale Blog, and was delighted when Charlie agreed to answer my questions about the podcast and his Finale use.
Scott Yoho: What did you set out to do in the creation of Composer Quest?
Charlie McCarron: I've been an avid podcast listener for years, and I wasn't really satisfied with the composing podcasts out there at the time. Although I'm not a "radio personality" by nature, I figured I'd give podcasting a shot. One of my main goals with the show is to edit in as many music examples as possible, so listeners can hear exactly what techniques my composer guests are talking about.
Another goal with Composer Quest is to inspire listeners to practice their composing. So about every two months, I challenge them to complete composing "quests" based on a theme. For each quest, I ask an ensemble to put on a performance of the submissions from my listeners.
SY: What are some of the quests you've done?
CM: Some of my favorites include: writing a song based on a fortune cookie, creating a children's Christmas musical (called "Elfluenza"), and co-composing with a randomized partner from across the globe. The most exciting quest was our MNKINO Film Score Fest last summer. We paired up filmmakers and composers to create new short films and original scores. Then an 18-musician ensemble performed the soundtracks live at our screening. We'll be doing it again this summer, so if you'd like to be notified as soon as sign-ups are posted, please join my mailing list.
SY: Can you share a best experience story from the creation of the podcast?
CM: It's always fun hearing from listeners who've randomly stumbled across Composer Quest. My favorite fan interaction has to be when a composer in Taiwan submitted his beautiful song for our fortune cookie quest. It turns out he had to go on an epic quest to find a fortune cookie in Taiwan (not as easy as you'd think), and he created a hilarious video documenting his adventure.
SY: Can you point us to some of your favorite podcast episodes?
CM: I recently chose some podcast awards for my favorite Composer Quest episodes. Among my favorites are an interview with musical-illusion-discoverer Diana Deutsch, drumming-robot-builder Patrick Flanagan, synesthetic composer Mary Beth Huttlin, and Nintendo 64 composer Grant Kirkhope (Goldeneye, Banjo-Kazooie).
SY: What was your introduction to Finale?
CM: I started working with Finale in junior high orchestra, thanks to my tech-savvy director, Ms. Deger. I composed a detective-style violin duet, which I'm sure is still as amazing as I thought it was at the time.
SY: What do you like about Finale?
CH: I appreciate that Finale caters to composers who sometimes need to go beyond basic notation. It might take a little researching, but there's a way to do everything you need to in Finale.
SY: Can you share a Finale tip?
CM: I've recently realized the power of the copy/paste filter ("Edit Filter" and "Use Filter" in the Edit menu). It's especially useful if you need to copy slurs, articulations, dynamics, or lyrics to other very similar parts.
I'd like to thank Charlie for providing this great resource, and for taking the time to talk about it with us. Charlie even kindly encourages fellow Finale users to tweet him @CharlieMcCarron.