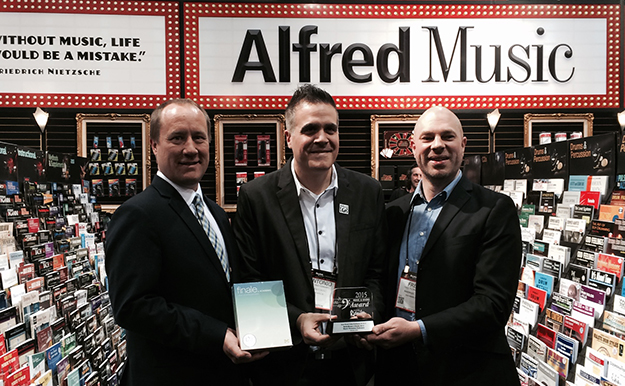 The Music and Sound Retailer is a magazine that reports on the musical instrument industry. Every fall, in anticipation of NAMM, they poll their readers – owners and operators of music instrument stores across the county – regarding the best products of the year.
Yesterday Finale 2014 was recognized as Music and Sound Retailer's 2014 Best Book/Video/Software.
Pictured with the award above is, left to right, MakeMusic CEO Gear Fisher, Antonio Ferranti, vice president of sales at Alfred Music (distributor of MakeMusic products), and Fred Flowerday, vice president of product at MakeMusic.
"This award is particularly gratifying as it is comes from music products retailers in direct contact with consumers," said Fred Flowerday. "They are keenly aware of both what defines a successful product and what delights thier customers."