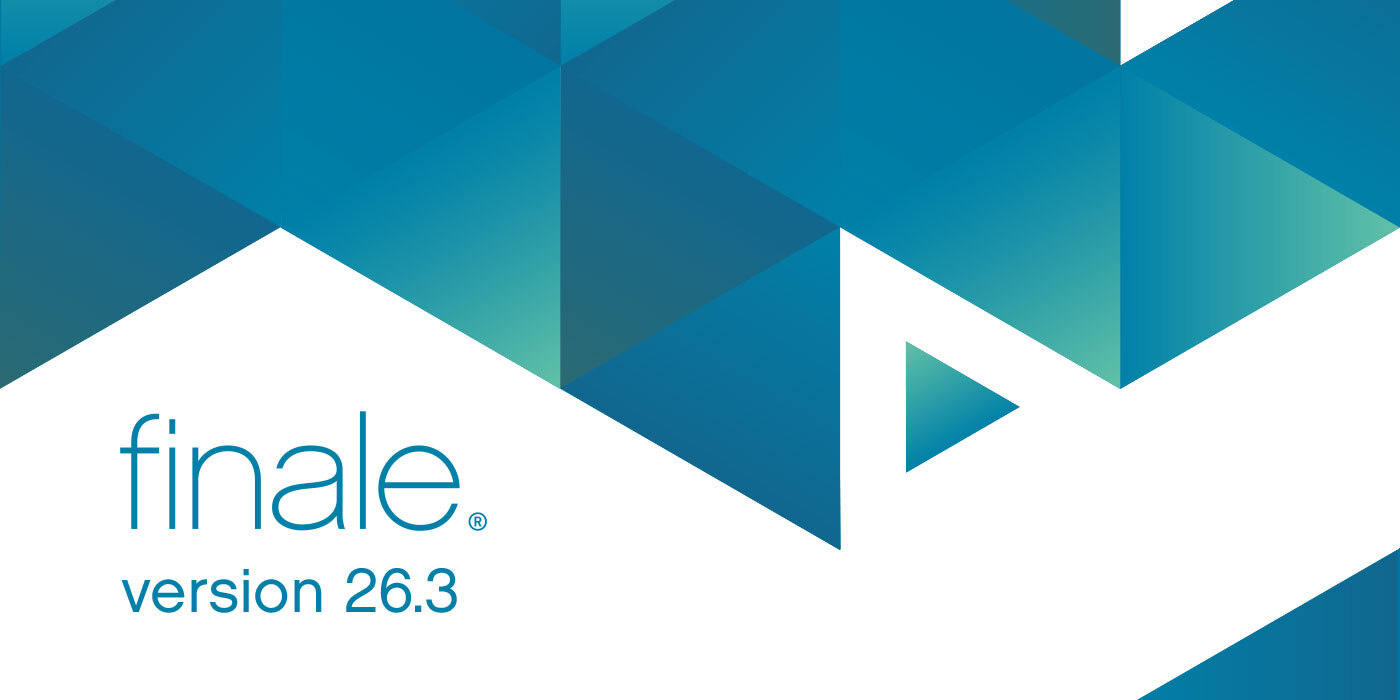 Today we announce the release of Finale 26.3, a free-of-charge update for all owners of Finale version 26. This update offers general enhancements and notation improvements in addition to specific updates for both Windows and Mac users.
Finale v26.3 Highlights
If Finale encounters a problem when saving a document, a warning message with suggested actions is now displayed.

Documents using the Handwritten Document Style now recognize entered chord suffixes containing flats.

Note stems are no longer displayed with incorrect thickness when navigating in Simple Entry.

Exported MusicXML files now retain more specific notation details in multiple areas.

Accessibility alt tags have been added to many images in the user manual.
Windows Updates
Running Finale as an administrator no longer displays an "unknown publisher" warning.

Using the Microsoft Print to PDF driver on Windows 10 no longer causes the list of score/parts copies to be blank.

The playback cursor and measure number counter are now properly reset when clicking the Home button in the Playback Controls.
Mac Updates
Scrolling and zooming in Page View is now smoother and more responsive.

Many user interface changes have been made to offer a better experience in macOS' Dark Mode.

Word extensions that extend over system breaks can now be more easily vertically re-positioned.

EPS graphics imported into a Finale document now display and print correctly on macOS 10.15 Catalina.
Finale v26.3.1 Hotfix
Along with our Finale v26.3 release, we also delivered a handful of improvements in our v26.3.1 hotfix release:
Virtual Instruments. The playback cursor is now synced properly with audio during playback when using virtual instrument plug-ins with latency, such as NotePerformer.
Undo. Undo functionality is no longer disabled when choosing Cancel in the Resize Note dialog box.
UI Text. Linguistic coverage has been improved in the Spanish-language version.
Mac Updates:
Setup Wizard. The Setup Wizard now chooses a default duration when the pickup measure checkbox is selected and a time signature other than 4/4 is selected.
Chord Tool. Finale no longer crashes when exiting the Chord Definition dialog box.
Staff Tool. Finale no longer hangs when repositioning staves causes a staff system to move to a different page.
Playback. The playback cursor is now drawn correctly over page breaks and when music scrolls vertically.
Installation Instructions
Ready to install? If you own Finale v26, here's how to get the free update:
Either follow the update prompt in Finale or:

Mac: Choose Finale > Check for Update, then click Install Update. The download begins immediately.

Windows: Choose Help > Check for Update, then click Install Update. The download begins immediately.