Finale's Setup Wizard instantly names all the staves in your score, which is great if you like the names it chooses. But what do you do if you prefer "Bb Clarinet" over "Clarinet in Bb?" One quick and easy solution would be run a FinaleScript designed to rename staves. I'll share one today that instantly does this to all the appropriate staves in your score AND simultaneously replaces abbreviations like "sax" with "saxophone."
The script, in its entirety, appears here. You can see that it's not code-based gobbledygook, but surprisingly close to understandable English. Note that "//" indicates a comment line: copy that follows the "//" is non-functioning, and provided only as an aid to humans peeking through the script.
Here's how to use this FinaleScript to rename the staves in your Finale score:
Go to Plug-ins > FinaleScript > FinaleScript Palette
Click on the New Script button and double-click on the resulting "Untitled Script" item.
Next to "Script Name" type something catchy like "Kelby's Name Changer," use copy and paste to transfer the text from the script link provided above into this screen, then click "Save and Close."
Now click on the "Kelby's Name Changer" script and hit the "Play" button.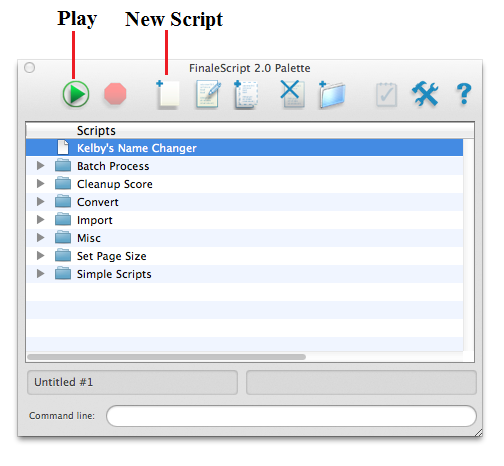 Done. I think its fun to see the multiple staff names change before my eyes.
Now for a few caveats. This script was created to work on scores created with the Setup Wizard and in which the part names have not been subsequently edited in Manage Parts. I'd also suggest running it only once per file or you'll see some interesting naming behavior (especially for Bass Clarinet).
The fun part about any FinaleScript is that once you know how it works, you can modify it to suit your individual needs. Have questions or experiences to share? Please click on "Comments" below.