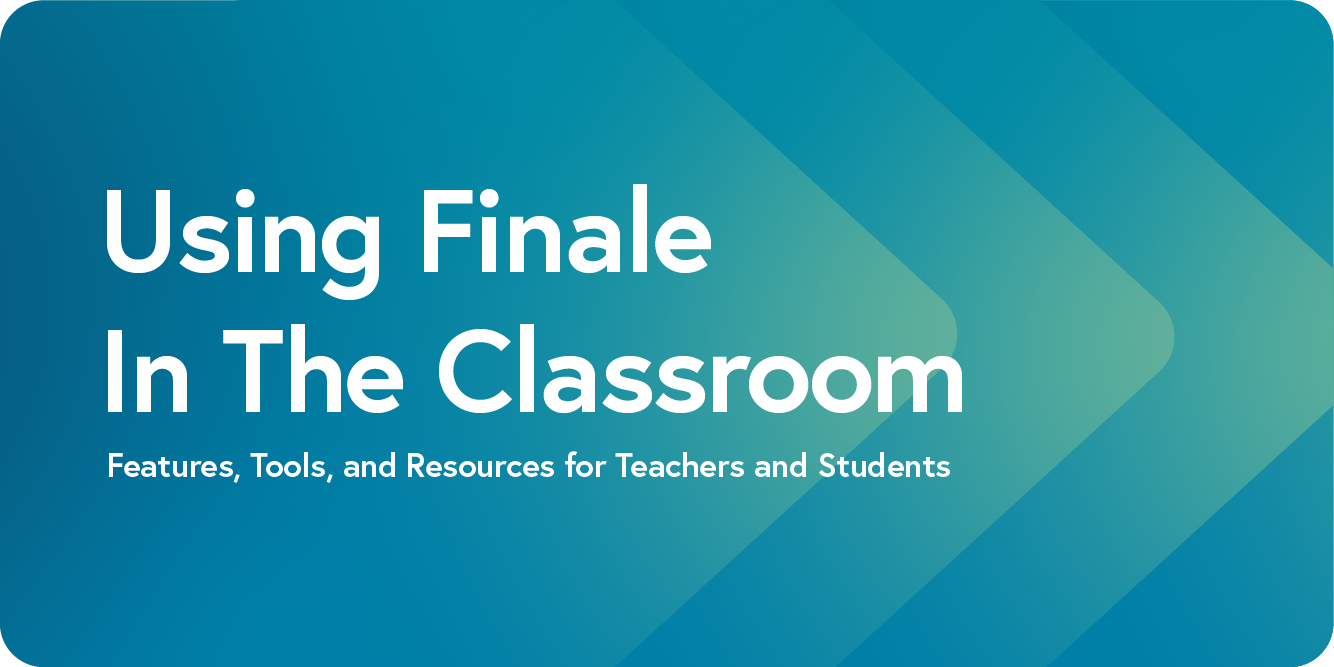 Overview
Empower the Next Generation of Music Creators
Having a strong grasp of music technology is essential to a long and prosperous career in music. As a teacher, you can set your students up for success by preparing them with the skills needed to master the tools they will likely be using in their careers. Finale, the industry standard for creating music notation, is used by professionals and hobbyists alike to create beautiful, easy-to-read music. 
Whether you're teaching your students how to use music notation software, creating practice pieces or exercises, or composing your own music, Finale has all of the tools you need. 
However, we recognize that both teaching Finale, and learning how to use it, requires practice, time, and (a lot of) patience. Luckily, you don't have to go it alone. Features such as interactive music sharing, built-in worksheets, templates, and repertoire, and a variety of learning resources can create a more enjoyable experience for you and your entire classroom.
We've compiled this guide to help you navigate these helpful features, tools, and resources for using Finale in your classroom.
For an overview of of all of the classroom-related features, check out this webinar from MakeMusic Connect 2022:
Interactive Music Sharing
One of the biggest challenges educators face when teaching music notation is finding an easy way to distribute music for the classroom. Traditionally, this has been done by exporting and emailing countless PDFs, or printing the music and distributing physical copies. This often causes issues with different versions of the music, lost files or pages, and an overall poor experience for the players.
But no longer.
The interactive music sharing feature in Finale v27, powered by a unique integration with MakeMusic Cloud (formerly SmartMusic), enables teachers to upload their music in seconds and instantly share it with anyone they choose, without leaving Finale. Want to make changes to a previously distributed file? No problem. With the click of a button, you can automatically update your music for all of your recipients. With interactive music sharing, you can feel confident that your class always has access to the most up-to-date version of their music.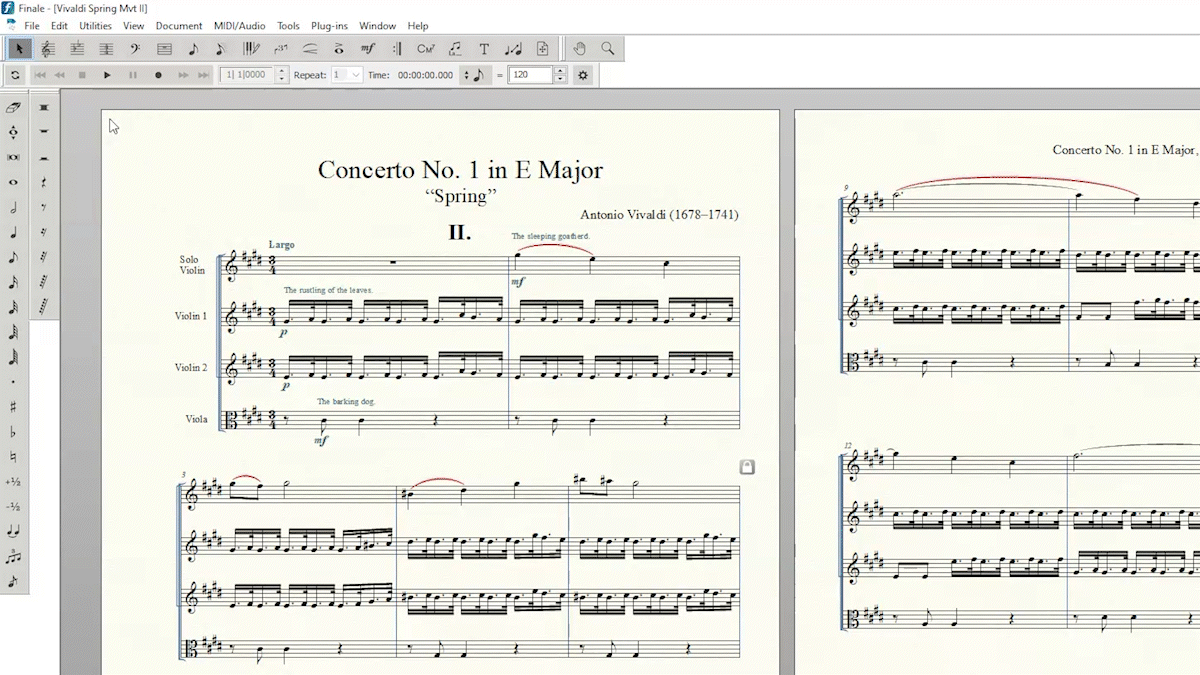 But there's more to sharing than just distributing music. 
Once a piece is shared, recipients can open it in the MakeMusic Cloud Practice app, which provides a suite of web-based tools that will transform students' practice experience. In MakeMusic Cloud, students can practice the shared piece of music along with accompaniment from Garritan's world class sound library. Say goodbye to tedious solo practice! Additionally, they will receive real-time feedback and assessment as they play along. Finally, if you've granted permission, they can even download a PDF of the shared music for printing.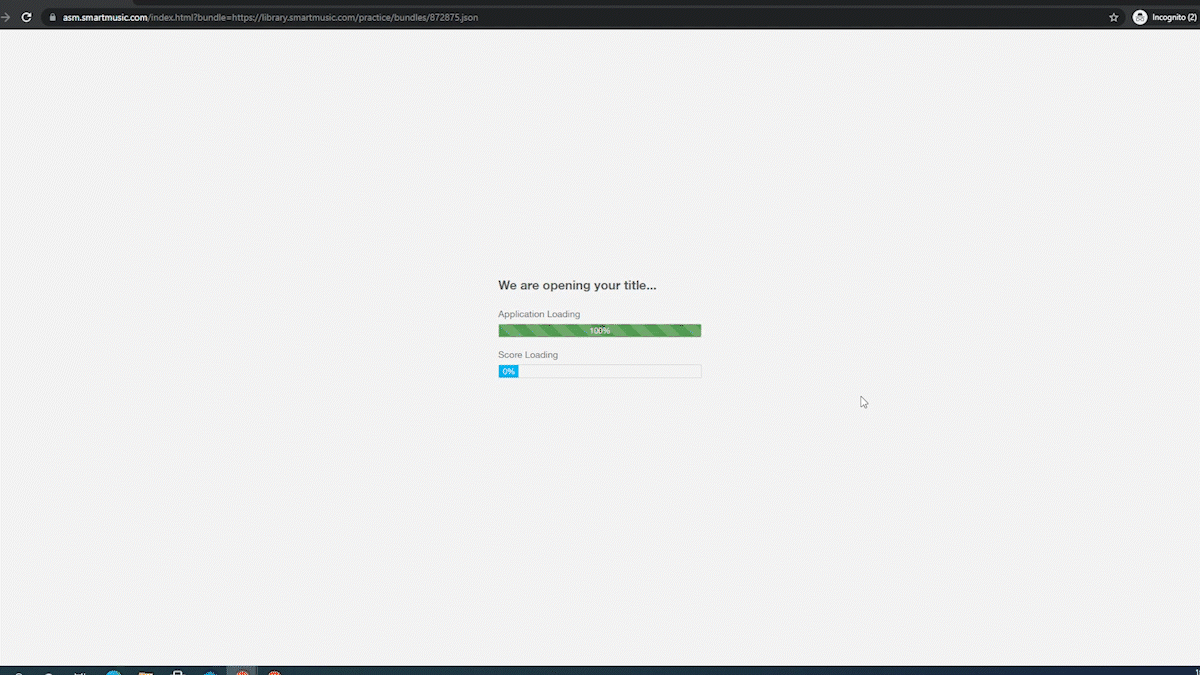 Sharing your music this way can be transformational in a classroom setting where students will benefit from the powerful tools available to them in MakeMusic Cloud.
The best part? A MakeMusic Cloud account takes less than one minute to set up, and can be created for FREE.
Built-in Worksheets, Templates, and Repertoire
Finale includes a vast collection of music education worksheets, templates, and repertoire. The worksheets are designed for K-12 students of general music, theory, band, orchestra, and choir, and help teach basic elements of music. Covered topics include counting, scales, chords, music vocabulary, and more.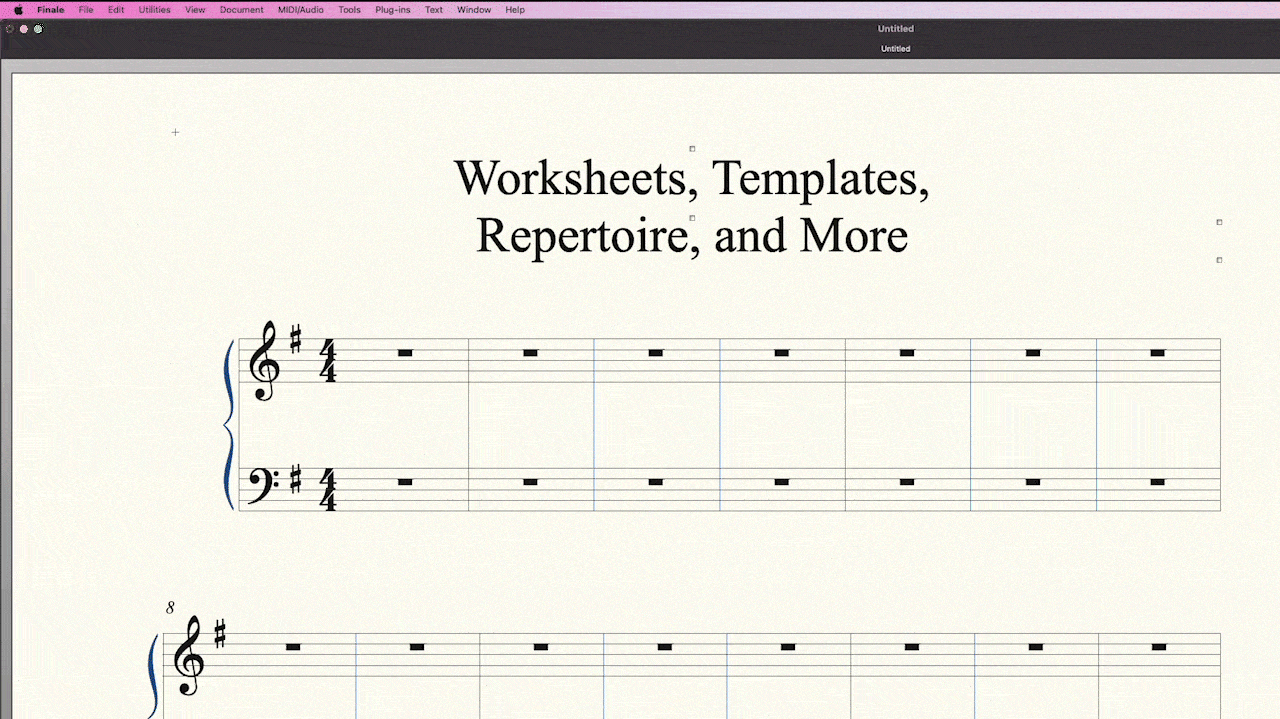 The built-in templates make it easy to create your own exercises or worksheets. Whether you're teaching band, orchestra, choir, or a particular instrument, Finale has a template for you. There are even templates for Boomwhackers®, solfege, and guitar tabs.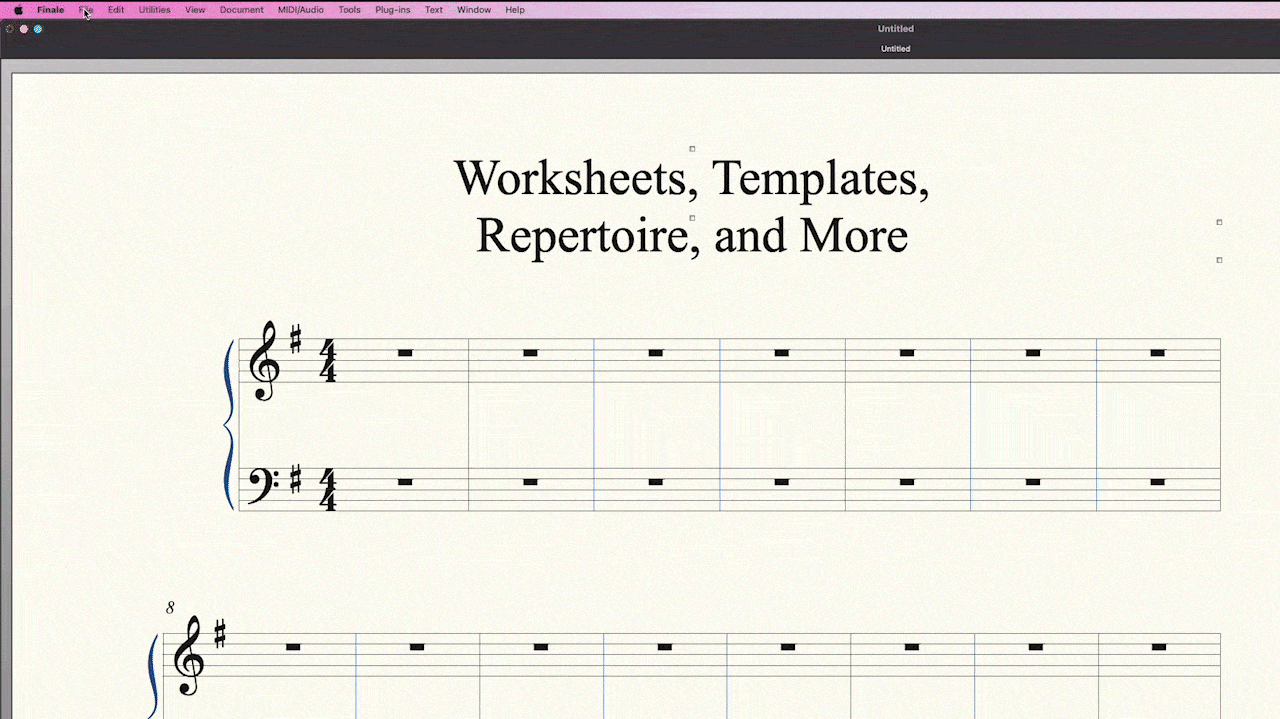 In addition to worksheets and templates, Finale has a vast repertoire library, making finding practice material as simple as a few clicks. The library includes hundreds of pages of repertoire in a wide variety of styles, such as instrumental music, jazz, holiday pieces, and much more.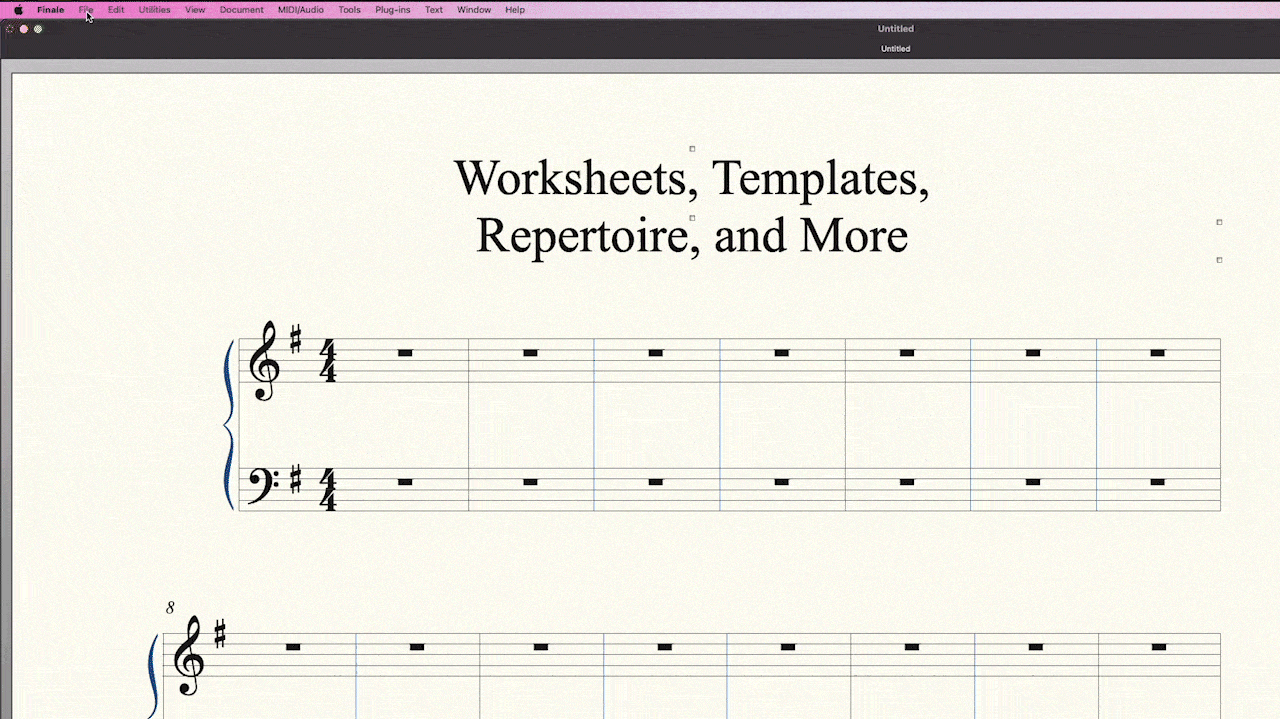 To find all these files and more in Finale, select File > Open Worksheets & Repertoire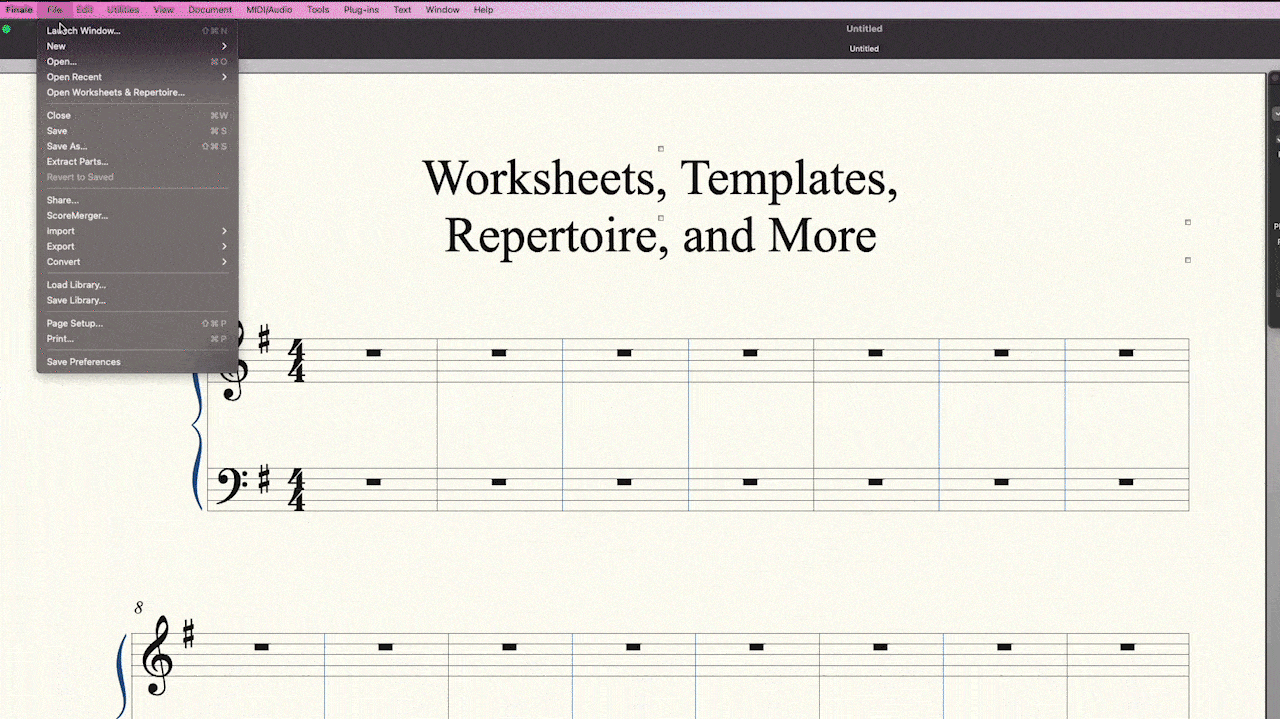 Learning Resources
Finale is an incredibly powerful tool, so we understand that the unparalleled control over your compositions that it gives you comes with a steep learning curve. There are a multitude of tools, features, settings, and menu options within the software, and that can be overwhelming when getting started with Finale. 
Thankfully, there are many resources available to help you navigate your way through the software and become an expert. Here are some of our favorites:
Finale Manual

: Here you will find a guide for every single feature and function that Finale has to offer, which can be easily searched for the topic you need more information on. There are also QuickStart guides and a helpful series of tutorials for getting started with Finale.

Knowledge Base

: Not quite sure the best way to approach a specific function in Finale? Ask the experts! The Finale Knowledge Base is an open forum for users of all skill levels helping each other make the most of their notation.

Conquering Finale

: Whether you're looking for an overview of new features, or looking to maximize your workflow, Jason Loffredo's Conquering Finale series has you covered. Jason has produced hundreds of videos on nearly every aspect of Finale and separated them into various categories, making it easy to find information on the topic you're looking for.
Cost Breakdown
We understand that one of the most important factors to consider when choosing to adopt software in a classroom or university is the cost. While we have always offered special pricing for academic and theological institutions, we are currently offering our best price on Finale for educational use yet.
Teachers, students, and administrators, can purchase or upgrade to Finale v27 for only $99. Additionally, purchasing Finale is a one-time cost, compared to the monthly/annual subscriptions for other notation software, which adds up to serious savings over the years. Finale is a far more cost effective option.
Sibelius Ultimate
$99
Per Year
Finale v27
$99
Per version
Prices above reflect the academic discount for each product.
Power Up with MakeMusic Cloud and Compose
Want to take your music education even further? Consider our sister software, MakeMusic Cloud (formerly SmartMusic).
MakeMusic Cloud has more than just the Practice app connected to the interactive music sharing feature. MakeMusic Cloud also features a music notation app, Compose, that enables you to create, edit, import, and share your sheet music directly in your browser. 
In addition to creating original notation from scratch, you can also import previously-created notation files from MIDI, MusicXML, or older SmartMusic files. Students can use Compose to explore music notation, complete composition assignments, and share their creations in an easy-to-use tool. 
MakeMusic Cloud makes it easy to assign compositions to students, which can be opened in the Practice app with full accompaniment for assessment. 
If you're looking for creative inspiration, look no further than MakeMusic Cloud's expansive music library. With tens of thousands of titles spanning every instrument, ensemble type, skill level, and genre, you're sure to find a piece that inspires and excites. MakeMusic Cloud offers repertoire in interactive and digital formats, as well as a selection of printable titles, which makes accessing the perfect piece for your needs as easy as a few clicks.
Check out some the FREE titles available in MakeMusic Cloud: