Today I'd like to highlight some of my favorite aspects of the Finale Copyist font. Designed by Mark Adler to fill the gap created by the lack of lowercase letters in other "handwritten" fonts, Finale Copyist also includes many hidden treasures. Whether you're adding text to your parts, analyzing jazz harmony, or just inputting chord symbols, Finale Copyist offers many time-saving tools to help you make great-looking music more quickly.
In a previous post on chord symbols, I outlined some common chord systems that require lowercase letters, and these conventions spurred the creation of the font, as did a desire to increase legibility. Check out the following comparison:

Which text is easier for you to read?
To get a sense of what else the font offers, you can view the entire Finale Copyist character set in the associated Character Maps for Mac and Windows. (These maps can also be found from within Finale via the Help menu.) Here you'll find the font offers many additional tools. Several special characters, such as text repeat markings, accidentals, and metronome markings are all included to provide hand-written text solutions throughout you scores. There are even a few characters to help create a handwritten enclosure around text, which is commonly seen in writing for big band jazz music.

Personally, I've gotten a lot of use out of the characters provided to assist in harmonic analysis. Admittedly, most analysis in jazz harmony is done with a pen, but when I was in college, making a beautifully printed worksheet really helped to distract my professors from the occasional flaws in my analyses! After years of cutting my teeth by making cadence arrows with the Shape Designer, having a font that includes these characters was a deep breath of fresh air. You can even string multiple characters together for a longer arrow.

For all its intricate details, the Finale Copyist font can be easily implemented. We've made a library of chord suffixes which use this font – lowercase characters included! Simply click File > Load Library and open the file named Chord Suffix (Finale Copyist) from the Chord Suffixes folder. Here's the full directory of this file in you don't see it right away:
Windows:
C:\Users\(your computer account name)\AppData\Roaming\MakeMusic\Finale 2014\Libraries\Chord Suffixes\
Mac:
~/Library/Application Support/MakeMusic/Finale 2014/Libraries/Chord Suffixes/
Here's just a glimpse of what you'll find: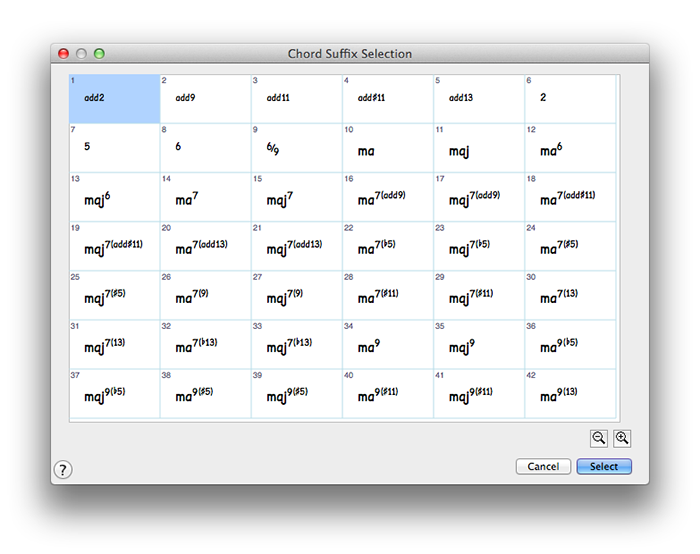 Have question about using the font or the library? Have some Finale Copyist tips to share? Please let us know in the comments section below.