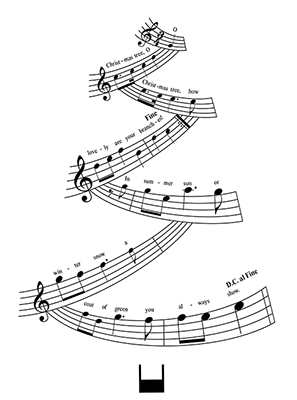 Frequent readers of the Finale blog know that I am a fan of graphic notation. One recent blog post featured my musical Jack-O-Lantern. I enjoy pushing the limits in Finale while creating interesting images that also play back. Yes, many of these graphics might be more easily created in a program like Illustrator, but Illustrator doesn't play back.
Wanting to create something interesting for the holidays, I searched the Internet for ideas and discovered that Karlheinz Stockhausen, the sometimes controversial 20th century composer, had created a number of holiday greeting cards. These cards feature graphic notation and are compositions in themselves. I decided to create a Christmas tree inspired by the design of one of his cards. My version borrows the basic shape from Stockhausen's card, though the content is decidedly more tonal and less complex.
To view Stockhausen's original composition, click here. This will link you to a PDF download of the booklet that was produced for his memorial, which features the tree on the last page.
If you would like to see the Finale file used to create Tannenbaum!, and hear it play back, it can be found here as part of the free MakeMusic Holiday Music download. Don't have Finale 2014? You can enjoy the file with the Free Trial.
Have you created some graphic music notation with Finale? Or something else unusual? We'd love to see it.
PS: Play trombone? Live near the west coast? Consider becoming part of Trombone Christmas, coming Saturday, December 14!