Are you arranging holiday music for your handbell choir this season? This post will share tips on writing for handbells in Finale 2014. For many years, Finale has included a pre-made handbell template. Here's how to find it:
Launch Finale. From the Launch Window, select Templates > Church Templates > Handbells.
This template is a great start, but you may need to adapt the template to fit the range of your specific ensemble. In this post, I'll show you a nifty plug-in that automatically creates your list of bells used.
First, enter the notes of your handbell piece into the template. Next select all by using keyboard shortcut COMMAND+A (CTRL+A on Windows). Now you're ready to launch the plug in:
Plug-ins menu> TG Tools > Create Handbells Used Chart
This is what the plug-in looks like: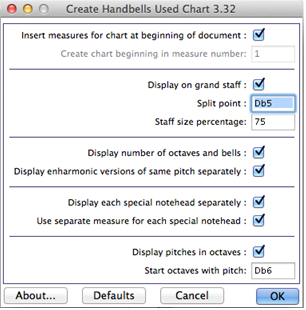 The default settings should be all you need unless you're not using a grand staff, in which case you could uncheck the "display on grand staff" box.
Based on the adjustments you make in this window, Finale will automatically place a Handbells Used chart at the top of your score. For demonstration purposes, I opened one of the free repertoire piano primer pieces included with Finale and used this plug-in to turn it into a piece for children's handbell choir. Take a look at the results.
I hope Finale is able to play a part in your handbell choir this year.
Like this post? Let me know by leaving a comment below.