Robert Piéchaud is a composer, performer, and a veteran Finale software engineer, having created Human Playback, FinaleScript, Score Merger, the November music font, and more. Today Robert has released Medieval 2, an update to his ingenious solution to creating ancient music notation with Finale. Below Robert explains exactly what Medieval is, what's new in version 2, and what's on the horizon.
How do you describe Medieval? Is it a plug-in? A font? Both?
Medieval is a specialized third-party solution devoted to ancient music. It was designed to help musicians create the most ancient types of Western written music known to us, taking advantage of the power of the world standard of "standard" notation, Finale.
It is a package with many facets; a font family, a very powerful plug-in with a multilingual user interface, rich documentation, and some specific templates and component files. Together with Finale, it offers a comprehensive environment devoted to medieval music. It could be described as a software within a software as its relationship with Finale is definitely a symbiosis.
Can you provide a brief history of the Medieval product?
I have long been bewitched by the idea of emulating the "warmth" of traditionally engraved music, but with modern digital tools. Keeping a strong link between the analog and digital worlds is an important theme in my work and in my music.
In the 1990s  Finale, Sibelius, Score, and other products were available, but I realized that there was no satisfactory solution to produce music notation created before the 15th century. Inspired by my passion for the fabulous musical diversity that existed since the 8th century, I came up with the idea of a font (Neuma) that would include many fine ligatures and medieval music features  I soon realized, however, that more was needed in order to adapt to medieval paradigms.
Neumes, in particular, proved problematic as they do not represent rhythms per se. Finale "thinks" in term of bars and rhythms while, for instance, there are no such things in Gregorian chant. Fortunately, Finale provides the flexibility to allow users (and plug-in developers) to emulate almost anything.
While in London in 1999 I met by chance with John Paulson, the founder and former CEO of Coda Music Technologies (before it was named MakeMusic). I had an early build of what would become Medieval on my MacBook and I was able to show it to John, who loved it. At the time I referred to the project with the obscure war code "Gradualis" to which John reacted abruptly with a "What the heck is this?" Then, in a gentler voice, suggested I rename it "Medieval."
What circumstances led to the release of version 2 now?
Over the course of many years, Medieval became obsolete. A significant amount of work had to be done to adapt it to be compatible with modern operating systems (and versions of Finale).
While there was a great deal of interest in an update, and I had even created a beta version (that was used for publication by some chant specialists), I never could find the right window of time to complete the project. Finally, after the release of the November 2 font in February 2015, I began to find the time to sit down and work seriously on the update.
What is new in version 2?
First of all, the code base has been entirely rewritten. In addition, Medieval 2 has many new features. Perhaps most notably the Neume tool – a unique recognition system – has been enhanced a great deal with over 200 forms of fundamental neumes.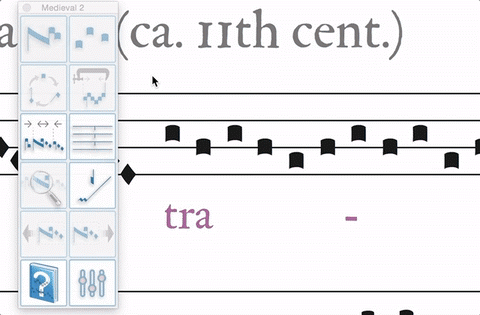 Graphically speaking, I have entirely revised the Neuma font family, adding many new symbols and paying much attention to details, as in my November 2 font.
I've made Medieval 2 much easier to use, with a dedicated menu and keyboard shortcuts. There is also a friendly notification system that feeds you with information or warnings without breaking the workflow, and the documentation has been rewritten from scratch. There are probably other many good points I've forgotten to mention!
Plus, you can now choose between five languages for the user interface: English, German, French, Italian… and even Latin! (This is thanks in part to my 15-year-old son who already is a true humanities scholar…)
Is a Windows version coming?
Yes, absolutely. Version 2.1 of Medieval is already scheduled for Q3 2017, and will be Mac and Windows. The Medieval 2 project had taken so much time that I felt that I couldn't delay the release of the Mac version until both were complete. It was important to me to give the outside world a concrete sign of my progress! I am also planning the translation of the documentation into French, German, and Italian, as well as other goodies.
UPDATE 9/25/17: Version 2.1, with support for Windows, is now available. 
Other goodies?
Well, for instance, I am working on a new font that will emulate the St. Gallen style of neumes. It is a fascinating and very specific type of music notation that takes us back even further into history. Also called campo aperto ("open field"), it was developed around the 8th century at the Abbey of St. Gallen (Switzerland) and has no staff, so actually it is closer to mnemonics. In some ways, it resembles certain avant-garde music notation experiments! (The same could be said  for Ars Subtilior, another very interesting notation period that Medieval 2 embraces). Very often, scholars write Gregorian chant with the standard square notes and staff, and with the St. Gallen neumes upon them. The idea in Medieval 2 is that these neumes can be entered as text font characters, above the music and through a specific verse line in the Gregorian template.
What's next for you?
Writing music is definitely high on my list! Last year was already quite intense with a carte blanche program entitled "Amerika" that was performed at Festival d'Automne in Paris, featuring my Wittgenstein-Lieder, my wind quintet (with voice) The River (after Henry David Thoreau), and some personal arrangements of music of the great Charles Ives, among them the Variations on America.
But for this year and the year to come, my dearest desire is to achieve some more ambitious orchestral projects. Perhaps this may lead me to some new technological ventures. Who knows?
I'd like to thank Robert for sharing this background. Medieval 2 is available through Klemm Music Technology, who is also the exclusive distributor of German-language versions of Finale.