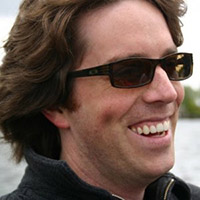 Jon Senge engraves music for several major U.S. music publishers as well as for notable entertainment companies around the world.

In this new blog series, Jon shares his favorite time-saving Finale tips.
Every day it feels like more work lands on my desk than leaves at the end of the day. In order to have a chance at keeping up, I am always searching for ways to shave time off everything. A day's worth of saved seconds add up to extra whole minutes I get to spend with my kids!
Today I'll start with one of my very favorite (and most-used) Finale time savers:
Creating Macros with Keyboard Maestro (or similar shortcut/macro apps)
The Keyboard Maestro application is a tool I use on my Mac to create customized keyboard shortcuts, or "macros," for the notation programs I use everyday. If I have to do something more than twice, it's nearly always worth the effort to write a quick little macro that'll do the task faster than I can click through menus. In the words of Tobais Fünke, "then you have it!" for next time.
Both Finale and Sibelius have built-in keyboard shortcuts, but with an app like Keyboard Maestro, I can create keyboard shortcuts that do a little more than the built-in shortcuts, and I can ensure that the shortcuts are the same for me on both programs.
I have simple keyboard commands for the simple stuff:
Opt+w = Save & Close

Cmd+Opt+p = Create PDF

Opt+m = Make Multimeasure Rest from selection

Opt+Shift+q = Change note size to 75% for cues

Customized shortcuts to all toolbar functions
Macros can do some pretty heavy lifting as well with the right programming. I have had macros that perform a number of functions to upgrade older Finale files into newer templates, updating fonts, layouts, etc., across entire folders of files. Some of these processes can have a dozen steps to do in each file, and I just don't want to devote mental energy and time to repetitive tasks when there's a better (and quicker) way.
If you're new to creating your own Macros and would like a little guidance, leave me a comment below or send a tweet to me @jonsenge.