Maybe you've heard about a new project that we at MakeMusic are working on. Maybe you've heard that it helps bridge the gap between creating your sheet music and getting it into the hands of real musicians. You'd be right on both those counts, but the real secret is that we're out to accomplish a much bigger mission: we want to transform how you and your musicians prepare for a performance.
How it'll all work is actually pretty simple:
The content owner creates or uploads a sheet music document.
The content owner shares the document with their recipients.
The recipient opens the document.
The recipient practices using a practical and intuitive suite of interactive tools.
Of course, the beauty of it is that this sequence happens all in one place, nothing else required. So let's take a closer look at that crucial fourth step, the one that makes it all worthwhile. Here's a glimpse at the future of music practice.

Behold: The Practice App
Over the past five years, we've been building and continuously refining an online solution for music education for which the Practice app is the foundation. Without it, there would be no meaningful content-based connection between teachers and students: the app is an essential technology that we devotedly improve whenever we can. Our new project invests in the belief that this could be an effective and compelling tool for more than just students. Having reworked the design for an expanded audience, we'll soon be ready to open up the Practice app to everyone.
What makes the Practice app so valuable? For starters, it's driven by the powerful MusicArchitect notation display and playback engine which includes the proven split-screen display that keeps you prepared for the next system. It also has some common musician's tools, like a tuner and a metronome. But it's two vital features that we think will be game changers for how performers practice their music.
No More Musical Isolation
No surprise, I'm a big fan of context. Unless you're playing solo repertoire, there's a lot of other things going on around you in a performance. Your individual line is one constituent part of the whole. Often, the language we use to talk about music reflects that it is a collective effort: ensemble, symphony, concerto, band, tutti. Why should practice be any different?
Individual practice, when taken out of context, is dull and limiting; this has been the unfortunate reality that generations of musicians have learned to live with. The Practice app puts an end to this drudgery. Using the realism made possible by sampled sounds from the Garritan libraries, you hear all the other parts playing along with you. You're no longer a solitary instrument or voice, detached from the actual experience of making music together.
10 out of 10 Professors of Pedagogy Agree
Research in education has shown again and again that learning happens where there is timely, specific, and constructive feedback – theorists call this formative assessment. Applied to mastery of your repertoire, real-time objective evaluation could help you identify trouble spots and give you the confidence that you're ready for the group rehearsal.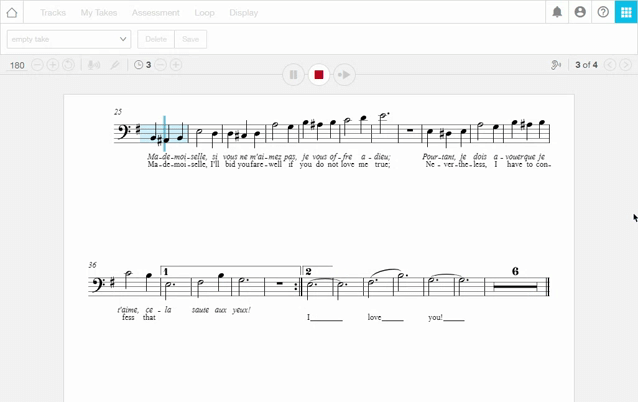 This is exactly the silver bullet that the Practice app puts in your arsenal. In a matter of seconds, your microphone is calibrated and the app is ready to follow along as you play, showing you onscreen which notes you've got down cold and where your pitch or rhythm was a bit off. For those impossible passages, adjust the playback speed as needed until you can nail each note at tempo. You can even listen to your attempt and download it as an audio file.
The Right Features for the Right Reasons
As if these capabilities weren't already useful enough, we asked musicians what else would be handy or would make their practice more engaging. This has helped inform the prioritization of features that we're continuing to add to the redesigned Practice app:
Switching between display of a single part or the full score
Transposing a document up or down to fit your range
Downloading a PDF of the original or your transposed version
Adjusting playback levels of accompaniment, a part, and the metronome
Customizing count-off and cursor settings
These are just a handful of what we have planned. If you enjoyed this ICYMI and you suffer from debilitating FOMO (Fear Of Missing Out), be sure to stay in the loop by joining our waitlist below!
join our waitlist!
For three years, we at MakeMusic have been working on a web-based ecosystem connecting creators and performers, and we're about to take the next step. Stay in the loop and be the first to access behind-the-scenes content by joining our waitlist!