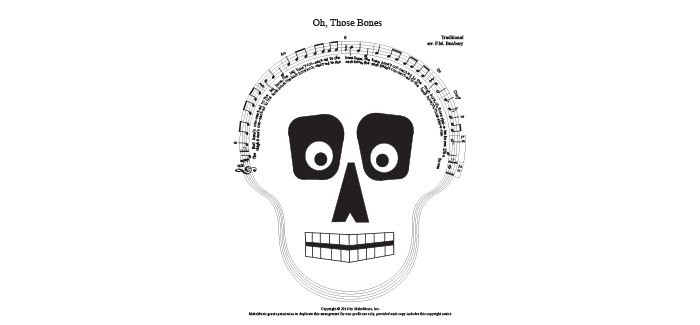 Earlier this year, a scientific expedition set out to explore the long-abandoned (and very creepy) catacombs under the MakeMusic building. Their goal: to unearth some rare and valuable 3.5" floppy disks.
Only one member of the expedition has been seen since, and he has yet to speak. But when he was found he had a box of floppy disks clutched in his hands.
And one of those disks contained an amazing discovery.
Captured among seemingly random zeroes and ones, like a mosquito in amber, was a Finale file, shown above. Archaeologists believe the artifact to be a previously undiscovered creation by the legendary F. M. Bunbury.
Little is known about the secretive and reclusive Bunbury who, due to his preoccupation with the macabre (and for his use of initials), was once referred to as the H. P. Lovecraft of music notation. Perhaps best known for his jack-o'-lantern (erroneously attributed to Mark Adler here), he is also the composer of the spooky SmartMusic arrangements "Dies Irae" and "Jacque's Unfortunate Boat Ride."
From further evidence, we can only assume that among his many amazing and unearthly talents, Bunbury had also discovered time travel. Remarkably, the recovered file appears to have been saved in Finale 25.1 (but works equally well in Finale 2014). Scientists also assume that Bunbury used Finale's Shape Designer and custom line functionality in the creation of this piece.
Today, thanks to the generosity of the Eugenio Delgado Foundation, you can download a zipped archive of the actual file, which also plays back the traditional "Oh, Those Bones."
Given the spooky nature of this discovery, we're delighted to share it with you just in time for Halloween. As has been suggested of Bunbury's jack-o'-lantern in the past, educators may choose to omit the eyes, nose, and mouth prior to printing the file, allowing students to draw in frightening features of their own.
Best wishes for the weekend… and beyond.