Are you using Finale 2014.5, an earlier version of Finale, or any other MakeMusic notation software?
If so, open or create any document that includes a Bb trumpet. Choose the simple entry tool, find a trumpet staff, and click in a C (of any duration) on the second space. As you click on the staff, you'll hear a concert C. Once you hit "Play" it correctly transposes to a concert Bb.
This has changed in the new Finale.
Now when you enter notes in transposing staves, you'll hear the transposing pitch. Check it out in the video above.  
For me, this eliminates a "disconnect" from my creative process. Do you prefer Speedy Entry to Simple? Of course Finale now plays back correctly when you enter notes in Speedy Entry, too.
This change, as well as the performance enhancements seen in the video, are just two of the many improvements in the new Finale. Last week we added several more enhancements in a free-of-charge update for all owners of Finale version 25.
You can try the latest and greatest version of Finale for 30 days with our free trial.
Please let us know what you think on Facebook or Twitter.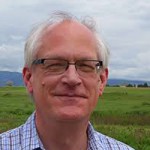 Mark Adler is MakeMusic's notation product manager/senior editor, a professional trumpet player, teacher, and a freelance music editor and engraver.
When posing for the photograph at left, Mark's photographer asked him to try to emulate the Mona Lisa smile. We think he did a darn good job.