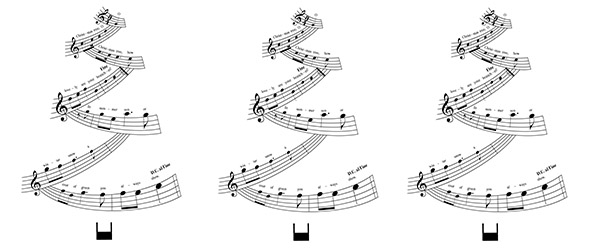 Happy holidays from your friends at MakeMusic. We hope your season is filled with traditions that evoke happy memories. One of our traditions is provide a collection of holiday music as a gift to users of Finale, and to add to the pieces included in that collection each year.
This year our new additions include several small ensemble pieces:
"Auld Lang Syne" and "Gloucestershire Wassail" for barbershop quartet
"In the Bleak Midwinter" for woodwind quintet
"Christmas Medley" for brass quintet
"Riu Riu Chiu" for string quartet
…as well as the "Christmas Cannon" animated piece seen here.
Also collected are holiday titles we've provided in the past, including:
Piano pieces from pre-readers to advanced
Classical guitar arrangements
A caroling collection
Instrumental duets, trios, and solos with accompaniment
Vocal pieces for SATB and accompaniment
Easy Holiday Ukulele Song Book
One piece each for beginner band, jazz band, and string orchestra
The "Tannenbaum!" graphic notation piece seen above and described here
Don't own Finale 2014 yet? Enjoy these files with the free trial.
I hope you are able to use these files to share the gift of music.