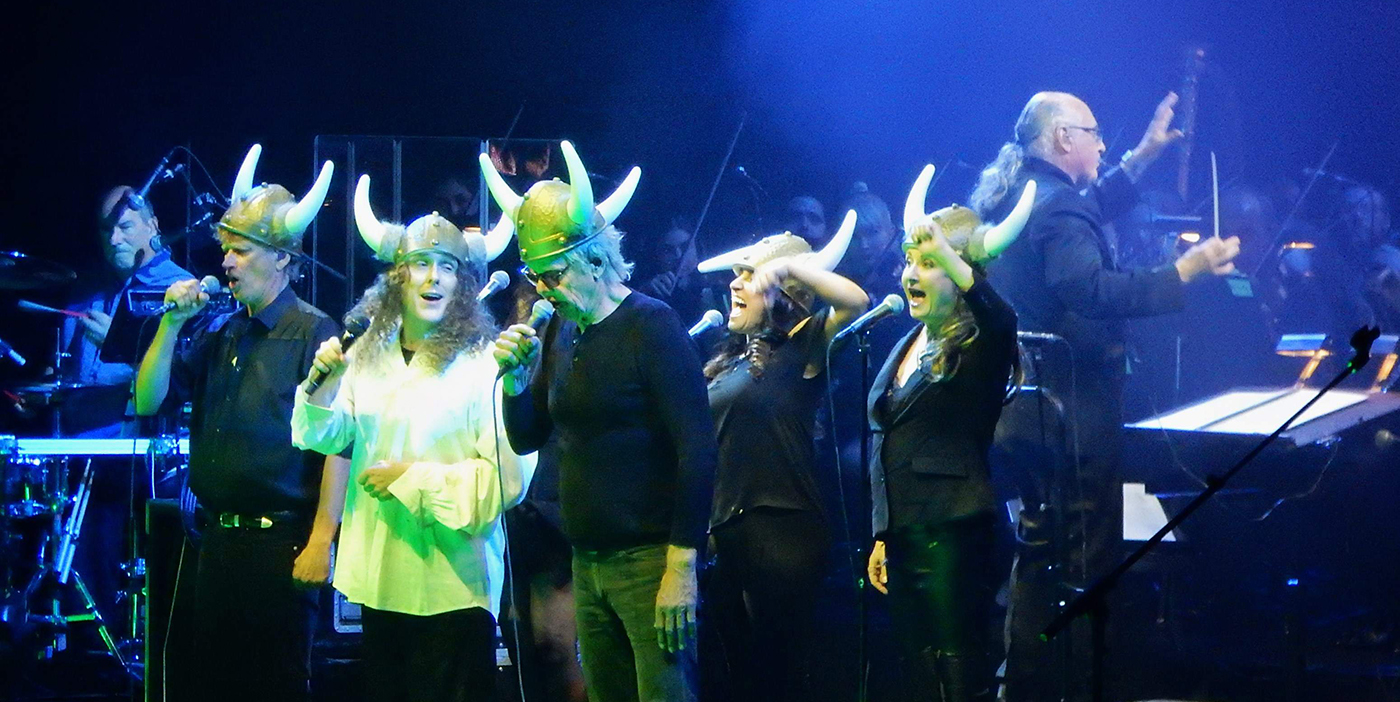 Earlier this year we wrote about Finale's role in Weird Al Yankovic's Strings Attached Tour. When I learned that a father-and-son team would trade off conducting many of the shows, I was intrigued. As I learned more about both of their careers, I was hooked. Both are very accomplished composers, conductors and music directors, and are known in video game circles around the world for their work with FINAL FANTASY. 
Arnie, seen conducting above, is also a GRAMMY Award-winning artist, a classically-trained violinist, and a member of Mannheim Steamroller. Eric (seen in the photo below) is a busy orchestrator/arranger for world-class orchestras and ensembles as well as for chart-topping pop stars. Check out their bios to see the staggering list of musicians and orchestras Eric and Arnie have worked with.
I spoke to them both about their incredible careers – including their work on the Strings Attached Tour – and to learn how Finale fits into all of this. 
How did you get started in music? 
Arnie: I was introduced to the violin by a neighbor when I was eight years old, and it stuck. I went on to study the violin seriously, and to perform in a wide variety of genres including rock, jazz, and classical. I even played electric violin in many groups. 
I spent a lot of time in the Chicago Youth Symphony, was concertmaster of the Civic Orchestra, a member of the Lyric Opera Orchestra, the Milwaukee Symphony, in residence at the University of Illinois, and became completely immersed in the recording scene in Chicago, New York, and LA.
Eric: I started out playing drums, percussion, and singing. But writing always motivated me. At the University of Michigan, I concentrated on jazz and improvisational music as a performer/composer. After returning to Chicago and working as a musician for a few years, my ambitions led me to study music composition at Mills College and the Graduate Center of the City University of New York. 
Listening to father's LPs from his younger days was also very influential!
What inspired you to become a composer?
Eric: I don't really remember a time when creative music wasn't very important to me. As a pretty young kid I learned to enjoy creating musical ideas. It didn't really dawn on me until later that, in "the present day," you could be a composer independent of being an instrumentalist performing music you wrote. This was despite the fact that I was very familiar with music by composers from the mid 20th Century and earlier. Eventually, my goals as a young musician expanded to include writing music for others to perform. 
What events led you to start conducting?
Arnie: I would be asked to contract orchestras for recording sessions as well as live engagements. This led to requests that I create arrangements, and eventually to conduct.
Eric: It became a practical imperative to me long ago because I had been a bandleader in various contexts, from behind the drum set, as the lead vocalist, etc. In retrospect, some of the same motivations that led me to compose and arrange/orchestrate for ensembles led me to want to learn to conduct in order to lead ensembles. 
As a music composition graduate student at Mills College in Oakland, Steed Cowart taught me conducting techniques and concepts. Later on, Tania Leon was a mentor to me in NYC. Since then, my father has been a big influence on my conducting through our long history of work together.
Arnie, how did you become a member of Mannheim Steamroller? What has that been like? 
Arnie: In the 1980's, I was contracting a tremendous amount of recording sessions, and I received a call asking if I would contract an orchestra for the first live performances of Mannheim Steamroller in Chicago. After that engagement, Chip Davis decided to record the new albums with us in Chicago and asked me to go out on the road with the group. That continued on for over 20 years, producing albums with Chip around the world, contracting all the musicians around the world for performances and recordings.
Eric, what can you tell me about your new solo guitar work?
Eric: It's called The RPG National Anthem Variations (or RPGNAV) and it's a collaboration between me and the guitar virtuoso, Sam Griffin (Super Guitar Bros). I arranged the Main Theme from FINAL FANTASY for solo guitar and then wrote seven original variations on that theme. Sam premiered RPGNAV at Otakon (a fabulous gaming/anime/culture convention in D.C.) in July 2019 to two packed houses and great response. 
We cannot thank Otakon enough for taking a chance on our idea and my original music! As far as we know, it's the first time a con has programmed original contemporary concert music! Sam and I will record it soon.
How did you both become a part of the Final Fantasy world?
Arnie: As music director and conductor of the Chicagoland Pops Orchestra, I was assembling our concert series each year. After hearing about the many concerts of video game music taking place in Japan, I decided to try it here in Chicago. In February 2005 we performed the first public video game concert in North America: Dear Friends: music from FINAL FANTASY. My relationship with Nobuo Uematsu and SQEX blossomed from that point.
Eric: The beginning of my relationship with Uematsu-san and SQEX began with creating arrangements/orchestrations for Distant Worlds: music from FINAL FANTASY. But my role has expanded quite a bit, especially after we developed A New World: intimate music from FINAL FANTASY for which I created the overwhelming majority of the charts and direct the concerts.
Arnie, What can you tell me about your work with the Barbie series?
Arnie: Mattel approached me with their first Barbie movie, Barbie in the Nutcracker. It was centered on the music of Tchaikovsky – and we ended up doing over 10 years of movies with Mattel.
How did you first meet "Weird" Al Yankovic?
Arnie: AWR Music was approached by Al's manager a full year before the Strings Attached tour began, to contract and coordinate all of the local orchestras on the tour, coordinate the orchestration and sheet music assembly, and to conduct the concerts as well.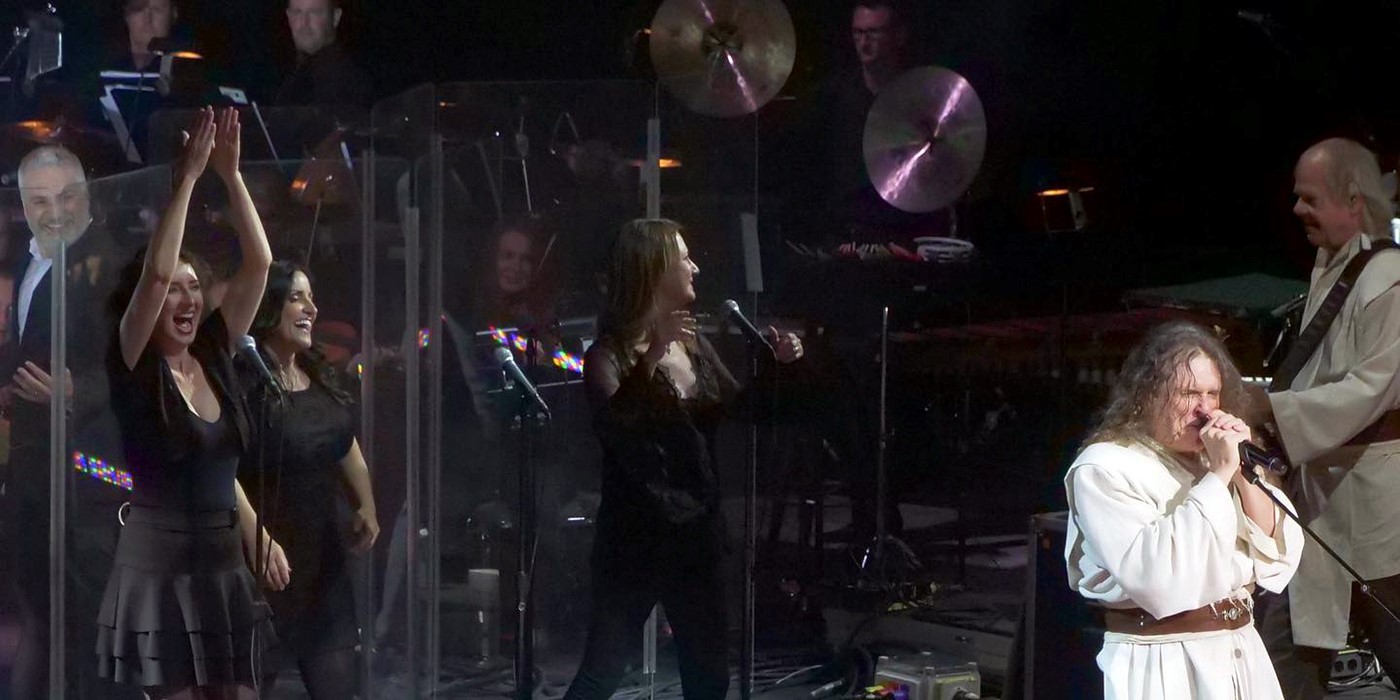 Did you both conduct Al's Strings Attached tour? How did that work?
Arnie: Eric conducted something like 55 performances and I did about a dozen. We planned that Eric would do the bulk of the tour. It's a serious grind to do a bus and truck tour with five performances a week. They almost always had an orchestra rehearsal each performance day as well, and those physical demands were a big consideration.
How did rehearsals work?
Arnie: There was a different orchestra for each venue, with some exceptions wherein a single orchestra performed in multiple venues. We had an orchestra rehearsal the day of the first performance with each orchestra.
Can you share a highlight of the tour?
Eric: Aside from the overall great relationships and adventures, there were some particularly indelible shows. These included working with the fabulous Nashville Symphony Orchestra, playing for 10,000+ people on a ridiculously hot night in Queens, for 13,000+ at the Minnesota State Fair, performing the show in Chicago with my wife and kids there… And being with Al – as he performed at such an astonishing level of excellence every time – was a true inspiration.
How did you notate music before Finale?
Eric: We were pencil and paper guys, although I do remember learning Encore a long time ago. But I have a ton of hand scores and parts from over the years. Finale actually changed every aspect of the process for the better and continues to be an indispensable software for us… for a really long time now. We've never even had a need to consider not using Finale as our primary notation software in all these years.
A huge portion of our very large and diverse music library was notated using Finale.
Where does Finale typically enter your workflow? Do you typically compose in a DAW and then use Finale only when live musicians are used?
Eric: No. It's pencil and paper and straight into Finale. Finale is essential to every step of the process. Typically, I'll write fragments of music on paper, sometimes as large as phrases or an orchestrational shape, and then transfer them into a Finale immediately. I basically use it as a writer generally does word processing software.
I've been ridiculed by an engineer who was incredulous that I wrote the music as my first step and made the audio demo from that MIDI information.
What's next?
Eric: In the immediate future I'll be recording and mixing RPGNAV, and collaborating on a live musical performance experience of the fabulous independent video game Undertale. And there's definitely more FINAL FANTASY music, particularly A New World performances, in Quebec, Chicago, KC, Nashville, Berkeley, San Diego, Australia…
Thanks to both Eric and Arnie for sharing their time and amazing careers with us. Details about upcoming FINAL FANTASY performances can be found at these A New World and Distant Worlds music websites, and you can learn more about AWR Music at awrmusic.com.