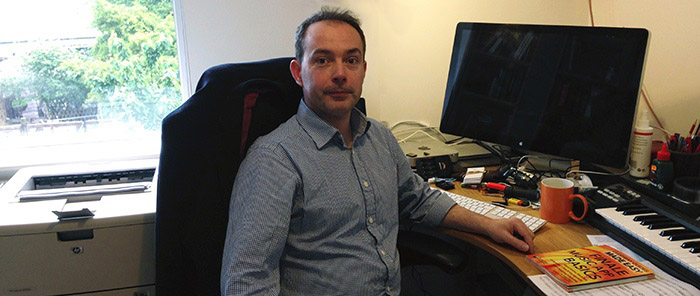 In our office, Ben Byram-Wigfield is best known as a knowledgeable member of the Finale forum community. In London, however, he's also a singer, musicologist, author and the operator of Ancient Groove Music, who publish editions of sacred choral and other vocal music. (Check out their website, which offers great free resources including beautiful music, engraving tips, essays, and more.)
Ben is also the author of a new book, Finale Music App Basics, available in the UK through Flame Tree, and in the US through Amazon and others, and the book's publication seems like a perfect opportunity to introduce Ben to our readers.
Congratulations on the publication of "Finale Music App Basics." How did you become involved in this project?
Simon Troup of Digital Music Art posted on the MakeMusic Finale forum that a UK publisher was looking for someone. They had to be familiar with Finale, experienced at writing, and able to work to a tight deadline and strict brief. I've worked in book publishing and I'm used to writing quickly, so I put my name forward.
How does this book differ from other Finale guides?
It's designed to be a true beginner's guide. Finale is so complex that it's very easy to be overwhelmed by the possibilities. The book keeps it simple and shows you how Finale does what it does.
Does the book's organization reflect the order in which it was created, or did you consider other alternatives?
It takes you the whole process in a natural order: creating your first document, putting notes on the page, adding notation elements, text and lyrics, laying out the music on the page — all the way to the finished article. That seemed the most obvious and logical way.
You make it very clear that a staff is one line of music and the plural of staff is staves. Do I sense a pet peeve here? 
Not really. I do think that precision and agreement in terminology is important, and that's how Finale has it. In the UK, "the music stave" is common. However, if you're going to hit someone, you definitely need a staff.
You've been very generous with your time on the Finale Forums, helping many Finale newcomers. What motivates your forum participation?
I've received as much help from others as I've given. It's a nice exchange of ideas, and a friendly community, though the passions of perfectionists can sometimes run high. I try to see it as some light relief from my day.
What was your first introduction to Finale?
In the 1990s, I worked at Gloucester Cathedral, and the Choir School had a copy of Music Prose 2.1 running on a Mac IIsi. I used it to engrave a newly commissioned piece for the Cathedral Choir. Not my finest work, but it started me on the path of becoming a professional engraver with Finale.
What do you like about Finale?
Flexibility and Control. Music notation has as many exceptions as rules, and Finale can achieve any result you want. You can adjust everything.
What would you change?
A lot of the UI needs an overhaul. There are too many "Russian doll" dialogs. And I'd like to see some of the plug-ins rolled into the core of the program.
Have a favorite Finale tip?
If in doubt: right-click on it.
Have any comic Finale or Finale forum anecdotes to share?
The most impressive thing I've seen is a drawing of a boat, done entirely in Finale.
Given Sibelius' popularity in the UK, have you ever been pressured (or tempted) to switch (or use both)?
I was a chorister at King's College Cambridge with the Finn twins, who wrote Sibelius. They were brighter than a pair of brain pies. [Editor's note: Check out this Ben Finn interview] Sibelius didn't reach the Mac platform until quite late, and I'm a Mac user of old.
What are you currently working on?
I'm currently exploring the darker corners of the late Italian Baroque. There's some really whacky stuff out there, much of which is now sadly forgotten.
On behalf of everyone who's benefited from his help on the Finale forum I'd like to thank Ben for his generosity and wish him luck with his new book and his brave explorations into the darker corners.