Back in 2016 I met composer, arranger, guitarist, conductor, and sound artist Felipe Perez Santiago and interviewed him for this blog.
Recently I learned that he was working, in a musical context, with SETI (Search for Extraterrestrial Intelligence) the non-profit whose mission is to "explore, understand, and explain the origin and nature of life in the universe, and to apply the knowledge gained to inspire and guide present and future generations."
I first became familiar with SETI through SETI@home, an experiment in which anyone can run a free program that downloads and analyzes radio telescope data in the search for extraterrestrial intelligence. The thought of being one of many, many people helping search for signals among the noise totally captivated my imagination and interest, so I had to learn more how this search could be connected with music. Felipe was kind enough to answer my questions.
Please tell us about your project with SETI.
Its is called The Earthling Project and it is an initiative by the SETI Institute, their Artist in Residence program, and me, in collaboration with Dr. Jill Tarter (co-founder and former director at SETI), Charles Lindsay (multimedia artist and founder of the SETI Artists in Residence Program), and a great team of collaborators from around the world.
The project's goal is to create global collaborative music, for eventual launch into space,  that leaves a message of who we are now as specie, as humans, and as earthlings.
Using online platforms and social media we will  invite musicians, artists, space lovers, humanists, and everyone else in the world to participate and build a community of music, art, and technology.
How did you first get involved with SETI?
It was a series of very fortunate coincidences.
I have always been a big fan of everything related to outer space and as a kid I was crazy about the program Cosmos by Carl Sagan. I remember sitting in front of the TV for hours with my father to watch it.
And I have followed the SETI activities for some time.
At the beginning of 2017, Sigur Ros was coming to play to Mexico City and I contacted them for an orchestral collaboration. Their manager replied to me, we had breakfast together and he kindly invited me to the concert where I had the chance to meet the band.
While we may hopefully be collaborating together in the future, that is another story.
While looking for their contact I read that Sigur Ros had participated in a collaboration with the International Space Orchestra, which belongs to SETI and the NASA Ames Research Center. Intrigued, I looked for more information and learned about the Artist in Residence Program at SETI Institute. I quickly called the SETI Institute and asked to speak with  the director of the program, Charles Lindsay. As he was not there I left my email, and to my surprise, he wrote me two days later , told me that he  loved my music, and asked how could we might collaborate.
A couple of months later he invited me to attend a SETI event in San José, California to celebrate Earth Day and meet in person. It was one of the most educational, yet incredibly fun parties of my life! It is super cool to hang out and drink with some of the most brilliant minds of this planet.
How familiar with Jill Tarter were you before this?
I knew who she was, of course. Besides her work at SETI, she is an incredibly accomplished astronomer, scientist, lecturer. I knew her TED Talk and also the fact that the character of Dr. Ellie Arroway in the novel Contact by Carl Sagan (later characterized by Jodie Foster in the film) is based on her life.
I had the pleasure to sit next to her at the SETI party and talk to her about a very embryonic version of the project while drinking "Martian" wine. By the way, she is the one that suggested that I should name the project Earthling. She is truly amazing.
In your residency program, do you work at the Allen Telescope Array?
No. I primarily work at my studio in Mexico City. I have visited the SETI Institute facilities in Mountain View, as well as the Montalvo Arts Center in Saratoga, where they have an awesome residency program and lent me an amazing studio in an incredible environment in the middle of the mountains.
I also visited the Stanford University music department where they kindly offered me their studios, and indeed I have also been at the ATA (Allen Telescope Array) to visit the site and shoot the first images of what will later become a documentary, and footage for the promotional trailers of the project.
I can certainly tell you that this place is unique. It's really in the middle of nowhere and is really magical. The energy that this site has is exceptional. And the opportunity to be there with Jill, Charles and some people of the SETI and Earthling team was really incredible.
How does your collaboration with Dr. Tarter work?
It is truly a partnership. Jill and I communicate very often and she is the leading contributor to the scientific part of the project. She is also continuously sharing new ideas for the development of the project and proposing contacts and collaborations. I also want to recognize our collaboration with Charles Lindsay, founder and director of the SETI Artists in Residence Program, with whom we are also working very closely in the creation of the project.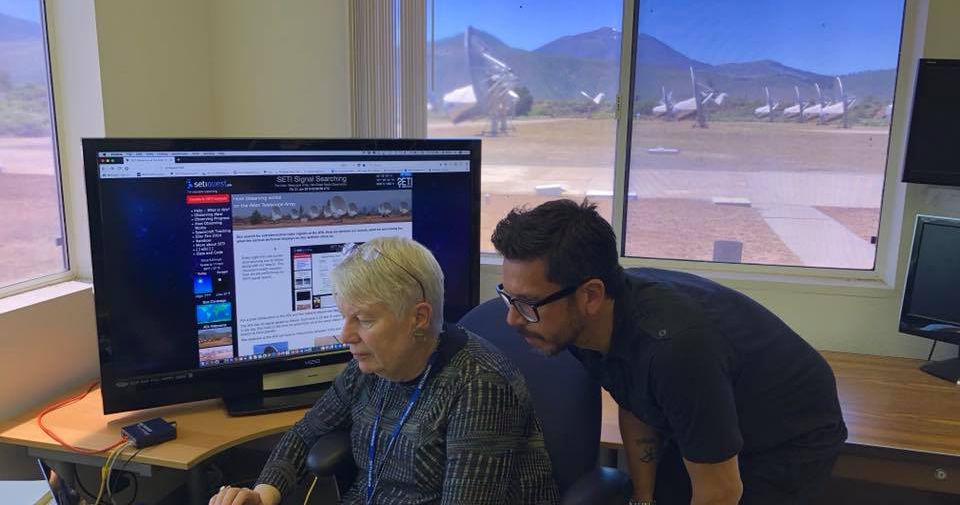 What can you tell me about Earthling and its progress?
It is a four-year project. We will invite people from all over the world to create collaborative online music compositions to represent who we are in this moment of human history and to form partnerships to launch this music into space as a symbolic act of this representation.
We will start with an open call for vocal submissions, because this is the most primal way of humans to make music. We'll follow with percussion ensembles and guest musicians for whom I will write the original Earthling soundtrack. Additional resources include outer space sounds provided by SETI and NASA. Next we'll invite musicians worldwide to react to this composition, and in a later stage we will develop music apps that will enable every person to create music and interact with this gigantic community. We want to launch the whole project in the first trimester of 2019 and will be working on it until 2023 when we will hopefully be sending it into space (we're still discussing the possibilities).
What in the residency experience has most surprised or delighted you?
Wow. Well, basically everything about this project is incredibly exciting. Meeting Jill, Charles, Bill Diamond (SETI's CEO), and everybody at SETI as well as going to Montalvo, and of course visiting the ATA.
But I must say the most amazing experience has been the people I have met so far and the collaborators that are joining the project. We haven't even launched it, or made it officially public, and we already have a huge team of volunteers working on this that includes people from Canada, USA, Mexico and Costa Rica. We already have the support of universities in Mexico and the US, as well as many individuals and institutions. I've been fascinated hearing of  most amazing and brilliant proposals from artists, scientists, programmers, even people from the cryptocurrency world.
I cannot imagine the incredible people that I will have the opportunity to meet during these next four years.
I want to mention that we are still looking for more collaborators Please know that every idea is welcome. And we are also looking for any kind of funding to make this happen. If you are reading this, feel free to approach us!
How are you using Finale in this project?
Finale has always been, for many years now, the platform I use to compose everything related to written music. So, everything concerning my notation will be done in Finale.
What's next?
Well, it is still a long road for this project to be completed (considering we haven't even officially started and we are already working like crazy).
And, of course, my life as a musician still goes on. I always have a several commissions and concerts in the works. Next season I have some amazing projects coming up, including premieres with the Kronos Quartet and the Tambuco percussion ensemble, orchestral premieres, pieces for dance companies, sound installations, workshops and conferences, and lots of conducting and touring.
I will also premiere in NYC (together with an album release) a piece called QUEST for cello, electronics, and video written for (former Kronos Quartet cellist) Jeffrey Zeigler for a project called The Sound of Science. This  is an initiative by the Golden Hornet Composer's Lab in Austin, TX to match seven composers from different countries with scientists, and I obviously chose Jill Tarter to base my composition on.
I will also release some new CD with various ensembles, and I'm very excited to have just started, with some incredible musicians in Mexico City, a new contemporary music ensemble, conceived with the idea of bringing contemporary music to a broader audience, called Vórtice Ensamble. We've just begun  rehearsals and it's sounding great!
I'd like to thank Felipe for taking the time to speak with us and would encourage those interested in learning more to visit his website. While I understand that nearly all musicians hope to grow their listener base, Felipe is the first I've met who is looking beyond the earth for those listeners. I wish him all the luck in the world – and then some.