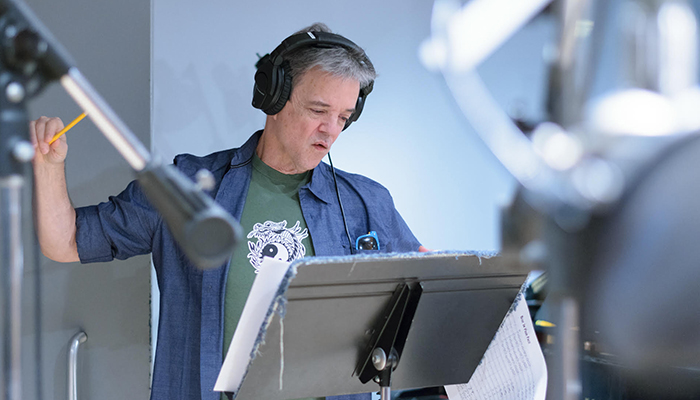 I understand Finale's default settings represent a compromise. They are designed to produce acceptable results for every kind of music and every level of user. Nevertheless, while learning Finale, these settings frustrated me. I found myself needing to make the same changes to these defaults every time I set up a score. I wondered if there was a way to avoid having to do these things every time.
It turns out that there are a few ways, using templates, document styles, and default documents.
Default Documents
Finale ships with three editable default documents:
Handwritten Default.musx

Jazz Font Default.musx

Maestro Font Default.musx
Adding your chord libraries, custom text fields, and other document options to these files can make a huge improvement in your productivity.
You can set the assigned default document in Finale's Preferences (it's "Maestro Font Default.musx" out of the box), or customize your own version of each. I suggest you make a copy, customize and rename it, and then tell Finale to use it. This chosen document provides the style for imported MIDI and MusicXML, as well as a new blank default document (when bypassing the Setup Wizard).
[BTW, if you do import MusicXML, check out a cool related feature here.]
Changing the Default Document
In setting the Default to other than the Maestro Font Default.musx, it's necessary to type (or paste) the name exactly into Preferences/New/Default Document.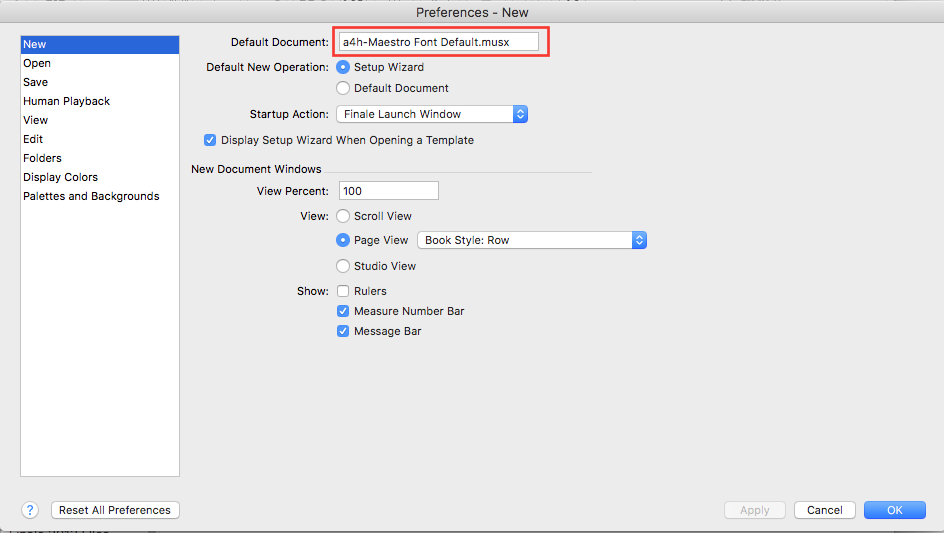 The chief complaint about these documents is "they're hard to find." You can set it up so they're very easy to navigate, edit and update. (We'll talk about that later.) I've got the folder they live in in the left sidebar of my Mac finder window, so for me, it's just like any other file… even easier, and I depend on them now and update them as needed. My Default Document sets my score up with all my preferences, out of the box, every time.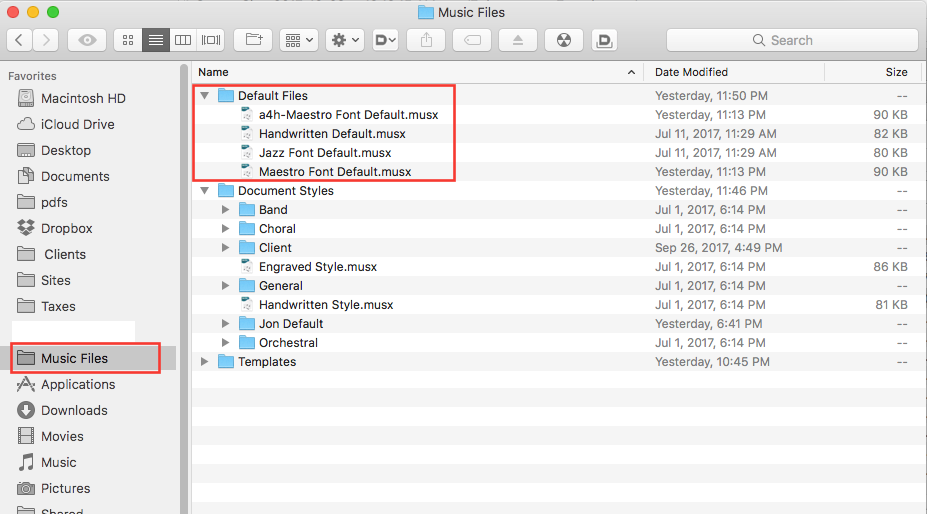 Templates
Templates seemed like they might be a godsend to me – except, every client and instrumentation needs a different template. Every time I made a template for a client, I found myself making the same fundamental changes over and over again on creating it. It would have been possible to "save as" a previously created Template, but given all the options that need to be set differently for each client, such as score setup and text fields, this option eventually proved insufficient to our workflow.
Templates are a terrific starting point for storing libraries, sound configuration, or for a big project of similar instrumentation, but the necessity to save a new empty document for every client, without knowing if you'd ever be writing for that ensemble again, proved to be a tedious and inelegant solution our workflow. We need the initial score to contain all our default options, customization, page setup, text fields (including Part/Score Name) and libraries on creation.
Document Styles
Document Styles are definitely a step up from templates when you've got a lot of different input types. Putting a completed score in the Document Styles folder retains all settings, minus the note entries. The drawback to this option is information remains from the source file, such as tempo marks, endings, lyrics, and bar line types, all of which need to be cleaned out prior to entering data in a new document.
Using document styles allows customization of instrumentation and a fresh score setup. When you create a copy of a finished file, clean it out, save it in the Document Styles folder, and name it for the client or project, it's very useful, functionally identical to a template file, but also with score management in the Setup Wizard. Very handy! You can create a Client folder in the Document Styles folder, and the styles will be available in the Setup Wizard. (Client names redacted below.)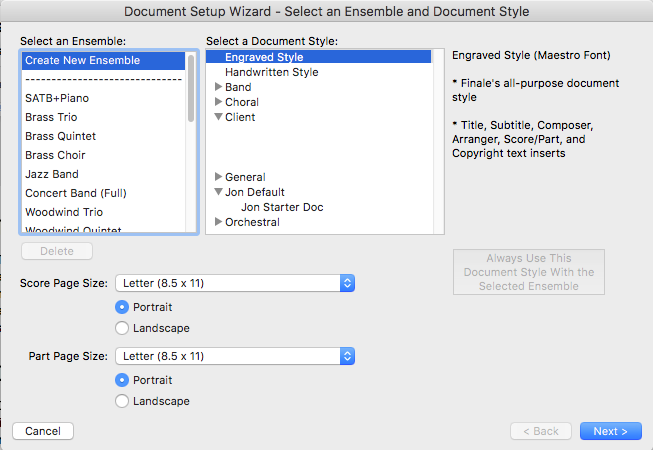 Editing Default Documents
The default document option is the most powerful we've found for the diversity of content we receive, and we retain a copy of it as our "house" document style for use in the Setup Wizard ("Jon Starter Doc" above). Imported MIDI and MusicXML files pour nicely into a score with all our settings already present. When receiving old Finale files with libraries missing or other issues, exporting them as MusicXML, then reimporting them, gives us a score already set up to our specifications.
Managing Customized Music Files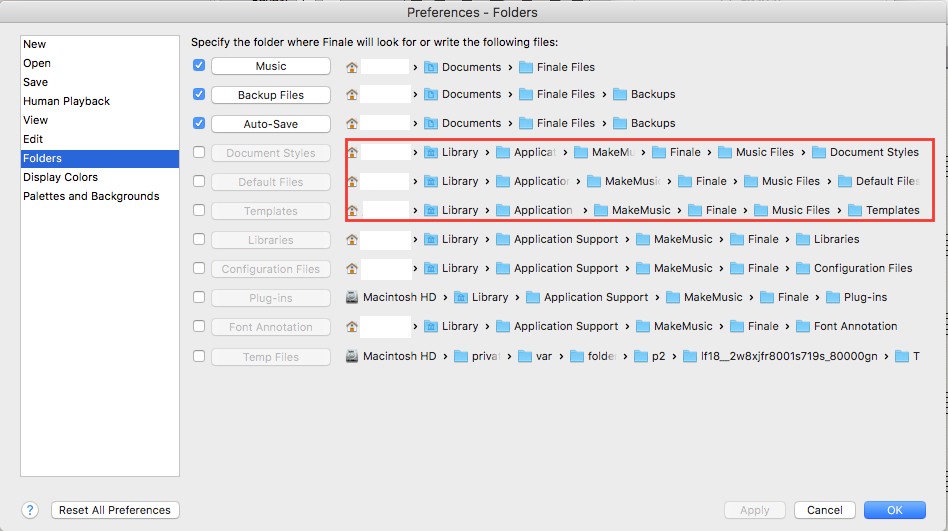 The first task in managing these files is finding out where they are via Finale/Preferences/Folders (above). All three file types have their own folders, and all three might reside in your user directory. The default on Mac is User/Library/Application Support/MakeMusic/Music Files/ – and in there, you see folders for
Default Files
Document Styles
Templates
Finale uses the folder location to determine how the file will function within Finale.
Remember to use:
Inevitably, you'll discover yet another omission or shortcoming in the Default File or Document Style you're working with. No problem – just open it up from your Finder bookmark (or location in your Dock or TaskBar), and edit it in Finale to make the correction, and save it. Next time you use it, it'll be correct. And you'll save a boatload of effort on every project.
Using Old Files
Finally, a word of caution about using any Finale files (including default files, document styles, and templates) from past versions of Finale.
Don't.
Well, that's probably overstating things. Using Finale 2014 files in Finale v25 is fine, but building a template from a Finale 2007 file, for example, opens the door to lots of bugs MakeMusic has fixed since Finale 2007 first shipped. Learn more here, and consider making new files every other version or so.
When I learned to customize these files it transformed my Finale productivity. I hope this post does the same for you.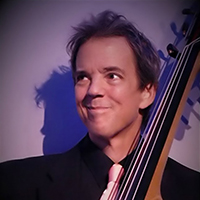 Jon Burr is a composer, arranger, producer, recording engineer, bandleader, bassist, and educator from Yonkers, NY and a Finale user since 1996. As owner/operator of Arranger for Hire, he serves music arranging and production customers from around the world. A veteran touring bassist, his performance credits include Tony Bennett, Buddy Rich, Stan Getz, Chet Baker, Eartha Kitt, Rita Moreno, The Hot Swing Trio, Stephane Grappelli and many others. Arranging customers have included the Mel Lewis Jazz Orchestra, Chilean Astronomy Society, The Milpitas Community Concert Band, The Honey Taps, The Montclair Kimberly Academy's annual musical, and many others. He writes for and leads his own ensembles, including the Jon Burr Quintet. His arrangements for Swedish YouTube artist Kim Andersson have received over 5 million Facebook views.