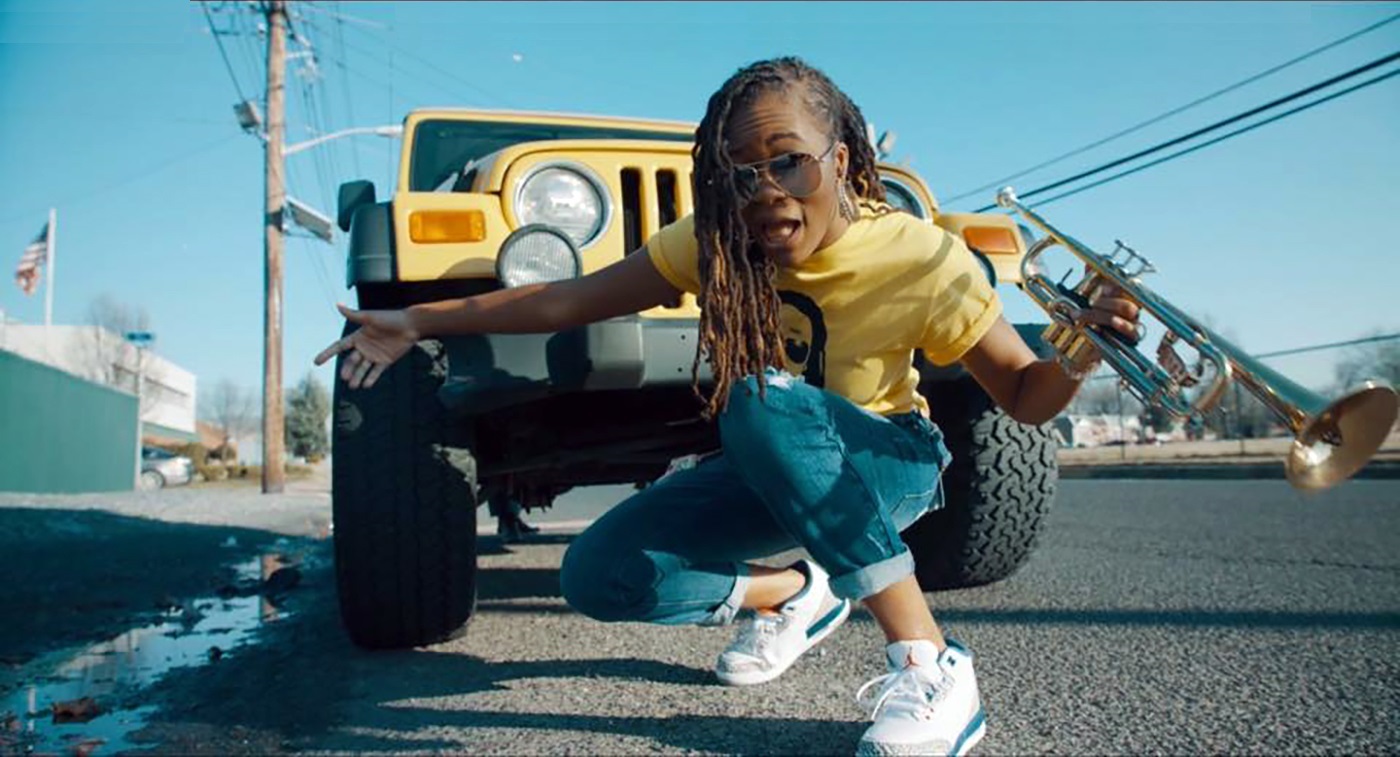 I'm pretty sure everyone in the MakeMusic office will attest to my love for Beyoncé, pride for my alma mater (Berklee College of Music), appreciation of a good horn line, and admiration for gifted female artists. Arnetta Johnson embodies all of those things. The ultra-talented trumpet player was kind enough to let me fangirl a little and talk about her background, career, and experience with Finale.
What is your musical background?
I've been playing trumpet since the age of 13, so that makes 12 years now. I grew up in the church. My mother made sure that we sang in the church choir too. She's a music teacher, but she never forced us to pick up an instrument. Singing in church was just the norm for the youth, but it helped me develop many skills. My family has always been musically inclined, so when I decided to join the school band I had support.
When I first began trumpet, my first teacher was Nasir Dickerson. He then introduced me to Hassan Sabree who led the Camden Little Jazz Giants. After getting performance experience and creating a strong foundation through that, I went on to be a student at The Camden Creative Arts High School. Our band director was Jamal Dickerson, the brother of Nasir Dickerson and best friend of Hassan Sabree. While under his direction we competed in many high school jazz competitions, studied with some of Philly's top musicians, and went to some amazing concerts to keep us up to date with the music. From high school, I went on to Berklee College of Music where I graduated class of 2016.
My first gig was with the Camden Little Jazz Giants at the Cape May Jazz Festival. I have played with Terri Lyne Carrington, Tia Fuller, Beyoncé, BET's Black Girls Rock, The Roots, and more.
What is your experience with Finale?
I have been using Finale since 2009. I like how simple it is to learn the shortcuts. I also like how you can customize the look of the window in every way. It's easy to create PDFs, and it doesn't crash every five seconds either. Sometimes it's hard to place the chord names above the staff without having one huge spaced out measure. Other than that it's perfect.
Whenever I have to arrange any horn parts, I take out my laptop and get to work on Finale immediately. I use Finale to arrange for my performances, I used Finale to chart music for Beyoncé's Coachella performance (Melanie's note: BEYCHELLA, PEOPLE!), and Finale was used for every single thing I did at Berklee.
Do you have Finale tip that you'd like to share?
You can change the color of the background. I know that sounds small, but when I changed my backdrop to teal, suddenly I got seven charts done in three hours.
What are you up to now?
After touring with Beyoncé for most of 2018, I've decided to focus solely on my own artistry. At the moment, I have a two-piece horn section that consists of two trumpets. We call ourselves the Bop Hornz. We are currently doing a lot of horn section work with some of today's top artists. It's going to be amazing when it all drops.
I'm currently in the final phases of releasing my debut album If You Hear A Trumpet It's Me. That's pretty much been my catchphrase for the past year. Arnetta Johnson is who I am and SUNNY is what I sound like. It isn't necessarily a group, just me and my sound.
I decided to take the artist route in 2016. I wasn't too sure of my sound yet, so I was out there as a jazz artist for about a year two. Around the top of 2017, I finally got a gauge of what my sound was and this lead to some GREAT songs being created. The album will showcase what we call "disruptive jazz." My goal is to take instrumental somewhere it hasn't been just yet. Most of the songs will be able to fit the mainstream media. I'm very excited about this project. It goes from some slight fusion/hiphop to straight up trap. That's the vibe.
Who are women that have inspired you?
Tia Fuller, Jill Scott, Terri Lyne Carrington, Missy Elliott, Eve, and Cynthia Robinson.
Speaking of which, can you describe SWIM (Smart Women in Music) and your involvement?
SWIM is such an amazing program. Through the SWIM program, you see how women have had pivotal parts in music. For this year's NAMM showcase they brought me in to speak on my experiences in the industry as a female musician. It was great to share my story with so many other amazing people involved in the industry.
What do you enjoy most about your work?
What I enjoy most is that not only is it fun, but it inspires EVERYONE!
Do you have a favorite work-related story that you'd like to share?
There was once a time when I had to chart out music last minute for a gig in Boston. I had a six-hour bus ride to get ten songs done, three-part horn section. When I went to chart out the music, I realized I didn't have my headphones. So I charted out ten horn parts by thought and by ear. Talk about stress. I also had a moment where someone needed a song charted in 30 minutes. I happened to have my laptop on me, and because I knew the Finale shortcuts so well, I was able to get it done quickly.
What advice would you give a young musician today who might be interested in following in your footsteps?
Keep exploring as much as you can with music. Music, in general, is a beautiful thing, but when you find your purpose in it, there's no greater gift in the world. In that moment you'll understand how limitless you are through music.
Thanks again to Arnetta for sharing some of her time and insights. Look out for her project, Arnetta Johnson & SUNNY and her debut album If You Hear A Trumpet It's Me.