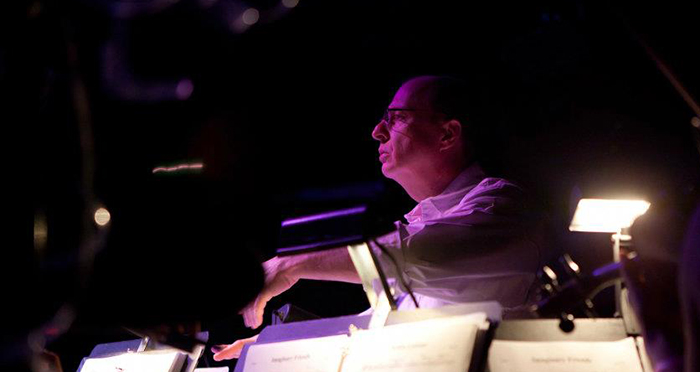 Joseph Church is a composer, conductor, arranger, orchestrator, pianist, author, and educator. He was the music director of two groundbreaking Broadway musicals, The Who's Tommy and The Lion King, and holds a doctorate in composition from NYU, where he has been on the faculty since 1997. Joseph is the author of Music Direction for the Stage: A View from the Podium and is a frequent guest artist/teacher in composition, songwriting, conducting, music direction, and musical theatre performance.
Most recently, Joseph re-orchestrated two classic musicals with lyrics by Sheldon Harnick, The Rothschilds and Rex. He is currently music supervisor and orchestrator of the musical A Sign of the Times, and is writing a musical inspired by the life of Ray Negron, author of Yankee Miracles: Life with the Boss and the Bronx Bombers.
When did you first suspect you wanted to make music making your career?
I always loved and studied music, but in college I began to think it might be a profession, thanks largely to some wonderful professors, including the late David Steinbrook, whose lessons in Schenkerian theory got me hooked.
How did your relationship with The Who's Tommy begin?
I got lucky – the person who was supposed to be music director of the show quit at the last minute. I had been playing audition piano for Fame, and Steve Margoshes, the orchestrator of both Fame and Tommy, mentioned to director Des McAnuff how well he thought I played rock piano. So I flew to San Diego and met with Des; he told me I was the only person he had ever heard make Pinball Wizard sound good on the piano. It was a classic example of being in the right place at the right time; I had known the score for Tommy since I was a kid –  in fact, I still have the piano-vocal book.
What was your introduction to Finale?
From the first time heard about the product, around 1993, I was interested. When the copyist for Tommy, Don Oliver, suggested that we input the piano-vocal score into Finale, I was all for it. I believe it was among the first Broadway shows that originated as a Finale score. I got good at it from that experience, and I've been using it ever since.
Where does Finale fit in your orchestration and/or composition workflow?
I used to be a meticulous hand-copier of music. Now I begin most projects on Finale, using it as a sketchpad, a visual aid, and an auditory feedback system. I also teach Finale to most of my students, and encourage them to use it the same way.
Do you typically hand off your Finale scores to a music prep team?
Most of the time, but not always. I sometimes supplement my income with Finale work.
What do you like about Finale and/or what you would change?
I'm so comfortable with the application that at this point it's hard to tell what I like – I like everything, really – except… I've never been able to get the percussion music I write to look right or play back correctly without jumping through hoops, and I end up not really worrying about how it sounds, but only how it looks.
Can you share a Finale tip?
I can share lots! My formatting protocol has been drilled into many a student: 1) Reduce, 2) Distribute into systems, 3) Optimize and respace staves, and 4) Detail. In brief: First get your score to a satisfying size on the page, and adjust margins if you like them wider than the default. Then distribute your measures by system, using as your guides logical choices based on musical phrases and sections and what is easy to read. Next, remove unnecessary blank staves using the Page Layout tool and adjust the position of staves within systems using the Staff tool. Finally, work through the piece beginning to end, detailing the score using primarily the selection tool.
Some other tips: Connect a keyboard and use Speedy Entry to enter note information. Always enter as much information as you can into a single phrase or section, then use copy and paste and edit subsequent sections. Take advantage of the keyboard shortcuts available in the articulation and expression tools. Use the Selection tool and the number keys to move notes up and down, by step or octave. Create a separate staff for each instrument and work in scroll view until you're well into the piece. I've got more!
What scores or parts were influential in how you believe a score (or part) should look?
Because we were among the first users, it's more like subsequent Finale scores for Broadway used Tommy, and later the Lion King, as models. (Don't mean to be immodest…) But having studied conducting, I was used to reading nicely engraved orchestral scores, laid out clearly and readable. Finale changed this process forever.
What inspired you to write Music Direction for the Stage: A View from the Podium?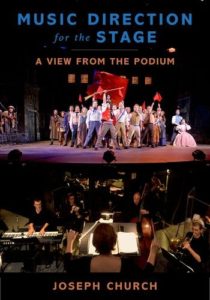 The introduction of the book answers that question in detail, but briefly – to bring a scholarly perspective to an unrecognized profession, and as a guide to and textbook for aspiring music directors.
Were there written resources for budding music directors when you began your career?
No, there were few, if any – this is another reason I wrote the book.
You wear many hats, from composer and orchestrator to conductor and educator. Is that a blessing or a curse?
Both. As a professional, I often fall between the cracks. But in truth, it's the variety of work I've done my career that has helped it remain interesting and enjoyable over 40 years!
Do you have advice for young music directors interested in working on Broadway?
Learn the repertoire, learn the history and the fundamentals, and be ready when opportunities arise. And, of course, Buy the book!
What are you working on (or looking forward to working on) today?
Among many other projects, I'm writing a new musical, a very cool story set in New York in the late 1970s, inspired by the life of New York Yankees legend Ray Negron (author of Yankee Miracles). I'm just finishing up rehearsal scores for the singers on 6 new songs – the first projects I've done in Finale 25. I'm also doing a lot of orchestration, and teaching composition at NYU.
I'd like to thank Joseph for taking the time to speak with us and look forward to checking back in with him after he's completed a few projects in Finale 25.