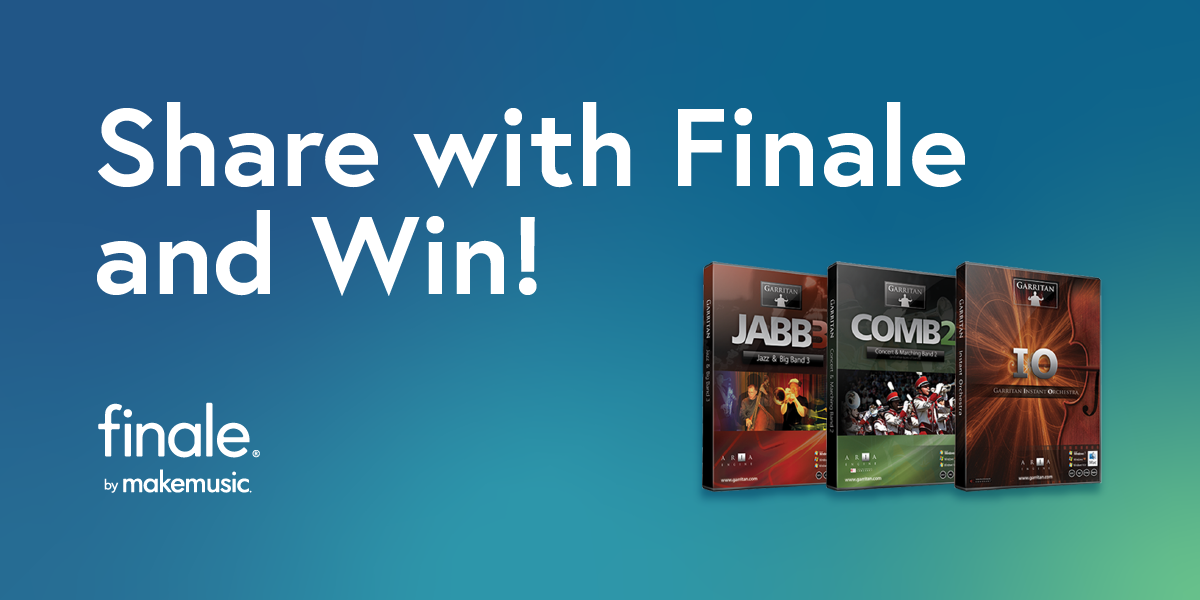 For a limited time, the first 50 Finale users to share a composition with us using the interactive music sharing feature will receive a Garritan library of their choice*, completely free. You read that correctly. In five minutes, you could receive a world-class sound library—completely free.
Here's how to enter:
Compose a piece of music in Finale
Open up Finale v27 and compose anything you'd like! It can be a full symphony, or just a few notes. You can even share one of your existing compositions or arrangements.
Prepare your composition
When you're finished with your composition, click File > Share
Create or login to your SmartMusic account
Share your composition
Once logged into your SmartMusic account in Finale, share your composition with share@makemusic.com.
After clicking File > Share
Click Share Privately
Enter share@makemusic.com as the recipient
Navigate through the remaining options to complete your entry
That's all there is to it! If you are one of the first 50 Finale v27 users to share with us, you will receive an email** at the conclusion of the giveaway with a promo code to download a Garritan library of your choosing.
---
* Excludes Garritan Anthology, CFX Concert Grand, and CFX Lite
** Please note that this will be sent to the email address used to share, which may be different than the email address associated with your MakeMusic account.
Official Rules: Giveaway available only to the first fifty (50) persons who are 18+ and the age of majority in his or her state of residence, legal residents of the United States, and owners of Finale software, version 27 who submit an original composition using the "share" feature in Finale v27. The shared composition must be the participant's original work and not infringe on the intellectual property rights of any individual. Participants retain all rights in and to the shared composition, and Sponsor will make no use of submitted compositions without permission from the participant. Must claim by May 17, 2022. Maximum of one Garritan sound library of recipient's choice per person. Limited number available. Void where prohibited. Value of reward: $99.55-179.95. Restrictions may apply. Sponsor reserves the right to extend, modify or discontinue this giveaway at any time without notice. Sponsor: MakeMusic, Inc., 285 Century Place, Louisville, CO 80027.